Wed Jan 25 10:00PM
1
6
|   | 1 | 2 | 3 | T | ODDS |
| --- | --- | --- | --- | --- | --- |
| VAN | 0 | 1 | 0 | 1 | 6.5 |
| SEA | 2 | 3 | 1 | 6 | -180 |
Canucks vs Kraken Prediction, Odds and Best Bets
Published on
Vancouver is on the road playing Seattle at the Climate Pledge Arena stadium on Wednesday, 1/25/2023 @ 10:00pm EST. Seattle -170 was the opening favorite and current line is Seattle -185.
A Pacific Division showdown between the Vancouver Canucks and the Seattle Kraken begins the 2022-23 NHL season on Wednesday, January 25, at Climate Pledge Arena in Seattle. This is the third meeting between Vancouver and Seattle this season, and the Kraken are seeking their first victory over the Canucks. Taking a closer look at the odds, Seattle opens as -170 home favorites with 6.5 goals total.
It is impossible for the Canucks to rest
As the Vancouver Canucks wrap up their four-game homestand, Tuesday's games have been excluded from the analysis. After losing their previous two games, the Canucks were looking to stop a three-game slide. The Canucks were defeated by the Edmonton Oilers 4-2 last Saturday. As the second period began, they were trailing 3-0. Andrei Kuzmenko scored late in the second to make it 3-1, and JT Miller cut the deficit after just 3:26 of play in the third period, but that was all we saw from the Canucks.
After losing a tough shootout, the Kraken look to bounce back
Following Saturday's 2-1 shootout loss against the Colorado Avalanche, the Seattle Kraken are coming off a 2-1 loss to the Calgary Flames. The Kraken started a five-game homestand with a 4-3 overtime victory over the New Jersey Devils this past Thursday, their third loss in four games. The second period saw Seattle and Colorado each take 27 shots and score. Kraken made three attempts, but they all failed. As a result of his 26 saves, Philipp Grubauer scored an unassisted goal in regulation. "Both teams scratched and clawed and fought," Seattle coach Dave Hakstol said. "Obviously it's disappointing when you don't win in the shootout and get the extra point, but in terms of our effort, our work level was high throughout the hockey game."
This seems to be the right spot for the Kraken to finally beat the Canucks. Vancouver faces fatigue on the second night of a back-to-back, while Seattle had three days to rest and prepare for Wednesday's match. Furthermore, the Kraken have had a difficult time scoring in their last few games. The matchup against the Canucks' leaky defense is the team's most likely opportunity to rebound. There are plenty of dangerous weapons in the Kraken's arsenal, so I'm picking the hosts to win despite the absence of Andre Burakovsky (G13, A25).
Vancouver Highlights
With a power ranking of 24, Vancouver is ranked #10 in offense (scoring an average of 3.35 per game), #31 in defense (allowing an average of 3.98 points to be scored against them per game) and are 18-25-3 this season.
Seattle Highlights
Seattle Kraken has a power ranking of 17 and are #5 for offense (scoring an average of 3.61 per game), #17 for defense (giving up an average of 3.98 points per game) and 27-14-5 overall. Vancouver went 0-2-1 in their last 3 matchups against Seattle.
Curated Picks & Predictions
Based on the current lines, Oddsmakers predict Seattle Kraken to win and the total score to be 6.5.
57% of SportsJaw predicts Seattle Kraken to win.
OddsShark has not made their prediction yet.
67% picked Seattle Kraken on Covers.com
Our ScoreCaster predicts Canucks 3 to Kraken 4.
Staff Prediction
Our prediction: Canucks 3 to Kraken 4.
Written by SportsJaw Staff
Categorized as NHL Predictions
[+ More]
4

Latest Chatter

[ - ]
Make your picks
to play the
bankroll game
and showcase your betting acumen. Your relevant records will show on your posts.
Side
+1.5 (-160)
-1.5 (+140)
-1.5
Total
Over 6.5
Under 6.5
6.5
Won 80% of last 10 NHL predictions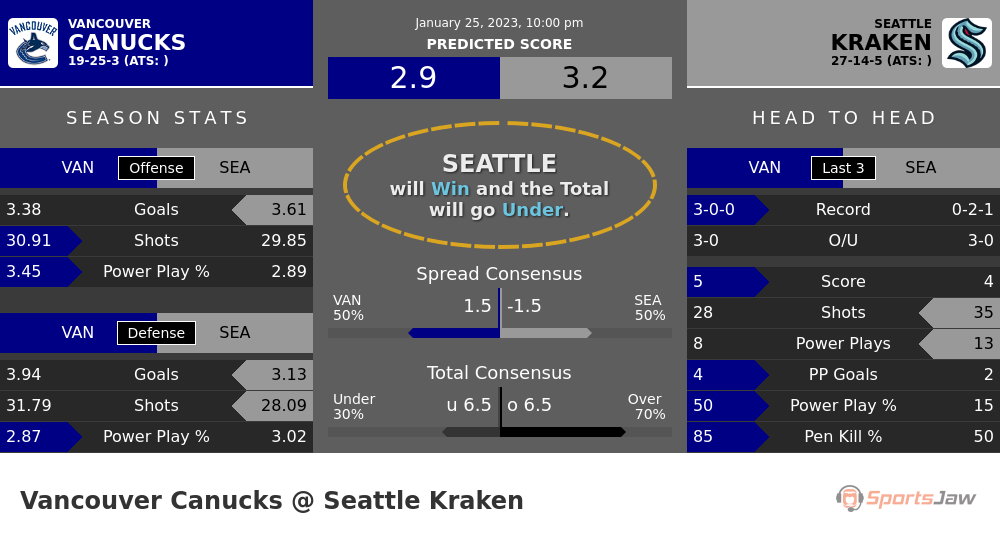 Both teams have a compariable offense and both teams have a compariable defense. The Canucks won more over their last 3 matchups. Adjusted score predictions based on power rankings and strength of schedule: Canucks 3 to Kraken 3.
Canucks Injuries

LW Tanner Pearson IR (11/10), Hand
G Thatcher Demko IR (12/01), Lower Body
D Tucker Poolman Is out for season, Upper Body
RW Will Lockwood Left last game, is "?" Wednesday vs Seattle , Undisclosed
Kraken Injuries

LW Jaden Schwartz Is downgraded to OUT Wednesday vs Vancouver, Undisclosed
D Justin Schultz Is out indefinitely, Undisclosed
RW Andre Burakovsky Is "?" Wednesday vs Vancouver, Undisclosed
G Chris Driedger Is out for season, Knee
RW Joonas Donskoi IR (10/09), Upper Body
RW Yanni Gourde Is "?" Wednesday vs Vancouver, Undisclosed