Wed Jan 25 8:30PM
3
2
|   | 1 | 2 | 3 | 4 | T | ODDS |
| --- | --- | --- | --- | --- | --- | --- |
| CAR | 1 | 1 | 0 | 1 | 3 | 6 |
| DAL | 2 | 0 | 0 | 0 | 2 | -105 |
Hurricanes vs Stars Hockey Predictions & Best Bets
Published on
Carolina is on the road playing Dallas at the American Airlines Center stadium on Wednesday, 1/25/2023 @ 8:30pm EST. Dallas -106 was the opening favorite and current line is Carolina -110.
As both teams look to build upon strong seasons, the Carolina Hurricanes will face the Dallas Stars. With back-to-back wins, the Hurricanes have the highest record in the Metropolitan Division, while the Stars are in first place in the Central Division with a 29-13-8 record. As a result, the upcoming game should be a great one as both teams aim to remain near the top of their conferences.
The hurricanes have been led by a remarkable defense
In their third game of the season, the Hurricanes scored 3.22 goals, a stellar start to the season. The top two lines of Martin Necas, Sebastian Aho, and Andrei Svechnikov have accounted for 54 goals and 64 assists. However, the rest of the offense has also been excellent. Jarvis, Martinhook, and Noesen have combined for 25 goals and 42 assists, while Burns and Skjei have added 17 goals and 36 assists from the point. With only four goals in the last two games, the Hurricanes defense has carried them, allowing only 2.65 goals per game. Combined, Brady Skjei and Brett Pesce have 6.5 defensive point shares and 105 blocked shots, while Brent Burns, Jaccob Slavin, and Jalen Chatfield have 7.7 defensive point shares.
The defense of the Stars has been outstanding
The Stars have had a successful season with their offense scoring 3.43 goals per game. Roope Hintz, Jason Robertson, and Joe Pavelski have scored 65 goals and 92 assists between them, but the rest of the offense has also been impressive. To open up the offense, Jamie Benn, Tyler Seguin, and Mason Marchment have combined for 42 goals and 57 assists. Miro Heiskanen added seven goals and 32 assists. Despite the stellar offense, the defense has been stellar, allowing only 2.55 goals per game with only three goals allowed in the last three games. Colin Miller and Jani Hakanpaa have combined for 6.2 defensive point shares and 151 blocked shots, while Esa Lindell and Miro Heiskanen have combined for 7.2 defensive point shares. On 1029 shots, Jake Oettinger has a .925 save percentage and a 2.22 goals-against average.
This will be a very exciting game between two of the most talented teams in the league. Despite playing at home, the Hurricanes will look to control this game from the first period onwards. Sebastian Aho, Andrei Svechnikov, and the rest of the forward unit should pile on the goals for the Hurricanes, who average 3.22 goals per game. The Hurricanes, who allow only 2.65 goals per game, should also limit the Stars' offense with Brady Skjei, Brett Pesce, and the rest of the defensive unit creating turnovers in the defensive zone and limiting shots on the net, which will allow goaltender Frederik Andersen to make plenty of big saves. A strong performance on the road should help the Hurricanes win the game.
Carolina Highlights
With a power ranking of 9, Carolina is ranked #12 in offense (scoring an average of 3.28 per game), #7 in defense (allowing an average of 2.70 points to be scored against them per game) and are 29-9-8 this season.
Dallas Highlights
Dallas Stars has a power ranking of 4 and are #7 for offense (scoring an average of 3.48 per game), #2 for defense (giving up an average of 2.70 points per game) and 28-13-8 overall. Carolina went 2-0-1 in their last 3 matchups against Dallas.
Curated Picks & Predictions
Based on the current lines, Oddsmakers predict Carolina Hurricanes to win and the total score to be 6.
The SportsJaw community predicts Carolina Hurricanes to win (55%)
OddsShark has not made their prediction yet.
58% picked Dallas Stars on Covers.com
Our ScoreCaster predicts Hurricanes 9 to Stars 4.
Staff Prediction
Our prediction: Hurricanes 9 to Stars 4.
Written by SportsJaw Staff
Categorized as NHL Predictions
[+ More]
3

Latest Chatter

[ - ]
Make your picks
to play the
bankroll game
and showcase your betting acumen. Your relevant records will show on your posts.
Side
-1.5 (+220)
+1.5 (-269)
-1.5
Won 80% of last 10 NHL predictions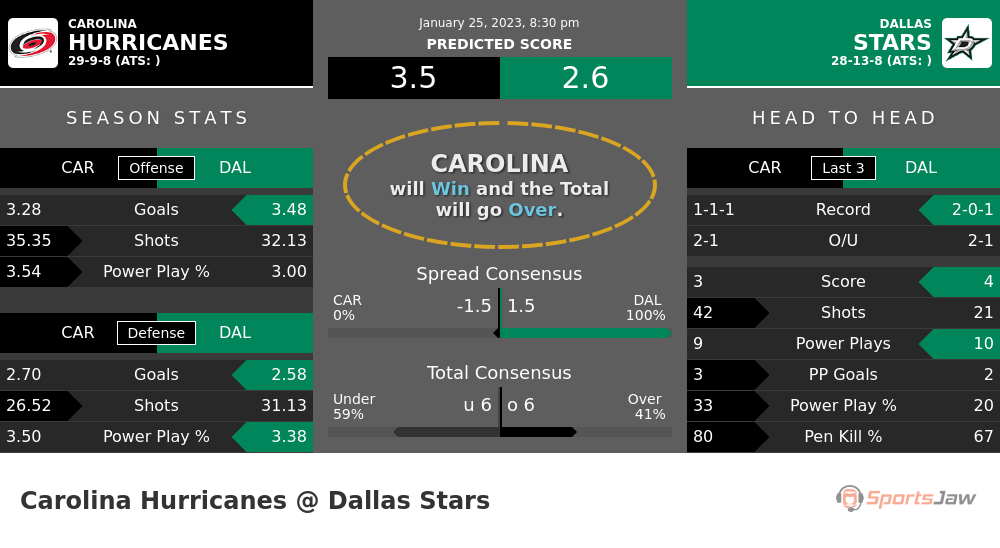 Both teams have a compariable offense and both teams have a compariable defense. The Stars won more over their last 3 matchups. Adjusted score predictions based on power rankings and strength of schedule: Hurricanes 4 to Stars 3.
Hurricanes Injuries

LW Max Pacioretty Is out indefinitely, Achilles
D Jaccob Slavin Is doubtful Wednesday vs Dallas, Lower Body
RW Ondrej Kase Is out indefinitely, Concussion