Wed Jan 25 7:00PM
1
2
|   | 1 | 2 | 3 | T | ODDS |
| --- | --- | --- | --- | --- | --- |
| NYI | 0 | 1 | 0 | 1 | 6 |
| OTT | 1 | 1 | 0 | 2 | -130 |
Islanders vs Senators Prediction & Best Bets
Published on
New York is on the road playing Ottawa at the Canadian Tire Centre stadium on Wednesday, 1/25/2023 @ 7:00pm EST. Ottawa -126 was the opening favorite and current line is Ottawa -120.
In this matchup, the New York Islanders take on the Ottawa Senators. Both teams are looking to improve after rough seasons. With only one win in the last 10 games, the Islanders have fallen to the bottom of the Metropolitan Division with a 23-21-5 record. Due to back-to-back losses, the Senators have a 20-23-3 record and have fallen to the bottom of the Atlantic Division. As both teams are looking to improve within their divisions and the Eastern Conference, the upcoming game should be an exciting one.
It's been a terrible offensive season for the Islanders
With only 2.92 goals per game and 10 goals scored in the last five games, the Islanders are having a forgettable season. The offense has been led by Brock Nelson, Anders Lee, and Mathew Barzal with 45 goals and 72 assists. Six skaters have at least 10 goals, and opponents can easily eliminate the hapless offense. While the offense has struggled, the defense has stepped up, allowing only 2.82 goals per game. The defensive unit has been bolstered by Adam Pelech, Scott Mayfield, and Sebastian Aho, who have combined for 6.0 defensive points shares and 175 blocked shots. Ilya Sorokin has also performed well with a .922 save percentage and a 2.44 goals-against average on 1101 shots.
The Senators' offense has crumbled
The Senators are having a rough season, scoring only 2.87 goals per game with only two goals in the last two games. Brady Tkachuk and Tim Stützle lead the top line with 37 goals and 53 assists, but the rest of the offense has been ineffective. As a result, opposing defenses can eliminate the hapless offense because only six skaters have eight goals or more. Aside from the offense, the Senators' defense has also struggled, allowing 3.30 goals per game. While Jake Sanderson and Thomas Chabot have combined for 4.4 defensive point shares, the rest of the team has struggled, allowing opponents to find open shots at will. Additionally, Cam Talbot has a .903 save percentage and a 2.95 goals-against average on 754 shots.
It will be a fascinating game between two teams eager to turn their seasons around. The Islanders look to pull off the upset, but the Senators seek to control this game at home. With Brady Tkachuk, Tim Stützle, and the rest of the forward unit carrying the puck into the offensive zone and creating open shots, the Senators should create plenty of scoring chances. With Jake Sanderson and Thomas Chabot creating turnovers at the blue line and limiting shots on net, the Senators should be able to limit the Islanders offense. The Islanders average only 2.92 goals per game, enabling Cam Talbot to make some big saves. As long as the Senators perform well at home, they will win the game.
New York Highlights
With a power ranking of 28, New York is ranked #24 in offense (scoring an average of 2.94 per game), #9 in defense (allowing an average of 2.83 points to be scored against them per game) and are 23-21-5 this season.
Ottawa Highlights
Ottawa Senators has a power ranking of 20 and are #25 for offense (scoring an average of 2.89 per game), #20 for defense (giving up an average of 2.83 points per game) and 20-23-3 overall. New York went 0-3-0 in their last 3 matchups against Ottawa.
Curated Picks & Predictions
Based on the current lines, Oddsmakers predict Ottawa Senators to win and the total score to be 6.
55% of SportsJaw users predict New York Islanders to win.
OddsShark has not made their prediction yet.
60% picked New York Islanders on Covers.com
SportsJaw's ScoreCaster prediction: Islanders 3 to Senators 3.
Staff Prediction
Our prediction: Islanders 3 to Senators 3.
Written by SportsJaw Staff
Categorized as NHL Predictions
[+ More]
4

Latest Chatter

[ - ]
Make your picks
to play the
bankroll game
and showcase your betting acumen. Your relevant records will show on your posts.
Side
+1.5 (-235)
-1.5 (+196)
-1.5
Won 80% of last 10 NHL predictions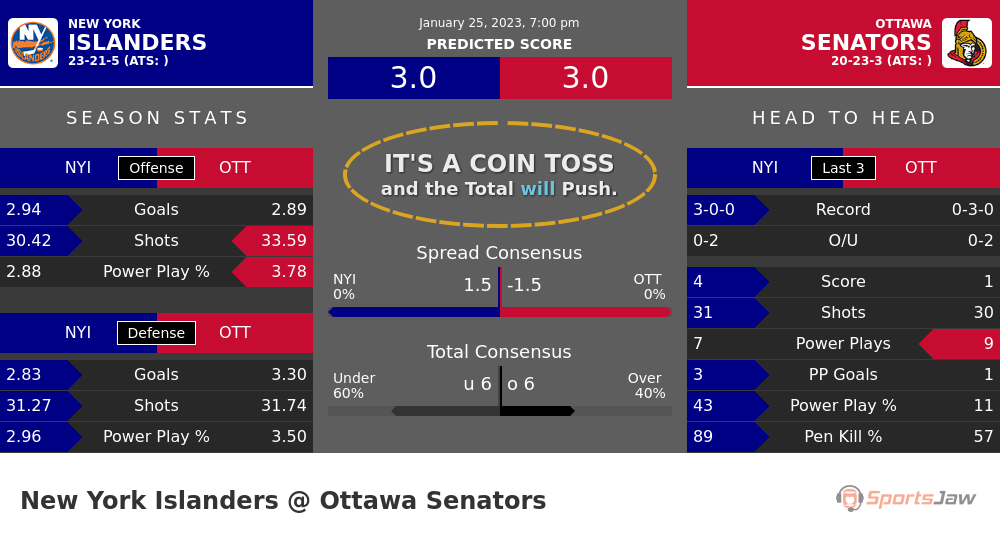 Both teams have a compariable offense and both teams have a compariable defense. The Islanders won more over their last 3 matchups. Adjusted score predictions based on power rankings and strength of schedule: Islanders 3 to Senators 3.
Islanders Injuries

RW Cal Clutterbuck IR (01/23), Upper Body
RW Hudson Fasching IR (01/22), Lower Body
D Noah Dobson Is "?" Wednesday vs Ottawa, Undisclosed
RW Oliver Wahlstrom Is out indefinitely, Head
Senators Injuries

RW Tyler Motte IR (12/27), Finger
D Nikita Zaitsev Is upgraded to probable Wednesday vs NY Islanders, Lower Body
C Mark Kastelic Is OUT Wednesday vs NY Islanders, Undisclosed
C Josh Norris Is out for season, Shoulder
D Artyom Zub IR (01/18), Lower Body