Wed Jan 25 7:00PM
2
3
|   | 1 | 2 | 3 | 4 | T | ODDS |
| --- | --- | --- | --- | --- | --- | --- |
| NYR | 0 | 2 | 0 | 0 | 2 | 6 |
| TOR | 1 | 0 | 1 | 1 | 3 | -155 |
Rangers vs Maple Leafs Prediction, Odds and Best Bets
Published on
New York is on the road playing Toronto at the Scotiabank Arena stadium on Wednesday, 1/25/2023 @ 7:00pm EST. Toronto -150 was the opening favorite and current line is Toronto -151.
Currently on a five-game winning streak at home, the Toronto Maple Leafs (2nd in the Atlantic Division) will face the New York Rangers (3rd in the Metropolitan Division), who have won five of their last six away games.
The Blueshirts beat the Florida Gators
The New York Rangers (26-14-7) defeated the Florida Panthers 6-2 on Monday at Madison Square Garden, their second win in the last three games (2-1-0) and seventh in the last ten (7-2-1). In the third period, the Blueshirts netted four consecutive goals, including two in a span of 14 seconds, after the visitors tied the game at 1-1 at the start of the period. Mika Zibanejad scored twice and had an assist. It was New York's first home win in three games, after finishing 3-0-2 on its previous five trips. As a result of his 33 saves on Monday, Igor Shesterkin now has a 21-8-6 record for the season with a 2.44 GAA and a .918 save percentage. His career tally against the Toronto Maple Leafs is 4-1-0 with a GAA of 1.99 and a save percentage of .938.
The Leafs defeated the Islanders
With a 5-2 victory over the New York Islanders at Scotiabank Arena on Monday, the Toronto Maple Leafs (29-11-8) extended their point run to four games (3-0-1). With a 1-0 deficit heading into the second period, the Leafs buried four goals, finishing the period with a 4-2 lead. In the final third, Auston Matthews (25 goals, 53 points) made it 5-2 when he scored twice and assisted on the other two goals. As a result, Toronto has won five matches in a row domestically. During the season, goaltender Ilya Samsonov has stopped 31 shots, improving to a 13-0-1 record on his own ice. Over the course of the current campaign, he is 15-4-2 with a 2.21 GAA and a .920 save percentage, and he has posted a 1-3-1 career record against the New York Rangers with a 3.89 GAA and a .861 save percentage.
A draw on a 3-way moneyline (+345) is the best bet for the Maple Leafs' upcoming game against the Rangers, as three of the past four meetings between the two teams have already extended beyond regulation. Additionally, based on both teams' current form, it is difficult to predict the outcome of this particular match. Please don't be afraid to stay with the visitors! Though they have struggled a bit at home lately, losing two of their last three games, the Rangers have excelled on the road, winning three of their past four games. On the other hand, the Maple Leafs have lost five of their last six games against the Blueshirts in Toronto, losing 12 of 17 overall.
New York Highlights
With a power ranking of 2, New York is ranked #19 in offense (scoring an average of 3.15 per game), #6 in defense (allowing an average of 2.67 points to be scored against them per game) and are 26-14-7 this season.
Toronto Highlights
Toronto Maple Leafs has a power ranking of 5 and are #9 for offense (scoring an average of 3.36 per game), #5 for defense (giving up an average of 2.67 points per game) and 29-11-8 overall. New York went 1-2-0 in their last 3 matchups against Toronto.
Curated Picks & Predictions
Based on the current lines, Oddsmakers predict Toronto Maple Leafs to win and the total score to be 6.
56% of SportsJaw predicts Toronto Maple Leafs to win.
OddsShark has not made their prediction yet.
split down the middle on Covers.com
Our ScoreCaster predicts Rangers 2 to Maple Leafs 4.
Staff Prediction
Our prediction: Rangers 2 to Maple Leafs 4.
Written by SportsJaw Staff
Categorized as NHL Predictions
[+ More]
4

Latest Chatter

[ - ]
Make your picks
to play the
bankroll game
and showcase your betting acumen. Your relevant records will show on your posts.
Side
+1.5 (-189)
-1.5 (+162)
-1.5
Won 80% of last 10 NHL predictions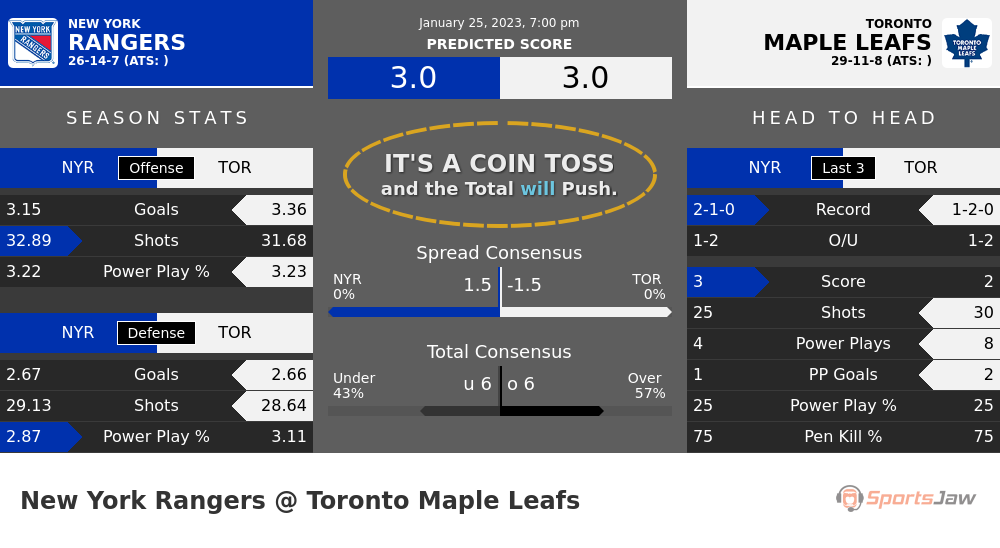 Both teams have a compariable offense and both teams have a compariable defense. The Rangers won more over their last 3 matchups. Adjusted score predictions based on power rankings and strength of schedule: Rangers 3 to Maple Leafs 3.
Maple Leafs Injuries

D T.J. Brodie IR (01/10), Ribs
D Jake Muzzin IR (10/17), Neck
D Victor Mete IR (12/27), Lower Body
LW Nicholas Robertson Is out indefinitely, Shoulder