Sat Sep 23 3:30PM
7
14
|   | 1 | 2 | 3 | 4 | T | ODDS |
| --- | --- | --- | --- | --- | --- | --- |
| UCLA | 0 | 0 | 0 | 7 | 7 | 50.5 |
| UTAH | 7 | 7 | 0 | 0 | 14 | -3.25 |
Preview & Predictions

UCLA Bruins vs
Utah Running Utes
UCLA Bruins and Utah Utes Prepare for Unbeaten Showdown at Rice-Eccles Stadium
The over/under is currently 51.5 points. Utah has a 5-1 win-loss record against UCLA in their previous six matchups with the Bruins, but UCLA won the previous meeting in 2022 42-32 as a 3-point under dog.
Game Info
When: Saturday, 9/23/2023 @ 3:30pm EST
Where: Rice-Eccles Stadium Stadium
Bruins vs Utes Betting Odds
Moneyline: Bruins +167 | Running Utes -195
Spread: Bruins +4.5 (-110) | Running Utes -4.5 (-110)
Total: Over/Under 51 (-110)
Based on the moneyline, the implied probability that Utah will win straight-up is 66%.
UCLA vs Utah Score Prediction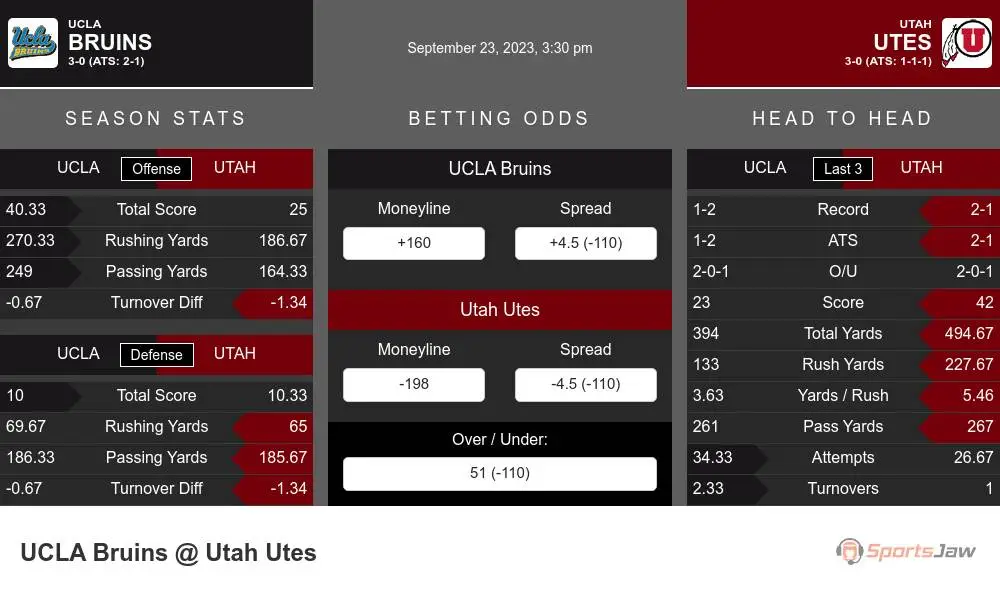 UCLA Bruins
UCLA Bruins are ranked No. 22 in the AP Top 25 Poll and boast a 3-0 SU and 2-1 ATS record through Week 4 of the 2023 season.
Freshman signal-caller Dante Moore went 8-for-12 in Week 3 with 182 yards and a pair of touchdowns.
UCLA holds the #3 ranking in the nation for rushing yards per game at 270.3 and have held opponents to only 69.7 rushing yards per contest.
The Bruins rank 64 in offense (scoring an average of 31.00 per game) and #17 in defense (allowing an average of 11.50 points to be scored against them per game).
Defensively, senior Laiatu Latu has already accounted for four sacks and 5.5 tackles for loss in his senior year.
Utah Running Utes Analysis
Utah Utes are currently ranked 11th in the AP Top 25 Poll.
In Week 2, the Utes defeated Weber State 31-7, but failed to cover their 27.5-point spread.
Freshman Nate Johnson had his first career start, going 13-of-21 for 193 yards and a touchdown.
Utah defeated Florida 24-11 and Baylor 20-13 in Week 1.
Offense: Scoring an average of 22.00 points per game (#108).
Defense: Giving up an average of 12.00 points per game (#20).
3-0 overall (1-1-1 ATS).
UCLA went 2-1 (2-1 ATS) in their last 3 matchups against Utah.
UCLA to Take on Streaky Utah in Showdown of Unbeaten Teams at Rice-Eccles Stadium
Cameron Rising's status is still uncertain, but Nate Johnson may be handed the starting position. Utah's offense was successful during their Week 3 match against Weber State, however this does not reflect the level of competition expected in the coming game against UCLA. Utah will lean on their arguably one of the best defenses in the country while UCLA also play strong defense. Both teams are unbeaten, UCLA is 9-0 SU in their last nine September games, while Utah have a 16-game unbeaten streak at home. Therefore, I am predicting the Bruins to make a valiant effort at Rice-Eccles Stadium and put an end to Utah's home streak.
Sources: [ 1 ] [ 2 ] [ 3 ] [ 4 ] [ 5 ]
Written by Georgew
Published on
Category: NCAAF Picks
About the Author: I employ a variety of handicapping techniques and fundamentals to spot value in betting odds. These methods are tried and true and my records back it up.
9/29/2023 at 10:15PM
CINCIN
BYU