Sat Sep 23 4:00PM
29
42
|   | 1 | 2 | 3 | 4 | T | ODDS |
| --- | --- | --- | --- | --- | --- | --- |
| RICE | 7 | 7 | 7 | 8 | 29 | 57 |
| USF | 3 | 10 | 14 | 15 | 42 | +3 |
Preview & Predictions

Rice Owls vs
South Florida Bulls
Rice Opens AAC Game Against South Florida With Defensive Edge
Rice opened their season with a loss to a top 10 team, but they have since recovered to win their last two games. Their offense has been highly effective recently while the defense made a stand in their last game for a blowout win. Rice is coming into their first American Athletic Conference (AAC) game with an AAC line of -2.5. Their opponent, South Florida, has lost two of their three games, but held their own against the 10th ranked Alabama in their last game, albeit ultimately in a loss. South Florida enters this game as the 2-point home underdog, with the total sitting at 55.5.
Game Info
When: Saturday, 9/23/2023 @ 4:00pm EST
Where: Raymond James Stadium Stadium
Owls vs Bulls Betting Odds
Moneyline: Owls -135 | Bulls +115
Spread: Owls -2.5 (-110) | Bulls +2.5 (-110)
Total: Over/Under 55.5 (-110)
Based on the moneyline, the implied probability that Rice will win straight-up is 57%.
Rice vs South Florida Score Prediction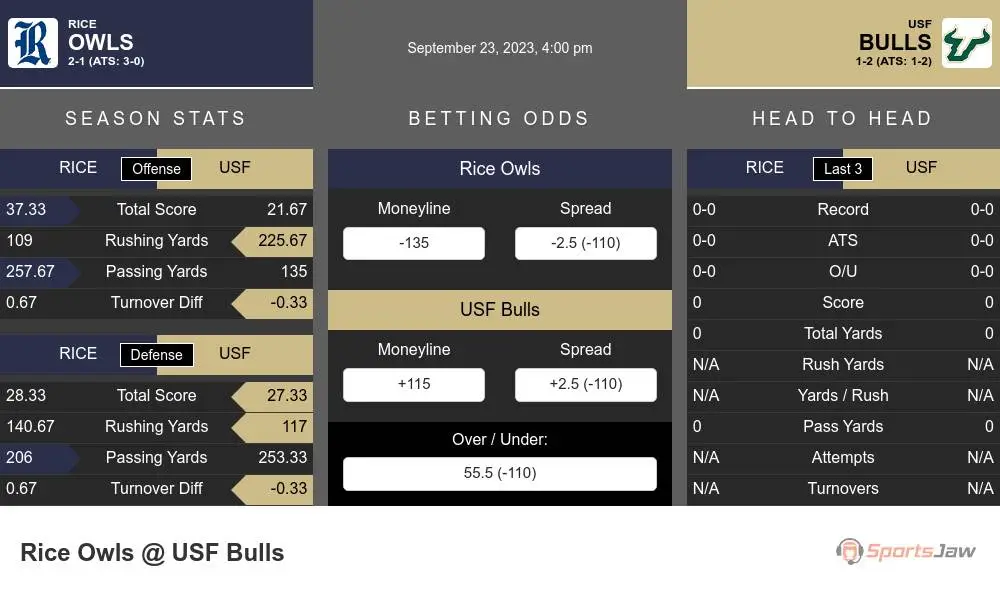 Rice Owls
• Rice has gone 2-1 (3-0 ATS) in their first three games this season, with scoring 102 points in their last two • JT Daniels has passed for 255 yards and four TDs, no INT, and Kobie Campbell has had 70 receiving yards and one TD • Dean Conners led the Owl's with 66 rushing yards and four players had at least 32 yards on the ground • Offense is ranked 86th in the nation, with an average of 26.50 points per game • Defense is ranked 120th in the nation, allowing an average of 39 points per game • Rice faced a tough South Florida defense that held Alabama in check and ranks 58th in the nation for run defense and 91st in pass defense.
South Florida Bulls Analysis
• South Florida's last game outcome was a loss to 10th ranked Alabama, 17-3 • South Florida forced two turnovers and gave up 203 rushing yards • Freshman Byrum Brown had 87 passing yards with no TD and 1 INT • Sean Atkins led the Bulls with 42 receiving yards • Nay'Quan Wright had 62 rushing yards, Brown 275 overall, Wright 210 • South Florida #65 for offense (31.00 avg) & #109 for defense (32.50 avg) • Rice ranks 94th in the nation defending the run and 110th defending the pass • South Florida is 1-2 overall, 1-2 ATS • Rice went 0-0, 0-0 ATS in their last three meetings
South Florida Preparing for defensive Stand as They Face Off Against Rice
South Florida surprised on the defensive side of the ball against Alabama, despite their difficulty in scoring. They'll face Rice next, who have excelled in their previous two games, and have a solid passing game. Alabama only attempted 23 passes, so it was hard to tell South Florida's ability to shut down the passing game. Despite this, the Bulls look poised to play well defensively in their home game. While their offense is not overpowering, they're up against a Rice team that did well defensively in their last game, but are not in the top 90 nationally for pass or run defense. South Florida is likely to cover the +2 spread and win this close game.
Written by Tgodfrey
Published on
Category: NCAAF Picks
About the Author: Over 15 years of sports handicapping experience- I do my homework and rely on keen instincts and years of experience to spot the loose lines with the highest value every week.
9/29/2023 at 10:15PM
CINCIN
BYU