Sat Sep 23 12:00PM
22
14
|   | 1 | 2 | 3 | 4 | T | ODDS |
| --- | --- | --- | --- | --- | --- | --- |
| TULSA | 2 | 7 | 3 | 10 | 22 | 54.5 |
| NIU | 0 | 7 | 7 | 0 | 14 | -3.75 |
Preview & Predictions

Tulsa Golden Hurricane vs
Northern Illinois Huskies
Northern Illinois Vs Tulsa: Rivalry Renewed with Low-Scoring Affair on the Horizon
The total is set at 53.5 in what should be a lower scoring affair. Both teams enter with one win and two losses, however Tulsa has been blown out in their last two games while losing 109-27. The Huskies faced non-ranked teams in both of their losses, only one of which is from a major conference.
Game Info
When: Saturday, 9/23/2023 @ 12:00pm EST
Where: Brigham Field at Huskie Stadium Stadium
Golden Hurricane vs Huskies Betting Odds
Moneyline: Golden Hurricane +150 | Huskies -172
Spread: Golden Hurricane +3.5 (-110) | Huskies -3.5 (-110)
Total: Over/Under 53.5 (-110)
Based on the moneyline, the implied probability that Northern Illinois will win straight-up is 63%.
Tulsa vs Northern Illinois Score Prediction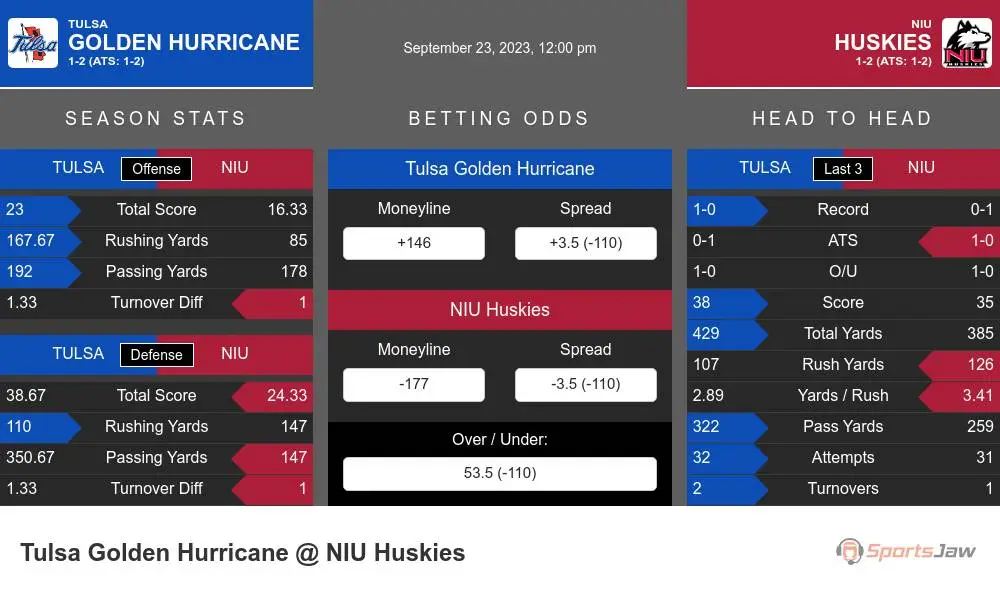 Tulsa Golden Hurricane
• Tulsa lost 66-17 to Oklahoma in their last game at home • Tulsa had 292 total yards with 75 rushing yards and 196 passing yards • Cardell Williams passed for 196 yards with 2 TD's and 2 INT's • Tulsa had 119 rushing yards allowing 4.3 yards per carry • Tulsa was lit up in the air allowing 476 passing yards with 5 passing TDs • Turnovers proved costly; Tulsa turned the ball over 5 times • Power Ranking of 120, Tulsa is 93 in offense, 77 in defense • Jordan Ford and Anthony Watkins only combined for 42 rushing yards • Tulsa is 1-2 (1-2 ATS) this season • Last game of non-conference season, Tulsa hosts Temple in AAC opener next week
Northern Illinois Huskies Analysis
• NIU lost 35-11 on the road to Nebraska • Outgained 382 yards to 149 yards and allowed 224 rushing yard • Rocky Lombardi 11/28 for 73 yards, 1 INT; Ethan Hampton 50 yards, 1 TD • NIU only averaging 1.2 yards per carry • Davis Patterson led the team with 30 receiving yards • NIU failed to cover spread as 12-point underdog • Lombardi 4 INTs last two games • NIU rushing ranks 117th in nation and 91st in rushing yards allowed • Pass defense decent but run D needs to step up • Tulsa averages 167.7 rushing yards per game • NIU failed to cover spread in last five games when favored • Tulsa covered spread in 6 of last 10 road games • Northern Illinois Huskies power ranking of 109 • #118 for offense (averaging 19.00 points per game) • #54 for defense (allowing 19.00 points per game) • 1-2 (1-2 ATS) overall • Tulsa 0-1 (1-0 ATS) in last 3 matchups against Northern Illinois
Tulsa Must Utilize Their Run Game to Overcome Back-to-Back Defeats Against Ranked Opponents
Tulsa has encountered back-to-back defeats against teams with rankings. Northern Illinois, also on a two-game losing streak, lost their prior game to the now victorious Nebraska. Tulsa's offensive strategy for this upcoming match up should be to rely heavily on the run, as NIU has struggled to contain it. Although the Huskies have a formidable pass defense, their offensive capabilities are limited. The Golden Hurricane should take advantage of their strong running attack and meet, if not exceed, the line spread of +3.5.
Written by Tgodfrey
Published on
Category: NCAAF Picks
About the Author: Over 15 years of sports handicapping experience- I do my homework and rely on keen instincts and years of experience to spot the loose lines with the highest value every week.
9/29/2023 at 10:15PM
CINCIN
BYU