Thu Sep 21 7:30PM
30
17
|   | 1 | 2 | 3 | 4 | T | ODDS |
| --- | --- | --- | --- | --- | --- | --- |
| GAST | 7 | 10 | 3 | 10 | 30 | 63 |
| CSTCAR | 3 | 0 | 7 | 7 | 17 | -4.75 |
Preview & Predictions

Georgia State Panthers vs
Coastal Carolina Chanticleers
Georgia State Panthers Aim to Stun Favorites Coastal Carolina Chanticleers in Conference Play Match Up
The Georgia State Panthers are off to a perfect 3-0 (0-0) start as they head into their conference play this week, with an impressive 41-25 road victory over the Charlotte 49ers last Saturday. Senior quarterback Darren Grainger shined in the win, completing 27-of-33 passes for 466 yards and three touchdowns, plus ten rushing attempts for 23 yards and a touchdown. Meanwhile, Coastal Carolina faced the Duquesne Dukes in their home opener and started their season 2-1 (0-0) following a tremendous 66-7 victory. Senior quarterback Grayson McCall had a solid game, with 12-of-16 completions for 169 yards and two touchdown passes, and 15 rushing yards in three attempts. The betting line for this matchup has the Coastal Carolina Chanticleers as the favorites at –6.5, with no movement since it opened.
Game Info
When: Thursday, 9/21/2023 @ 7:30pm EST
Where: Brooks Stadium Stadium
Panthers vs Chanticleers Betting Odds
Moneyline: Panthers +213 | Chanticleers -256
Spread: Panthers +6.5 (-110) | Chanticleers -6.5 (-110)
Total: Over/Under 63 (-110)
Based on the moneyline, the implied probability that Coastal Carolina will win straight-up is 72%.
Georgia State vs Coastal Carolina Score Prediction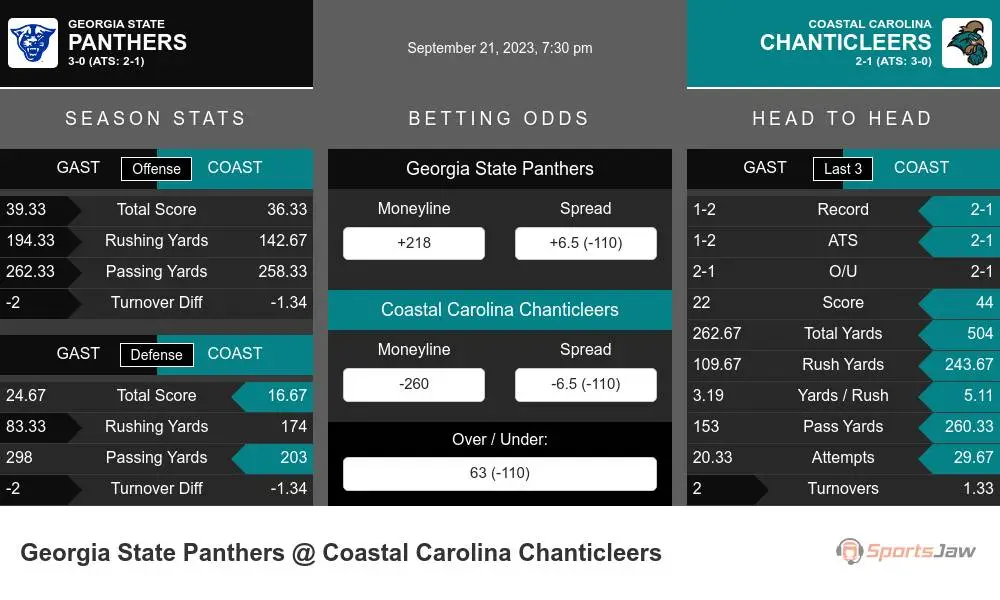 Georgia State Panthers
• Georgia State Panthers average 39.3 points and 462 total yards of offense • Senior running back Marcus Carroll: 67 rushes for 358 yards (5.3 yards per attempt) with seven rushing touchdowns as well as five catches for 15 yards (three yards per reception) • Defense of the Georgia State Panthers allowing 24.7 points on 400.7 total yards per game • Senior cornerback Gavin Pringle 8 solo tackles, one sack, a pair of interceptions (one pick-six) and a pass deflection • Georgia State Power Ranking 27; 33 in offense (scoring an average of 38.50 per game), 74 in defense (allowing an average of 24.50 points per game), 3-0 (2-1 ATS) season
Coastal Carolina Chanticleers Analysis
Summary of Coastal Carolina Chanticleers: -Averaging 36.3 points on 419.7 total yards per game on offense -Senior QB Grayson McCall is 60-of-87 (69.0 completion percentage) for 708 yards with four touchdowns and two interceptions -Defense is giving up 16.7 points on 385.7 total yards per game, allow 174 rushing yards per game -Secondary has recorded nine pass deflections, six interceptions (two pick-sixes), three forced fumbles, and two fumble recoveries -Power ranking of 105 and #109 for offense, #61 for defense -Overall record is 2-1 (3-0 ATS) -Georgia State went (2-1 ATS) in their last 3 matchups against Coastal Carolina
Coastal Carolina Chanticleers Look to Emerge Victorious with Secure Margin of Victory Against Georgia State Panthers
The Georgia State Panthers have allowed 317.3 passing yards per game, making them vulnerable to Coastal Carolina Chanticleers' quarterback Grayson McCall, who had a standout performance in last year's matchup. The Chanticleers have a knack for pressuring receivers, meaning one mistake could prove costly for Georgia State. Therefore, Coastal Carolina Chanticleers are likely to emerge victorious with a secure margin of victory at home.
Written by Jamescashiola
Published on
Category: NCAAF Picks
About the Author: Poker player and sports bettor. Cut my teeth working at Oddsboard.com writing picks content for a couple of old codgers. I've been betting on sports for over 10 years and last couple years I've won more than I've lost. NFL & College football are my jam.
9/29/2023 at 10:15PM
CINCIN
BYU