Sat Nov 25 7:00PM
44
52
|   | 1 | 2 | 3 | 4 | T | ODDS |
| --- | --- | --- | --- | --- | --- | --- |
| S.ALA | 0 | 17 | 7 | 20 | 44 | 57 |
| TXST | 24 | 7 | 7 | 14 | 52 | +6.5 |
South Alabama Jaguars vs
Texas State Bobcats
Predictions & Preview
South Alabama Jaguars Ready to Take on Texas State Bobcats in Crucial Sun Belt Showdown
5 ahead of the 6:30 PM kickoff. The South Alabama Jaguars and Texas State Bobcats are meeting in a crucial Sun Belt showdown at Bobcat Stadium on Saturday. Both teams have the same overall record at 6-5, but the Jaguars are the favorite with a 4-3 record in Sun Belt play. South Alabama is hoping to ride the momentum of their recent victory against Marshall, while Texas State is looking to bounce back from a loss to Arkansas State. With the betting line opening at -5.5 for the Jaguars, this promises to be a close, hotly contested match.
Game Info
When: Saturday, 11/25/2023 @ 7:00pm EST
Where: Jim Wacker Field at Bobcat Stadium Stadium
Betting Odds
Moneyline: Jaguars -230 | Bobcats +191
Spread: Jaguars -6 (-110) | Bobcats +6 (-110)
Total: Over/Under 58 (-110)
Based on the moneyline, the implied probability that South Alabama will win straight-up is 70%.
South Alabama vs Texas State Stats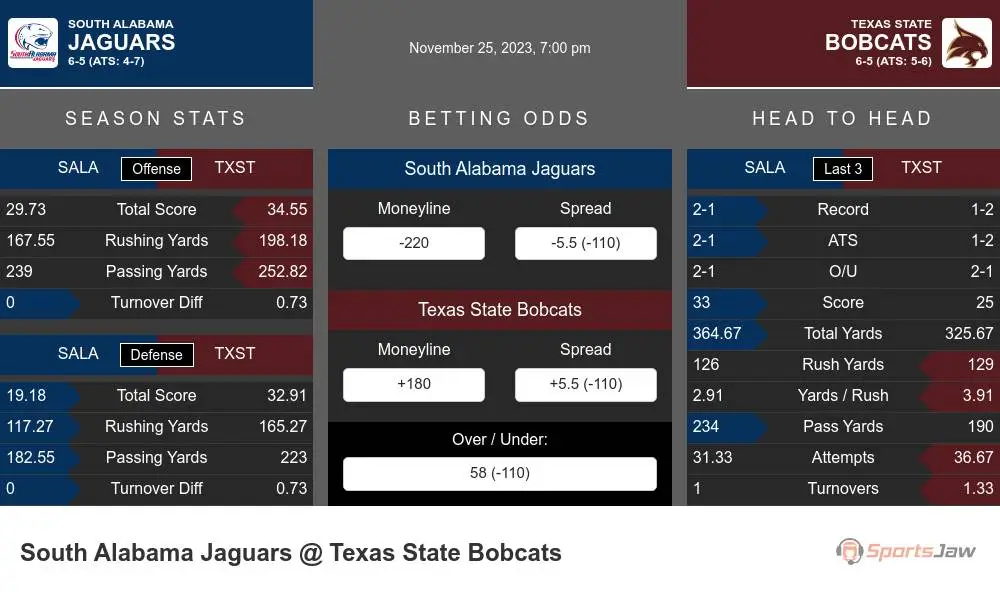 South Alabama Jaguars
The South Alabama Jaguars have demonstrated a powerful blend of offensive and defensive talent in the Sun Belt. Throughout this season, quarterback Carter Bradley has led the Jaguars' aerial attack, totaling 2,477 yards and 17 touchdowns. La'Damian Webb has spearheaded their offensive ground game, contributing 1,007 yards and 16 rushing touchdowns. On the defensive side, South Alabama has shut down their opponents with their pass defense (195.7 yards per game) and rush defense (117.3 yards per game) being among the best in the league. Their recent game against Marshall was an impressive 28-0 shutout, illustrating their defensive capabilities, exemplified by linebacker Quentin Wilfawn and safety Jaden Voisin's contributions. With a #19 power ranking, South Alabama is 6-5 (4-7 ATS) and averaging 29.90 points per game with only 21.10 points allowed.
Texas State Bobcats Analysis
The Bobcats have an explosive offense ranked #21 nationally, averaging 471.1 total yards per game, including 272.9 passing yards and 198.2 rushing yards. QB TJ Finley has 2,919 passing yards with 21 touchdowns and seven interceptions, while RB Ismail Mahdi has 1,112 rushing yards and 9 rushing touchdowns. WR Joey Hobert has 847 yards and 8 touchdowns. Defensively, they allow an average of 408.7 total yards per game, with 244 passing yards and 164.7 rushing yards. Despite their defensive shortcomings, their offense often manages to keep them competitive in high scoring games. DL Ben Bell has seven sacks on the season, providing pressure on opposing QBs. The Bobcats resilience and offensive firepower make them a threat capable of turning any game into a shootout.
South Alabama Jaguars Dominate with Powerful Blended Offense and Stout Defense
South Alabama Jaguars have proved to have an impressive advantage over their opponents with their powerful blended offense and stout defense. Bringing in 2,477 passing yards and 17 touchdowns from Carter Bradley, plus 1,007 rushing yards and 16 touchdowns from La'Damian Webb, the Jaguars' offense has been averaging 29.7 points per game. Furthermore, their defense has allowed only 19.2 points per game and 313.0 yards per game in both passing and rushing, culminating in a dominant shutout victory against Mississippi State. All things considered, the Jaguars have consistently performed and are likely to succeed in the game.
Best Bets From The Most Profitable NCAAF Handicappers
Make Your Picks

[ - ]
Make your predictions for South Alabama Jaguars vs Texas State Bobcats to showcase your betting acumen and earn tips for your winners!
SportsJaw is verified safe by:
The information contained in this site is FOR ENTERTAINMENT PURPOSES ONLY. Any use of this information in violation of any federal, state and/or local laws is strictly prohibited.
Sportsjaw.com is not a gambling site, and does not accept or place wagers of any type. This website does not endorse illegal gambling. If you or someone you know has a gambling problem and wants help, call 1-800-GAMBLER.