Sat Nov 25 1:00PM
21
24
|   | 1 | 2 | 3 | 4 | T | ODDS |
| --- | --- | --- | --- | --- | --- | --- |
| FLAATL | 7 | 0 | 7 | 7 | 21 | 47 |
| RICE | 7 | 3 | 14 | 0 | 24 | -3 |
Florida Atlantic Owls vs
Rice Owls
Predictions & Preview
Rice Owls Football Look to Exploit FAU Struggling Defense in Highly Anticipated Showdown
The highly anticipated match between The Florida Atlantic Owls and the Rice Owls at Rice Stadium is sure to create a riveting confrontation. Both teams are tied in the American Athletic Conference standings, each boasting a 4-7 and 3-4 record respectively, and are still in pursuit of a higher rank. The pressure is high as this is their chance to demonstrate their capabilities on the field. Rice has emerged as the oddsmaker favorite with an opening line at -5 and the line has since remained unchanged. Regardless of the outcome, this game is set up for a thrilling showdown.
Game Info
When: Saturday, 11/25/2023 @ 1:00pm EST
Where: Rice Stadium Stadium
Betting Odds
Moneyline: Owls +175 | Owls -210
Spread: Owls +5 (-110) | Owls -5 (-110)
Total: Over/Under 48.5 (-110)
Based on the moneyline, the implied probability that Rice will win straight-up is 68%.
Florida Atlantic vs Rice Stats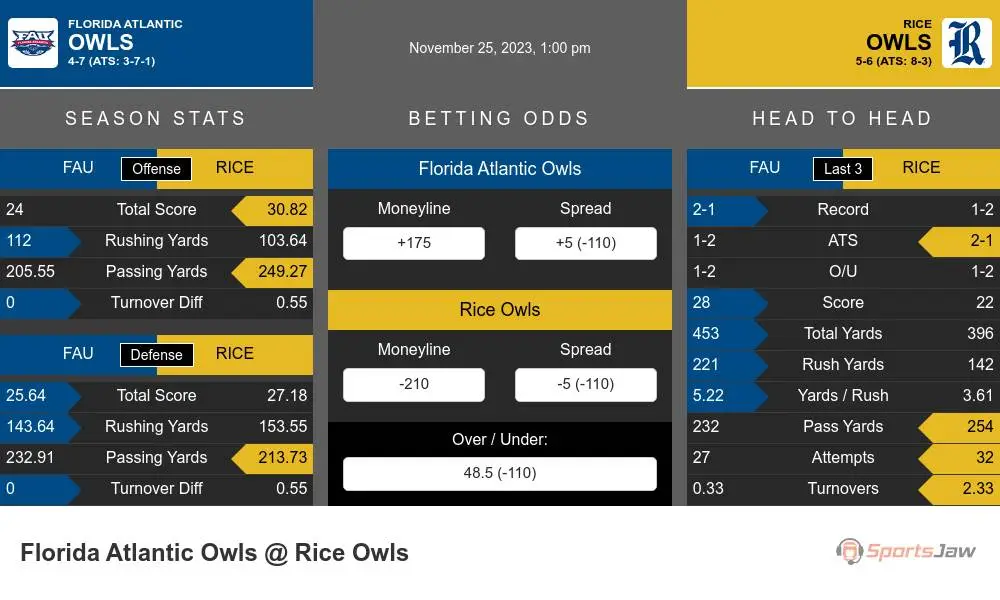 Florida Atlantic Owls
Struggling to find consistency, QB Daniel Richardson has thrown for 1,908 yards, 12 touchdowns, and 10 interceptions. Although their passing offense, ranked 12th in the American, has had success due to LaJohntay Wester accumulating 1,128 receiving yards, their rushing attack is ranked 11th in the conference. FAU has managed 28 sacks, 9 interceptions, and the injury of key defender, Justice Cross, further complicating their defensive strategies seen in their last game, a 24-8 loss to Tulane. The Owls must seek a more balanced approach in their offense and defense in order to compete when they face Rice.
Florida Atlantic Football has had a challenging season, appearing with a 4-7 record and a power ranking of 81. Their offense, scoring 24.0 points per game, has been inconsistent with QB Daniel Richardson throwing 1,908 yards, 12 touchdowns, and 10 interceptions. Their passing offense has been strong due to wide receiver LaJohntay Wester, but their rushing attack is lacking. The defense allows 25.80 points per game, and has 28 sacks and 9 interceptions. Furthermore, the injury of Justice Cross has impacted their defensive strategies. FAU have struggled to capitalize on scoring opportunities, especially in their recent 24-8 loss to Tulane, and must work on improving both their offense and defense to be better prepared for their upcoming game against Rice.
Rice Owls Analysis
The Owls have a strong passing game led by quarterback JT Daniels, with 2,443 yards, 21 touchdowns and 7 interceptions and his main target Luke McCaffrey, with 822 yards and 11 touchdowns. The rushing game is lead by Dean Connors (632 yards), however it could be an area of improvement. The defense is relatively balanced, giving up 153.5 rushing ypg and ranking 7th in the conference in total yards and rushing yards allowed. They have 19 total sacks and a modest 5 interceptions, making more aggressive defensive plays a priority. JT Daniels's potential absence with concussion-like symptoms could affect their strategy, so the team needs to be prepared with backup plans.
Rice Owls have a 5-6 record and feature an above average passing offense led by quarterback JT Daniels and wide receiver Luke McCaffrey. Their defense is slightly below average, with 153.5 rushing ypg giving up and 19 total sacks. Their last game was a 28-7 win against Charlotte, however JT Daniels is day-to-day with concussion-like symptoms, so the team must come up with backup plans if he cannot play. It will be crucial for Rice to exploit FAU's defensive weaknesses while improving their own defensive resilience to be successful.
Rice's Offensive Balance to Take Advantage of FAU's Struggling Defense in Upcoming Game
Rice's offensive prowess, boasting a 38th-ranking passing attack and 30.8 points per game, gives them a decisive advantage against Florida Atlantic University's struggling pass defense (112th nationally). JT Daniels leads Rice's passing game, accumulating 2,443 passing yards and 21 touchdowns. The 28-7 win over Charlotte illustrates their capacity to manage the game's tempo and efficiency, further bolstered by their home-field advantage at Rice Stadium. While their rushing game is comparatively weaker, Rice's offensive balance will allow them to exploit FAU's defensive vulnerabilities, making them a confident selection for the victor.
Sources: [ 1 ]
Best Bets From The Most Profitable NCAAF Handicappers
Make Your Picks

[ - ]
Make your predictions for Florida Atlantic Owls vs Rice Owls to showcase your betting acumen and earn tips for your winners!
SportsJaw is verified safe by:
The information contained in this site is FOR ENTERTAINMENT PURPOSES ONLY. Any use of this information in violation of any federal, state and/or local laws is strictly prohibited.
Sportsjaw.com is not a gambling site, and does not accept or place wagers of any type. This website does not endorse illegal gambling. If you or someone you know has a gambling problem and wants help, call 1-800-GAMBLER.