Sat Nov 25 12:00PM
38
31
|   | 1 | 2 | 3 | 4 | T | ODDS |
| --- | --- | --- | --- | --- | --- | --- |
| KENTUC | 0 | 7 | 14 | 17 | 38 | 48 |
| LOUISV | 7 | 3 | 14 | 7 | 31 | -7.5 |
Kentucky Wildcats vs
Louisville Cardinals
Predictions & Preview
Louisville Cardinals Aim to End Four-Game Losing Streak to Kentucky Wildcats with Home Turf Advantage
The rivalry matchup between the Kentucky Wildcats (6-5, 3-5 SEC) and the Louisville Cardinals (10-1, 7-1 ACC) will take place in Louisville, Kentucky on November 25th at noon EST. The winner will earn the Governor's Cup Trophy, which Kentucky currently leads 19-15 in the series including the last 4 games. Louisville is the favorite in this rivalry, opening at -7, and the line appears to have stayed the same. This matchup is one of several inter-conference rivalries between the ACC and SEC, which began in 1994.
Game Info
When: Saturday, 11/25/2023 @ 12:00pm EST
Where: L&N Federal Credit Union Stadium Stadium
Betting Odds
Moneyline: Wildcats +225 | Cardinals -265
Spread: Wildcats +7 (-110) | Cardinals -7 (-110)
Total: Over/Under 50.5 (-110)
Based on the moneyline, the implied probability that Louisville will win straight-up is 73%.
Kentucky vs Louisville Stats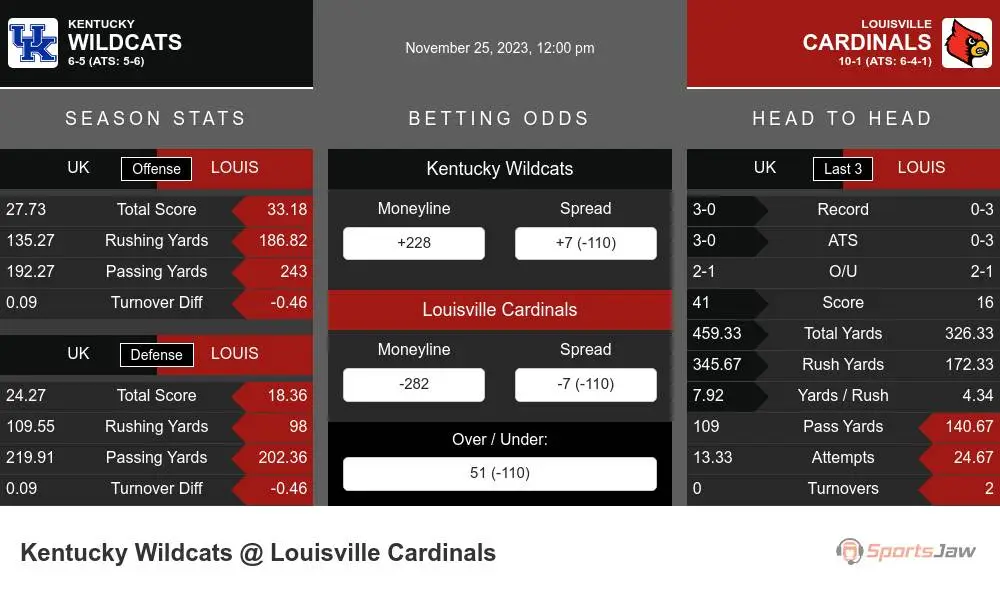 Kentucky Wildcats
Kentucky has experienced an up-and-down season, recently losing five of their past six games. Even in their victory over the Florida Gators seven weeks ago, they were one win away from becoming bowl-eligible in September. Led by senior quarterback Devin Leary, who transferred from NC State, the Wildcats have an explosive offensive line, with Ray Davis leading the way and a receiving line consisting of Dane Key, Tayvion Robinson, and Barion Brown. The Wildcats unfortunately suffer from costly penalties and turnovers, making it more difficult for them to win on the road. They are currently 6-5 and rank 54th in offense and 58th in defense.
Louisville Cardinals Analysis
5th-year senior QB Jack Plummer transfers from California and completes 65% of his passes (career-high 10 interceptions) with 2710 yards and 19 touchdowns. Louisville has two shutouts to their credit this season, including Duke, and strong run and pass offense. Their defense is led by Safety Devin Neal with four interceptions, 6 pass disruptions and 38 solo tackles.
Louisville Looking to End Losing Streak with Tight End Tactics Against Miami Defense and Home Turf Advantage
Despite injuries to their primary running backs, Louisville will utilize tight-end based offensive tactics to counter Miami's defense. The Cardinals are also aided by Kentucky's 3rd down conversion rate of 43.2%. Louisville's 21st ranked opponents are only allowing 317 yards and 18 points per game. Kentucky has only scored 14 points against South Carolina in the last week, and QB Leary has a 56.4% completion rate. The Wildcats are likely to struggle against Louisville's strong run defense. The Cardinals are 6-0 on their home turf, and looking to break their recent 4-game losing streak to Kentucky. Louisville looks set to confidently win this rivalry game. Louisville -6.5 the play.
Sources: [ 1 ] [ 2 ] [ 3 ] [ 4 ] [ 5 ] [ 6 ] [ 7 ] [ 8 ] [ 9 ] [ 10 ]
Best Bets From The Most Profitable NCAAF Handicappers
Make Your Picks

[ - ]
Make your predictions for Kentucky Wildcats vs Louisville Cardinals to showcase your betting acumen and earn tips for your winners!
SportsJaw is verified safe by:
The information contained in this site is FOR ENTERTAINMENT PURPOSES ONLY. Any use of this information in violation of any federal, state and/or local laws is strictly prohibited.
Sportsjaw.com is not a gambling site, and does not accept or place wagers of any type. This website does not endorse illegal gambling. If you or someone you know has a gambling problem and wants help, call 1-800-GAMBLER.