Fri Nov 24 3:30PM
16
29
|   | 1 | 2 | 3 | 4 | T | ODDS |
| --- | --- | --- | --- | --- | --- | --- |
| UTSA | 7 | 3 | 0 | 6 | 16 | 53.5 |
| TULANE | 7 | 16 | 0 | 6 | 29 | -3.5 |
UTSA Roadrunners vs
Tulane Green Wave
Predictions & Preview
AAC Rivals UTSA and No. 24 Ranked Tulane to Battle For Championships in Pivotal Showdown
Friday marks a pivotal showdown between AAC rivals UTSA and No. 24 ranked Tulane at Yulman Stadium. With both teams tied for first place in the AAC, the victor is likely to advance to the championship. Tulane is the opening favorite at -3, and the odds have not shifted. The stakes are high, and it will be a thrilling game.
Game Info
When: Friday, 11/24/2023 @ 3:30pm EST
Where: Benson Field at Yulman Stadium Stadium
Betting Odds
Moneyline: Roadrunners +140 | Green Wave -165
Spread: Roadrunners +3 (-110) | Green Wave -3 (-110)
Total: Over/Under 52 (-110)
Based on the moneyline, the implied probability that Tulane will win straight-up is 62%.
UTSA vs Tulane Stats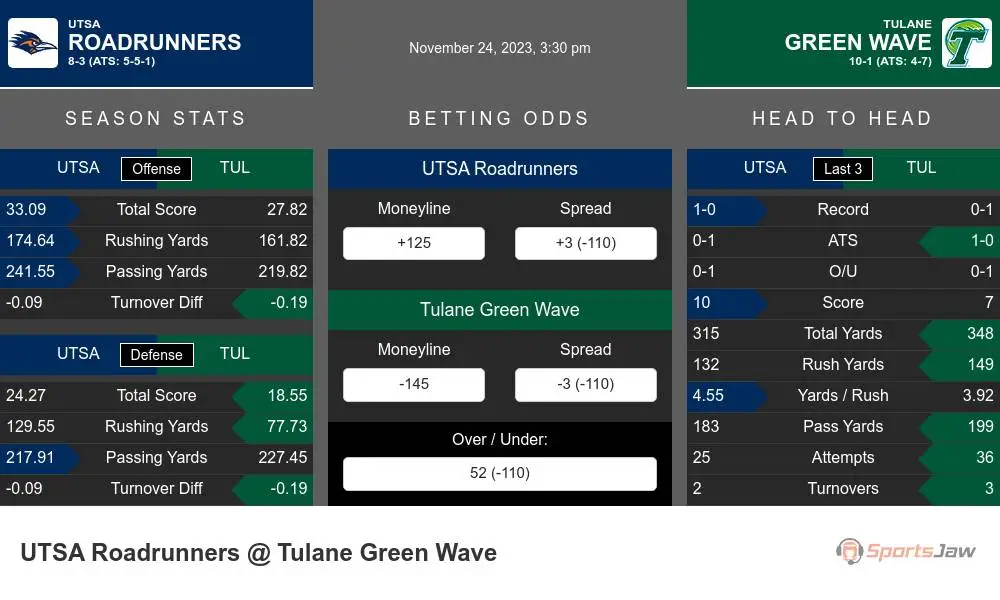 UTSA Roadrunners
UTSA has had a dominant run since joining the AAC, having won 15 consecutive regular season conference games as well as the 2021 and 2021 Conference USA Championship Games. On Nov. 17, the Roadrunners routed USF 49-21 at home. Frank Harris was the star of the show, recording 411 passing yards (31 of 46), 112 rushing yards and five total touchdowns. He set a school record for total offense (523 yards) and his 523 total yards was the second-highest FBS total this season. With 76 receptions, 966 yards and nine touchdowns, Joshua Cephas has been Harris' top receiving target. UTSA ranks 36th in total offense (429.1ypg), 48th in passing (254.5ypg) and 29th in points scored (33.09ppg). Defensively, they allow an average of 24.27 points per game (99th against the pass, 129.5ypg against the run) and rank 31 in the power rankings with an 8-3 record (5-5-1 ATS).
Tulane Green Wave Analysis
Michael Pratt broke the school's record for passing yards with 9,239 and has 2,043 yards with 19 TDs and four INTs this season. Tulane's defense is strong, however their passing defense ranks 110th, allowing 246.2 per game.
Tulane has a strong defensive record and holds an impressive 10-1 (4-7 ATS) record overall. Michael Pratt holds the school record for passing yardage, while Tulane's defense has recorded an average of 19.60 points per game while ranking 25th overall. However, the passing defense ranks 110th, allowing 246.2 yards per game, leaving its offensive performance quite average. UTSA has had poor results in its last 3 matchups against Tulane and is yet to win.
UTSA Has Edge Over Tulane with Healthy Harris, Absent Receivers
Though defense is often key in championship play, a balanced attack is desirable. Tulane must focus on the passing game as UTSA ranks 40th in run defense. A potential problem for Tulane is that two of their top three receivers are injured and may not be able to play, meaning the Green Wave might be unable to employ a well rounded offense. The positive outcome for UTSA is the health of Harris, who will be able to play as both a passer and runner with the potential to make an impact in the matchup.
Best Bets From The Most Profitable NCAAF Handicappers
Make Your Picks

[ - ]
Total
Over 53.5
Under 53.5
52
Make your predictions for UTSA Roadrunners vs Tulane Green Wave to showcase your betting acumen and earn tips for your winners!
SportsJaw is verified safe by:
The information contained in this site is FOR ENTERTAINMENT PURPOSES ONLY. Any use of this information in violation of any federal, state and/or local laws is strictly prohibited.
Sportsjaw.com is not a gambling site, and does not accept or place wagers of any type. This website does not endorse illegal gambling. If you or someone you know has a gambling problem and wants help, call 1-800-GAMBLER.