Fri Nov 24 7:30PM
7
57
|   | 1 | 2 | 3 | 4 | T | ODDS |
| --- | --- | --- | --- | --- | --- | --- |
| TXTECH | 7 | 0 | 0 | 0 | 7 | 53.5 |
| TEXAS | 10 | 16 | 24 | 7 | 57 | -16 |
Texas Tech Red Raiders vs
Texas Longhorns
Predictions & Preview
Texas Tech Upholds Underdog Status as They Head into Big Game Against Seventh Ranked Texas
5. Texas Tech and No. 7 Texas are set to face off on Friday night in Austin. Last season, Texas Tech was an underdog against Texas, but managed to upset them in overtime 37-34. Betting odds have Texas as the favored team opening at -14, with current line at -13.5. Tune in to the game Friday night at 7:30pmET to find out who will win.
Game Info
When: Friday, 11/24/2023 @ 7:30pm EST
Where: Darrell K. Royal-Texas Memorial Stadium/Jamail Field Stadium
Betting Odds
Moneyline: Red Raiders +390 | Longhorns -506
Spread: Red Raiders +13 (-110) | Longhorns -13 (-110)
Total: Over/Under 53.5 (-110)
Based on the moneyline, the implied probability that Texas will win straight-up is 83%.
Texas Tech vs Texas Stats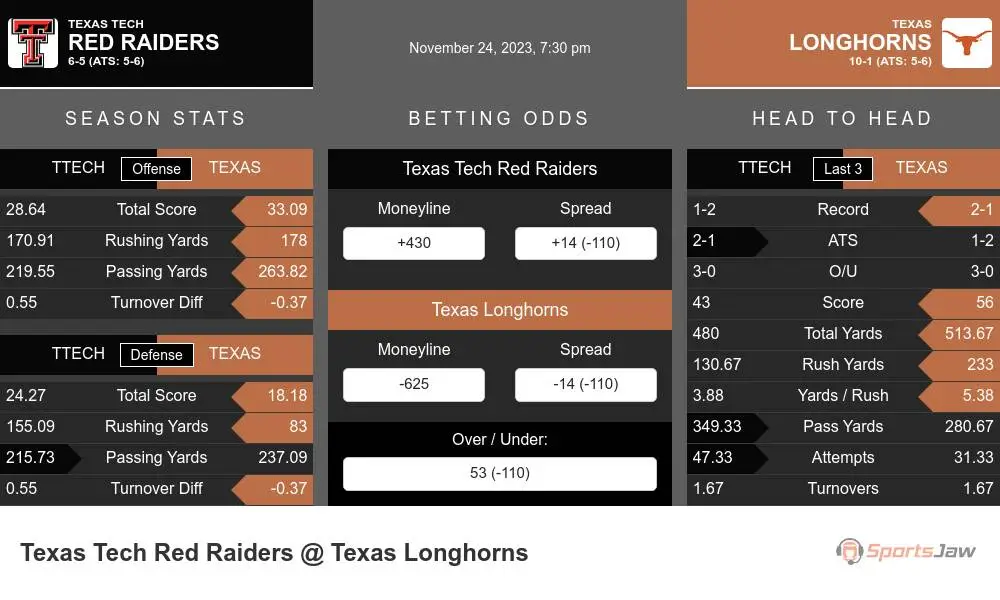 Texas Tech Red Raiders
Texas Tech has gained momentum with three consecutive wins, earning them a possible bowl game berth. They are tied with West Virginia and Oklahoma at 5-3 in the Big 12 conference. In their last game against UCF, the Red Raiders pulled ahead 21-0 with QB Behren Morton completing 21 of 35 passes for 256 yards and two touchdowns. The opposing UCF kicker Colton Boomer was instrumental in the outcome of the game, missing two key point attempts which allowed Texas Tech to take the lead and remain ahead. The Red Raiders offense is moderately successful, averaging 28.6 points per game (#60) and 404.3 total yards per game (#52). Defensively, they are slightly below average with 382.1 yards per game allowed (#74) and 24.3 points per game allowed (#56). With a power ranking of 55, Texas Tech is scoring an average of 29.10 points and allowing 24.40 per game. They are 6-5 overall (5-6 ATS) this season.
Texas Longhorns Analysis
To get into the Big 12 Championship game and keep their College Football Playoff hopes alive, Texas needs a win. They currently have a one-game lead over Oklahoma State, Kansas State and Oklahoma and have won five consecutive games after losing to Oklahoma (34-30) on Oct. 7. To win this game they need strong execution as well as a consistent defensive performance.
Texas Longhorns Prepare to Take on High-Flying Texas Tech in Anticipated Matchup
Texas and Texas Tech face off in a highly anticipated matchup. Both teams are known for their shootouts, with Texas Tech throwing 331 yards in their last meeting against the Longhorns. While the Longhorns have been struggling in pass defense, they have maintained a strong running game through Baxter, although he does not hold a candle to Brooks, a nationally recognized running back. Furthermore, while the Horns have managed to score 33 against Kansas State in overtime, they have scored under 30 in their past two games. Although the Longhorns will hope to come out with a win, Texas Tech is no slouch and the Longhorns have only dominated over one opponent (BYU) since their loss to Oklahoma.
Best Bets From The Most Profitable NCAAF Handicappers
Make Your Picks

[ - ]
Total
Over 53.5
Under 53.5
53
Make your predictions for Texas Tech Red Raiders vs Texas Longhorns to showcase your betting acumen and earn tips for your winners!
SportsJaw is verified safe by:
The information contained in this site is FOR ENTERTAINMENT PURPOSES ONLY. Any use of this information in violation of any federal, state and/or local laws is strictly prohibited.
Sportsjaw.com is not a gambling site, and does not accept or place wagers of any type. This website does not endorse illegal gambling. If you or someone you know has a gambling problem and wants help, call 1-800-GAMBLER.