Tue Nov 21 7:30PM
24
11
|   | 1 | 2 | 3 | 4 | T | ODDS |
| --- | --- | --- | --- | --- | --- | --- |
| E.MICH | 7 | 17 | 0 | 0 | 24 | 37.5 |
| BUFF | 0 | 0 | 8 | 3 | 11 | -5.5 |
Eastern Michigan Eagles vs
Buffalo Bulls
Predictions & Preview
Eastern Michigan Eagles Looking to End Season on High Note Against Buffalo Bulls Opening as Betting Favorites
On Tuesday evening at 7:30 PM EST, Eastern Michigan Eagles (5-6, 3-4 in MAC) will battle Buffalo Bulls (3-8, 3-4) at UB Stadium in a matchup broadcasted on ESPN2. Eastern Michigan is looking to capitalize on their close 30-27 double-overtime home win over the Akron Zips while the Bulls seek to snap their three-game losing streak following a 23-10 road loss to the Miami RedHawks. Buffalo is the betting favorite opening at -6.5 and the line has not changed. Both teams will compete to end the season on a positive note.
Game Info
When: Tuesday, 11/21/2023 @ 7:30pm EST
Where: UB Stadium Stadium
Betting Odds
Moneyline: Eagles +195 | Bulls -235
Spread: Eagles +6.5 (-110) | Bulls -6.5 (-110)
Total: Over/Under 38 (-110)
Based on the moneyline, the implied probability that Buffalo will win straight-up is 70%.
Eastern Michigan vs Buffalo Stats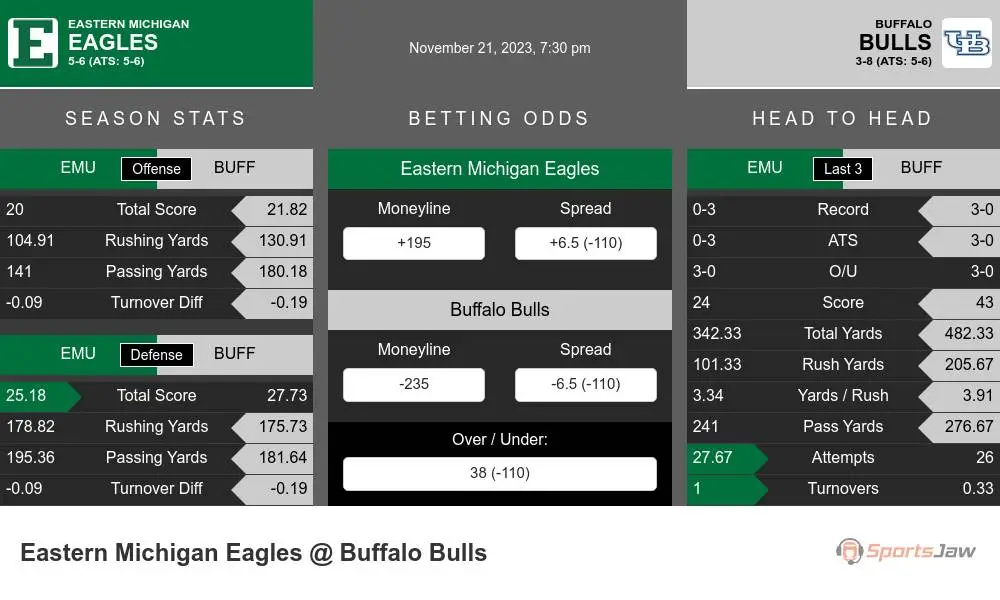 Eastern Michigan Eagles
Their quarterback, Austin Smith, has been a consistent performer with 1,634 passing yards and their rushing attack, lead by Samson Evans, has racked up 508 yards with an impressive 11 touchdowns. Tanner Knue has been Smith's primary target, accumulating 472 yards. The Eagles have the potential to exploit Buffalo's defense weaknesses and will need to bolster both their rush and pass defense, while increasing their aggression with regards to sacks and interceptions in order to disrupt Buffalo's offensive rhythm.
Eastern Michigan Eagles are preparing for their upcoming game with a balanced offensive and defensive strategy. Quarterback Austin Smith has had a strong season, passing for 1,634 yards and wide receiver Tanner Knue accumulating 472 yards, while Samson Evans has lead the rushing attack, gaining 508 yards and 11 touchdowns. Their total offense is 253rd in the league, averaging 266.6 yards per game, and their total defense is ranked #99, allowing 25.2 points per game. To limit Buffalo's scoring opportunities the defense needs to buildup their rush and pass defense and increase aggression with sacks and interceptions.
Buffalo Bulls Analysis
Bulls' QB Cole Snyder, RB Marlon Johnson and RB Ron Cook Jr. have impressive offensive stats, as Snyder threw for 1,974 yards, having 13 TDs, Johnson with 415 yards with 4 TDs, and Cook with 566 yards and 5 TDs. Bulls have a weak rushing attack (ranked #174), and their overall total defense is 234th in the league, plus the rush and pass defense need improvements. Additionally, injuries to RB Lamar Sperling and TE Jake Orlando could be a setback. The Buffalo Bulls need to show both defensive and offensive improvements against Eastern Michigan to push for a favorable outcome.
Eastern Michigan Eagles the Clear Favorites with Auspicious Lineup Heading Into Matchup Against Buffalo
Eastern Michigan Eagles enter this matchup as the clear favorites, with a strong game plan. Quarterback Austin Smith has been a major contributor to their offensive success, totaling 1,634 yards and 8 touchdowns. He has also been connecting well with his go-to receiver, Tanner Knue, who leads the team with 472 receiving yards. Samson Evans has led the run game, with 508 rushing yards and 11 touchdowns. Eastern Michigan's balanced offense combined with Buffalo's inconsistent defense is expected to result in a decisive win. The Eagles' victories over Akron and Kent State demonstrate their ability to perform under pressure, further cementing their potential for success.
Best Bets From The Most Profitable NCAAF Handicappers
Make Your Picks

[ - ]
Total
Over 37.5
Under 37.5
38
Make your predictions for Eastern Michigan Eagles vs Buffalo Bulls to showcase your betting acumen and earn tips for your winners!
SportsJaw is verified safe by:
The information contained in this site is FOR ENTERTAINMENT PURPOSES ONLY. Any use of this information in violation of any federal, state and/or local laws is strictly prohibited.
Sportsjaw.com is not a gambling site, and does not accept or place wagers of any type. This website does not endorse illegal gambling. If you or someone you know has a gambling problem and wants help, call 1-800-GAMBLER.