Wed Sep 20 1:05PM
3
13
|   | 1 | 2 | 3 | 4 | 5 | 6 | 7 | 8 | 9 | T | ODDS |
| --- | --- | --- | --- | --- | --- | --- | --- | --- | --- | --- | --- |
| CHW | 0 | 1 | 0 | 0 | 0 | 0 | 0 | 2 | 0 | 3 | 9.5 |
| WSH | 1 | 3 | 4 | 2 | 2 | 0 | 0 | 1 | 0 | 13 | -130 |
Preview & Predictions

Chicago White Sox vs
Washington Nationals
Final Game of White Sox-Nationals Series To Decide Series Winner
The two teams will play their third and final game of the three game series in Nationals Park. Washington has had the upper hand in the last 10 matchups with a record of 7-3.
Game Info
When: Wednesday, 9/20/2023 @ 1:05pm EST
Where: Nationals Park Stadium
White Sox vs Nationals Betting Odds
Moneyline: White Sox +107 | Nationals -119
Spread: White Sox 0 (-18) | Nationals 0 (-13)
Total: Over/Under 9 (-110)
Based on the moneyline, the implied probability that Washington will win straight-up is 54%.
Chicago vs Washington Score Prediction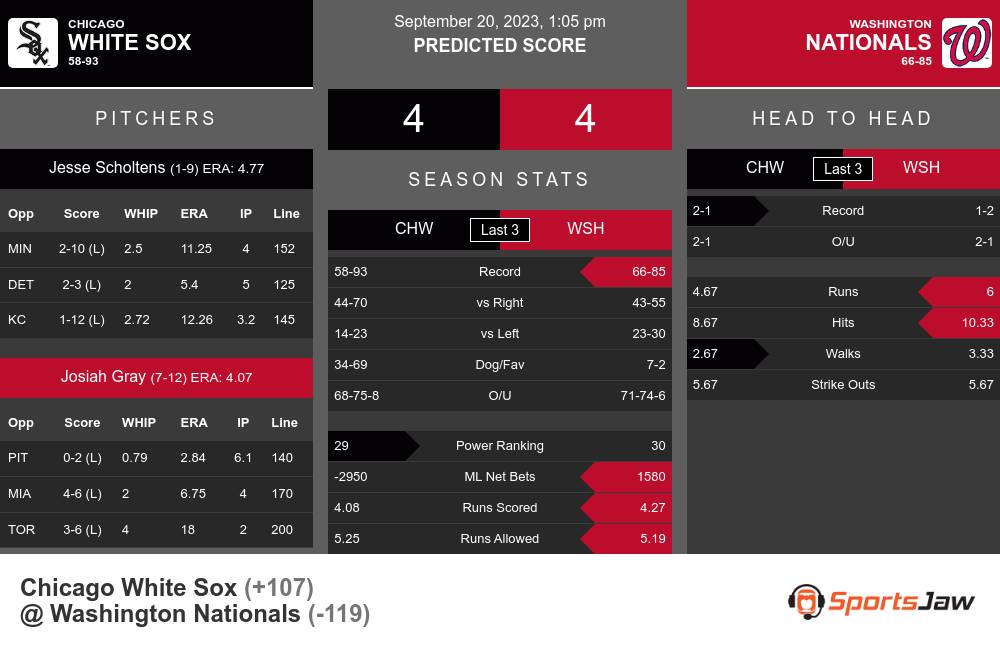 Chicago White Sox
The Chicago White Sox won their first game of the series against the Washington Nationals and will be looking for their third win in their last four games.
Despite averaging 4.09 runs per game, the White Sox rank 24th in the league in batting average (.240), 30th in on-base percentage (.294), and 26th in slugging percentage (.389).
Andrew Benintendi leads the White Sox with a .268 batting average while Luis Robert Jr. leads the team with 36 home runs and 78 RBI.
Opposing teams have a .250 batting average against the White Sox, and the team has 4.91 ERA and 1.26 WHIP.
The White Sox have a power ranking of 29, are 28th in offense, 27th in defense, and have a record of 58-93 this season.
Washington Nationals Analysis
The Nationals are averaging 4.25 runs per game, 12th in the league.
Joey Meneses leads the Nationals with a .278 batting average and 81 RBI while Lane Thomas leads the team with 25 home runs.
Washington has given up 5.19 runs per game, 28th in the league
Washington Nationals have a power ranking of 30 and are #22 for offense, #26 for defense, and 66-85 overall.
In Gray's last start, he gave up five hits and two runs in 6.1 innings leading to a 2-0 loss to Pittsburgh.
Chicago went 1-2 in their last 3 matchups against Washington.
White Sox and Nationals Likely to Struggle Despite Recent Run Production
The White Sox have gone 5-2 in their last seven games, but have lost two of their last three road encounters. With 15 runs in their last four games, their offensive struggles are likely to continue against right-handers. Gray has performed decently, giving up five runs in his last two starts, and seven runs in his last three. In comparison, the Nationals have lost 6 of their last 8; scoring 16 runs in their last four at home. However, they have hit well against right-handers and Scholten's 14 runs given up over his last three starts, 8 of them in his last two road outings make them good candidates to cover the money line.
Sources: [ 1 ] [ 2 ] [ 3 ] [ 4 ] [ 5 ] [ 6 ]
Written by Brycet
Published on
Category: MLB Picks
About the Author: Real deal Holyfield - I spend countless hours each day and night handicapping the games to find a select few that will put the odds in your favor. College Hoops has always been my jam, so follow me this season for NCAAB weekly winners. #LFG
Sun, 3:05 PM
LA
SF
Sun, 3:10 PM
Minnesota
Colorado
Sun, 3:10 PM
Cleveland
Detroit
Sun, 3:10 PM
New York
KC
Sun, 3:10 PM
Chicago
Milwaukee
Sun, 3:15 PM
CIN
St. Louis