Tue Sep 19 10:10PM
2
3
|   | 1 | 2 | 3 | 4 | 5 | 6 | 7 | 8 | 9 | T | ODDS |
| --- | --- | --- | --- | --- | --- | --- | --- | --- | --- | --- | --- |
| DET | 1 | 0 | 1 | 0 | 0 | 0 | 0 | 0 | 0 | 2 | 8.5 |
| LA | 0 | 0 | 0 | 1 | 0 | 0 | 0 | 1 | 1 | 3 | -250 |
Preview & Predictions

Detroit Tigers vs
Los Angeles Dodgers
Dodgers' Strong Bullpen and Offense Make Them Favorite in Showdown with Tigers
The Los Angeles Dodgers will host the Detroit Tigers on Tuesday night in one of the final matchups of the 2020 regular season. The two teams come into this showdown with very different outlooks - while the Dodgers have already clinched the division title, the Tigers are trying to make up an 8-game deficit in their run for the playoffs. When they faced off last season, in their first meeting since 2017, the Dodgers swept the series. Matthew Boyd (ERA: 4.5) will be starting for the Tigers and Ryan Pepiot (ERA: 2.0) will be starting for the Dodgers. Los Angeles is the betting favorite with an opening line of -240 that has not moved.
Game Info
When: Tuesday, 9/19/2023 @ 10:10pm EST
Where: Dodger Stadium Stadium
Tigers vs Dodgers Betting Odds
Moneyline: Tigers +208 | Dodgers -240
Spread: Tigers +1.5 (+100) | Dodgers -1.5 (-120)
Total: Over/Under 9 (-110)
Based on the moneyline, the implied probability that Los Angeles will win straight-up is 71%.
Detroit vs Los Angeles Score Prediction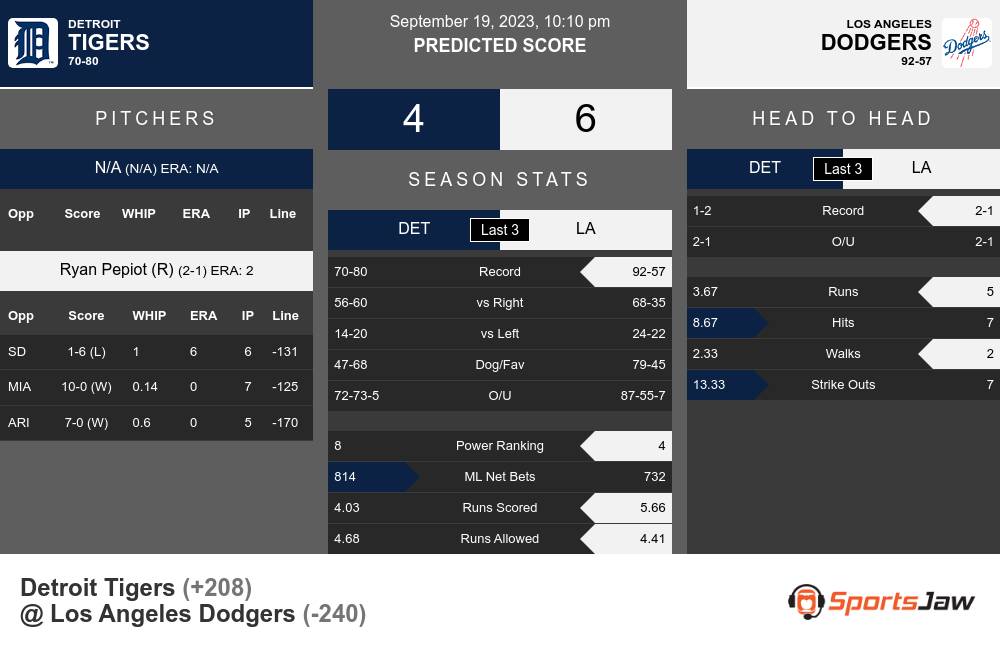 Detroit Tigers
• Detroit Tigers have taken a step forward in 2023 with team under ten games behind AL Central-leading Twins • Tigers post a 7-3 record in their last ten games • Road record of 27-48 represents one of worst among teams still in playoff consideration • Detroit undecided on starting pitcher for upcoming game • Team ERA of 4.34 and bullpen ERA of 4.42 • Average 4.1 runs per game, one of the worst marks in baseball • Riley Greene and Austin Meadows absent due to injuries • Spencer Torkleson has 28 home runs and 83 RBIs • Power ranking of 8, offense 29th (4.03 runs/game), defense 19th (4.68 points/game), season record 70-80
Los Angeles Dodgers Analysis
• Dodgers have clinched NL West with masterclass in the second-half • 7-3 record over last 10 games • 48-26 home record, best in baseball • Injury-riddled rotation with 6 starters and 7 relievers unavailable • 4.60 ERA for starters • 5.8 runs per game with .253 team batting average • Power Ranking of 4 • #2 for offense, #12 for defense • 92-57 overall record • Detroit 2-1 in last 3 matchups against Los Angeles.
Dodgers' Bullpen and Offense Give Them the Edge in Rotation Matchup
The Dodgers have the advantage due to their strong bullpen and powerful offense. Although both teams are dealing with rotation issues, Los Angeles have one of the best bullpens in baseball which compensates for this. Additionally, their top-tier offense should ensure they have the necessary run production to secure the win.
Sources: [ 1 ]
Written by Brycet
Published on
Category: MLB Picks
About the Author: Real deal Holyfield - I spend countless hours each day and night handicapping the games to find a select few that will put the odds in your favor. College Hoops has always been my jam, so follow me this season for NCAAB weekly winners. #LFG
Sun, 3:05 PM
LA
SF
Sun, 3:10 PM
Minnesota
Colorado
Sun, 3:10 PM
Cleveland
Detroit
Sun, 3:10 PM
New York
KC
Sun, 3:10 PM
Chicago
Milwaukee
Sun, 3:15 PM
CIN
St. Louis