Tue Sep 19 8:10PM
9
5
|   | 1 | 2 | 3 | 4 | 5 | 6 | 7 | 8 | 9 | T | ODDS |
| --- | --- | --- | --- | --- | --- | --- | --- | --- | --- | --- | --- |
| BAL | 2 | 0 | 3 | 0 | 0 | 2 | 2 | 0 | 0 | 9 | 9 |
| HOU | 2 | 0 | 1 | 0 | 0 | 2 | 0 | 0 | 0 | 5 | -175 |
Preview & Predictions

Baltimore Orioles vs
Houston Astros
Baltimore Orioles and Houston Astros Battle for AL East and AL West Titles
The game will be played in Houston Tuesday night with first pitch at 8:10 PM EST. Baltimore is looking to clinch the AL East while Houston is looking to defend their World Series title and clinch another AL West crown.
Game Info
When: Tuesday, 9/19/2023 @ 8:10pm EST
Where: Minute Maid Park Stadium
Orioles vs Astros Betting Odds
Moneyline: Orioles +128 | Astros -145
Spread: Orioles +1.5 (-160) | Astros -1.5 (+140)
Total: Over/Under 9 (-110)
Based on the moneyline, the implied probability that Houston will win straight-up is 59%.
Baltimore vs Houston Score Prediction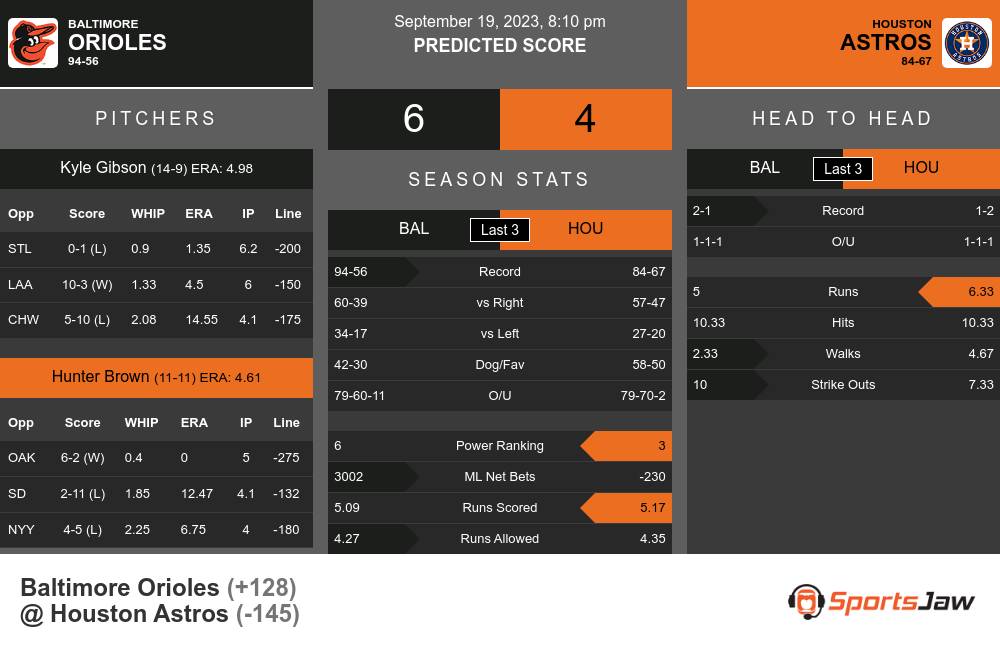 Baltimore Orioles
• Baltimore Orioles were on the cusp of dropping the AL East Division lead after four straight losses and five of six • The team rebounded to close the series with two straight wins to remain ahead • Cedric Mullins hit a three-run home run in the ninth-inning to beat the Astros in Monday night's series opener • Starter John Gibson is 14-8 on the season in 30 starts with an ERA of 4.98 • Baltimore is ranked 6th in offense and 8th in defense, posting a 94-56 overall record
Houston Astros Analysis
• Houston Astros came nearly getting swept by the Royals over the weekend • Astros salvaged a win in the series with seven strong innings from Framber Valdez • Astros gained a game on both the Rangers and Mariners, who were swept • Monday night's 8-7 loss to Orioles due to Astros bullpen, specifically closer Ryan Pressley • Astros are relying on right-hander Hunter Brown on Tuesday night • Brown is 11-11 in 28 appearances with 27 starts, has 11 quality starts • Brown is 4-7 in 13 starts this season at home with an ERA of 5.60 • Brown 0-1 against the Orioles with an ERA of 7.50 in one start • Brown 2-3 with a 7.29 ERA in last five starts • Houston Astros power ranking of 3, #5 for offense and #11 for defense • Baltimore went 1-2 in last three matchups against Houston
Orioles Counting on Gibson to Secure Spot in AL East Division
The Orioles have yet to secure a spot in the AL East division. Their upcoming game against the Astros may prove beneficial, especially with the team's starter, Brown, encountering difficulty in his previous five starts, with an ERA over seven. Furthermore, although he's had an overall home record of 4-7 and an ERA nearly six, his last outing against the Orioles was particularly unsuccessful, thus giving Baltimore an advantage. The team's Gibson has had respectable numbers, with an ERA close to five and 16 quality starts as well as leading the team in wins. Therefore, it is anticipated that Gibson's performance will ensure the Orioles' success, while their bullpen puts the game away.
Sources: [ 1 ]
Written by Tweiskoff
Published on
Category: MLB Picks
About the Author: Tim Weiskoff is a Las Vegas regular, has made his living wagering on sports since 1990 and has been one of the top handicappers in the industry for more than 10 years.
Sun, 3:05 PM
LA
SF
Sun, 3:10 PM
Minnesota
Colorado
Sun, 3:10 PM
Cleveland
Detroit
Sun, 3:10 PM
New York
KC
Sun, 3:10 PM
Chicago
Milwaukee
Sun, 3:15 PM
CIN
St. Louis