Mon Sep 18 10:10PM
3
8
|   | 1 | 2 | 3 | 4 | 5 | 6 | 7 | 8 | 9 | T | ODDS |
| --- | --- | --- | --- | --- | --- | --- | --- | --- | --- | --- | --- |
| DET | 0 | 0 | 0 | 0 | 3 | 0 | 0 | 0 | 0 | 3 | 8 |
| LA | 0 | 1 | 4 | 0 | 0 | 1 | 2 | 0 | 0 | 8 | -188 |
Preview & Predictions

Detroit Tigers vs
Los Angeles Dodgers
Dodgers Favourites in Interleague Matchup Against the Tigers with Lance Lynn as Starting Pitcher
On Monday, September 18, 2023, the Los Angeles Dodgers host the Detroit Tigers in an interleague matchup at Dodger Stadium. The Dodgers are the betting favorites, opening at -183 with no movement, and have won four of their previous six encounters with Detroit. Eduardo Rodriguez (ERA: 3.32) will start for the Tigers and Lance Lynn (ERA: 5.94) will start for the Dodgers.
Game Info
When: Monday, 9/18/2023 @ 10:10pm EST
Where: Dodger Stadium Stadium
Tigers vs Dodgers Betting Odds
Moneyline: Tigers +161 | Dodgers -183
Spread: Tigers +1.5 (-135) | Dodgers -1.5 (+114)
Total: Over/Under 8.5 (-110)
Based on the moneyline, the implied probability that Los Angeles will win straight-up is 65%.
Detroit vs Los Angeles Score Prediction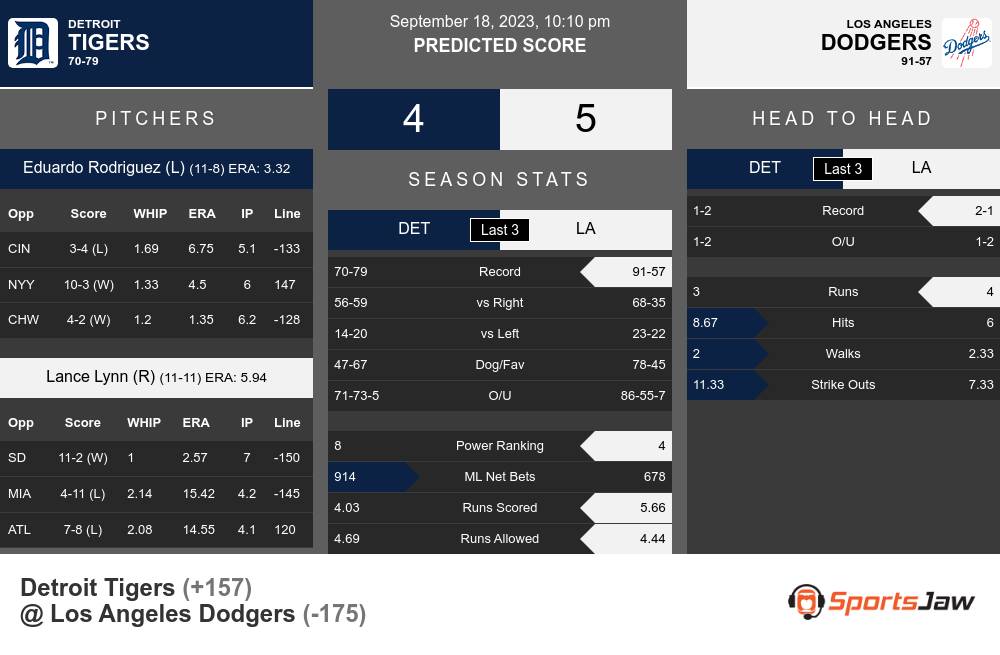 Detroit Tigers
- The Detroit Tigers visited the Los Angeles Angels for the closing clash of a three-game series, with the Cats searching for their fourth straight victory - In the past two weeks the Tigers have slashed .239/.323/.368 with 16 extra-base hits and 12 home runs in 410 at-bats - Their pitching staff has posted a 3.08 ERA, 1.09 WHIP, and a .197 batting average against - Eduardo Rodriguez will toe the rubber Monday in LA and has an 11-8 record with a 3.32 ERA, 1.15 WHIP, and 132/42 K/BB ratio in 23 starts - Power ranking of 13, Detroit is ranked 29 in offense, #19 in defense and are 70-79 this season
Los Angeles Dodgers Analysis
• 90-57 Los Angeles Dodgers played Seattle Mariners at T-Mobile Park in Seattle in an effort to sweep the three-game set. • Lost seven of the first fourteen games of September after a strong August • Outlasted the Mariners 6-2 in 11 innings to clinch the NL West title • In the past two weeks, the Dodgers are hitting .271/.360/.443 with 22 extra-base hits, 16 home runs, and 420 at-bats. • Pitching stats show 4.19 ERA, 1.13 WHIP, and .231 batting average against in that span. • Lance Lynn (11-11; 5.94 ERA; 1.40 WHIP) is projected to be the starter on Monday. • The Dodgers have a power ranking of 2, and are #2 for offense, scoring an average of 5.66 per game, and #15 for defense, giving up an average of 4.44 points per game. • Went 2-1 in their last 3 matchups against Detroit.
Lance Lynn's Experienced Presence Could Prove Advantageous in Upcoming Matchup
If Lance Lynn earns the start, I expect his experience to be an advantage. In his matchup against the Tigers in May, Lynn earned the win while allowing three runs (one earned) over six innings. Recent matchups with the Dodgers have seen Lynn's teams hold a slight advantage, with 20 hits (including three doubles and a home run) registering a 113 wRC+. The team has posted an 80 wRC+ when facing right-handed pitchers in the last ten days. If Lynn is on the mound, I believe his presence will be a strong factor in the game's outcome.
Written by Roycejacobs
Published on
Category: MLB Picks
About the Author: Finance major and sports betting aficionado who honed their skills on fantasy sports. I bring years of analytical and stats experience to sports betting. Follow me this year as I pick the bookies apart and share my picks with my followers. Let's Go!
Sun, 3:05 PM
LA
SF
Sun, 3:10 PM
Minnesota
Colorado
Sun, 3:10 PM
Cleveland
Detroit
Sun, 3:10 PM
New York
KC
Sun, 3:10 PM
Chicago
Milwaukee
Sun, 3:15 PM
CIN
St. Louis