Mon Sep 18 8:10PM
8
7
|   | 1 | 2 | 3 | 4 | 5 | 6 | 7 | 8 | 9 | T | ODDS |
| --- | --- | --- | --- | --- | --- | --- | --- | --- | --- | --- | --- |
| BAL | 0 | 0 | 1 | 0 | 2 | 0 | 2 | 0 | 3 | 8 | 8.5 |
| HOU | 1 | 0 | 0 | 0 | 0 | 4 | 1 | 1 | 0 | 7 | -190 |
Preview & Predictions

Baltimore Orioles vs
Houston Astros
Astros and Orioles to Battle for Postseason Placement in High-Stakes Series Opener
This 3-game series starts on Monday night (8:10 PM EST) and it is between the Baltimore Orioles and Houston Astros teams who might meet again in October. Orioles clinched a playoff spot by winning on Sunday and have been challenging Tampa Bay Rays to win the AL East division. On the other hand, Astros have a 1.5-game lead over both Mariners and Rangers heading into this series.
Game Info
When: Monday, 9/18/2023 @ 8:10pm EST
Where: Minute Maid Park Stadium
Orioles vs Astros Betting Odds
Moneyline: Orioles +132 | Astros -150
Spread: Orioles +1.5 (-161) | Astros -1.5 (+140)
Total: Over/Under 8.5 (-110)
Based on the moneyline, the implied probability that Houston will win straight-up is 60%.
Baltimore vs Houston Score Prediction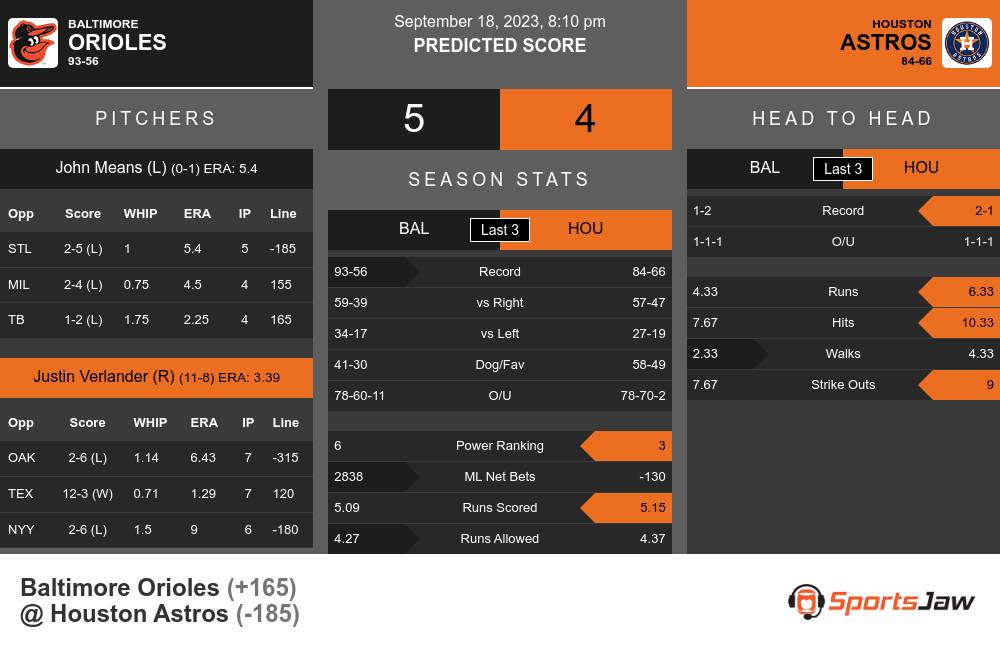 Baltimore Orioles
• Baltimore Orioles have made the postseason for the first time since 2016 • Have a 3-game lead in the loss column over the Rays • John Means is set to start against the Astros in a potential playoff-preview series • Power ranking of 5, ranked 6 in offense and 9 in defense • 93-56 this season
Houston Astros Analysis
• Astros are back on top in AL West Division and are close to another division title • Last weekend dropped two out of three games to the Royals • Avoided being swept on Sunday with 7-1 win • Monday have Justin Verlander pitching for them • Astros ranked 6th in power rankings, 5th in offense (5.15 ppg) and 11th in defense (4.37 ppg) • Baltimore went 2-1 in their last 3 matchups against Houston
Astros, Orioles Fight for Playoff Position as Verlander Goes Head-to-head with Means
Both teams are competing for a first-round bye in the postseason, creating a sense of urgency in the opener between the Astros and Orioles, given Astros' pitcher Justin Verlander's performance against starter John Means, who has only made one start this season. Verlander has gone 3-2 in his last five starts, recording a below four ERA in that span. Although the Astros have played sluggishly, their fortunes have improved with the Mariners and Rangers being swept over the weekend. Despite this, the Orioles remain three games ahead in the loss column. As a result, we recommend betting on the Astros with the money line.
Written by Gsimms
Published on
Category: MLB Picks
About the Author: I use a private handicapping system that I've created and adjusted over the last 20 years. My betting philosophy is discipline and bankroll management.
Sun, 3:05 PM
LA
SF
Sun, 3:10 PM
Minnesota
Colorado
Sun, 3:10 PM
Cleveland
Detroit
Sun, 3:10 PM
New York
KC
Sun, 3:10 PM
Chicago
Milwaukee
Sun, 3:15 PM
CIN
St. Louis