Mon Sep 18 7:45PM
0
1
|   | 1 | 2 | 3 | 4 | 5 | 6 | 7 | 8 | 9 | T | ODDS |
| --- | --- | --- | --- | --- | --- | --- | --- | --- | --- | --- | --- |
| MIL | 0 | 0 | 0 | 0 | 0 | 0 | 0 | 0 | 0 | 0 | 8.5 |
| STL | 0 | 0 | 0 | 1 | 0 | 0 | 0 | 0 | 0 | 1 | +155 |
Preview & Predictions

Milwaukee Brewers vs
St. Louis Cardinals
Brewers Look to Take Division Lead with Series Win Against Cardinals
Game 1 of the four-game series between Milwaukee Brewers and St. Louis Cardinals kicks off on Monday night at 7:45 PM ET at Busch Stadium with Freddy Peralta and Adam Wainwright on the mound.
Game Info
When: Monday, 9/18/2023 @ 7:45pm EST
Where: Busch Stadium Stadium
Brewers vs Cardinals Betting Odds
Moneyline: Brewers -164 | Cardinals +150
Spread: Brewers -1.5 (-102) | Cardinals +1.5 (-115)
Total: Over/Under 9 (-110)
Based on the moneyline, the implied probability that Milwaukee will win straight-up is 62%.
Milwaukee vs St. Louis Score Prediction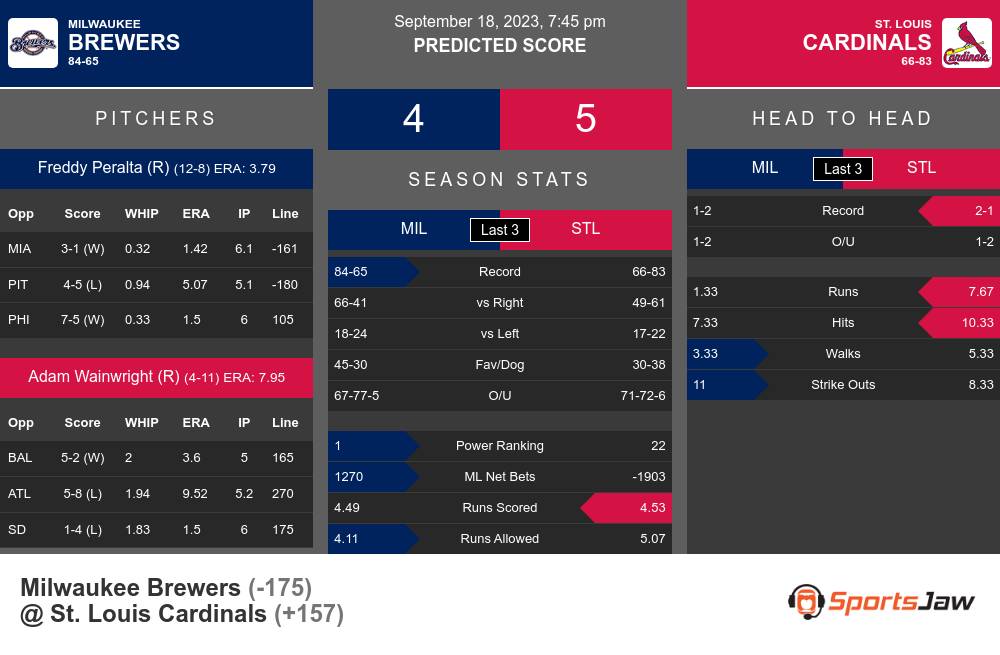 Milwaukee Brewers
• Milwaukee Brewers are currently in first place in the National League Central and have a 6.5-game lead over the Chicago Cubs. • Freddy Peralta will set the tone in the first game of the road set; he has a 6-0 record, 2.01 ERA, and 82:11 K:BB in 53.2 innings over his last nine starts. • Power Ranking: #1 • Offense Ranking: #18 (scoring an average of 4.46 per game) • Defense Ranking: #3 (allowing an average of 4.10 points to be scored against them per game) • Overall Record: 84-64
St. Louis Cardinals Analysis
• Adam Wainwright will start the first game of the series for the St. Louis Cardinals • He won his 199th career win last Tuesday against Baltimore, allowing two runs on seven hits and three walks over five innings, striking out three • On the year, he has a 7.95 ERA and 1.98 WHIP • Cardinals have a power ranking of 24 and are #16 for offense, #24 for defense, and 65-83 overall • Milwaukee went 2-1 in their last 3 matchups against St. Louis
Brewers Set to Take Division Lead with Freddy Peralta on the Mound
The Brewers are starting right-hander Freddy Peralta in the first game of this road set. In his last outing, Peralta earned the win while allowing one run on two hits in 6.1 innings pitched against the Marlins. His 200 strikeouts mark is the sixth-highest figure in MLB. Across his last nine starts (53.2 innings), he holds a 6-0 record with a 2.01 ERA and 82:11 K:BB. The Cardinals, out of playoff contention, are going through the motions at this point in the season. They have won five of six recently, but the Brewers have a chance to take the division with a series win. Milwaukee has the advantage, given the Cardinals' weaker pitcher.
Written by Brycet
Published on
Category: MLB Picks
About the Author: Real deal Holyfield - I spend countless hours each day and night handicapping the games to find a select few that will put the odds in your favor. College Hoops has always been my jam, so follow me this season for NCAAB weekly winners. #LFG
Sun, 3:05 PM
LA
SF
Sun, 3:10 PM
Minnesota
Colorado
Sun, 3:10 PM
Cleveland
Detroit
Sun, 3:10 PM
New York
KC
Sun, 3:10 PM
Chicago
Milwaukee
Sun, 3:15 PM
CIN
St. Louis