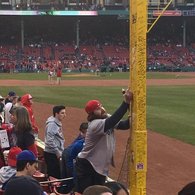 Chiefs vs Patriots

Prediction

Odds and Preview

By Staff Writer, ScottyyDoesKnow

Expand Prediction
Kansas City vs New England LATEST

LATEST game chat

Post

Since 2003, the Patriots are 41-16 ATS coming off a loss.

After a loss to the Texans last week 28-22 as a 3.5-point favorite the Pats are -3 at home against the Chiefs today. pic.twitter.com/4B2AZ0g0VS

— Barstool Bets (@barstoolbets) December 8, 2019

Despite New Englands offensive struggles and any speculation, Patriots will not be brining back Antonio Brown, per sources.https://t.co/jw5zIGfWZy

— Adam Schefter (@AdamSchefter) December 8, 2019

The Patriots are 42-0 at home vs. AFC teams when Tom Brady and Julian Edelman are in the lineup...

Could Patrick Mahomes and the Chiefs make that 42-1? pic.twitter.com/OQKePlk6Pj

— SNF on NBC (@SNFonNBC) December 7, 2019

Since 2001 the Patriots have allowed 25+ points after halftime 5 times:

2002 Chiefs (28)
2006 Colts (32)
2017 Chiefs (28)
2018 Chiefs (31)
2018 Chiefs again (31)

— Scott Kacsmar (@ScottKacsmar) December 8, 2019

Appreciate others, share insights, play the bankroll game and win prizes. It's free to join & play!

To use SportsJaw, you must have cookies enabled.

Welcome to SportsJaw

Thank you for completing your account.

We hope you enjoy the community and all it has to offer. New features are being added all of the time.