Fri Nov 25 3:30PM
79
75
|   | 1 | 2 | 3 | T | ODDS |
| --- | --- | --- | --- | --- | --- |
| BYU | 24 | 40 | 15 | 79 | 130.5 |
| DAYTN | 40 | 24 | 11 | 75 | -3.5 |
BYU vs Dayton Predictions
Published on
BYU is on the road playing Dayton at the Imperial Arena at Atlantis Resort stadium on Friday, 11/25/2022 @ 3:30pm EST. Dayton -2.25 was the opening favorite and current line is Dayton -3.5.
BYU Highlights
With a power ranking of 115, BYU is ranked #351 in offense (scoring an average of 60.20 per game), #10 in defense (allowing an average of 52.40 points to be scored against them per game) and are 3-3 (1-5 ATS) this season.
Dayton Highlights
Dayton Flyers has a power ranking of 278 and are #192 for offense (scoring an average of 72.80 per game), #232 for defense (giving up an average of 52.40 points per game) and 3-3 (1-4-1 ATS) overall. BYU went 0-0 (0-0 ATS) in their last 3 matchups against Dayton.
BYU Injuries
G Koby Brea Is out indefinitely, Illness
F Richard Amaefule Is out indefinitely, Ankle
F Kaleb Washington Is out indefinitely, Suspension
Dayton Injuries
Curated Picks & Predictions
From the lines set by Sportsbooks, they predict the score to be BYU 68.75, DAYTN 61.75.
55% of SportsJaw predicts Dayton Flyers to cover.
OddsShark predicts Dayton will win, byu will cover, and the total will go over.
split down the middle on Covers.com
Our ScoreCaster predicts Flyers 70 to Cougars 81.
Staff Prediction
Our prediction: Flyers 70 to Cougars 81.
Written by SportsJaw Staff
Categorized as NCAAB Predictions
[+ More]
1

LATEST CHATTER

[ - ]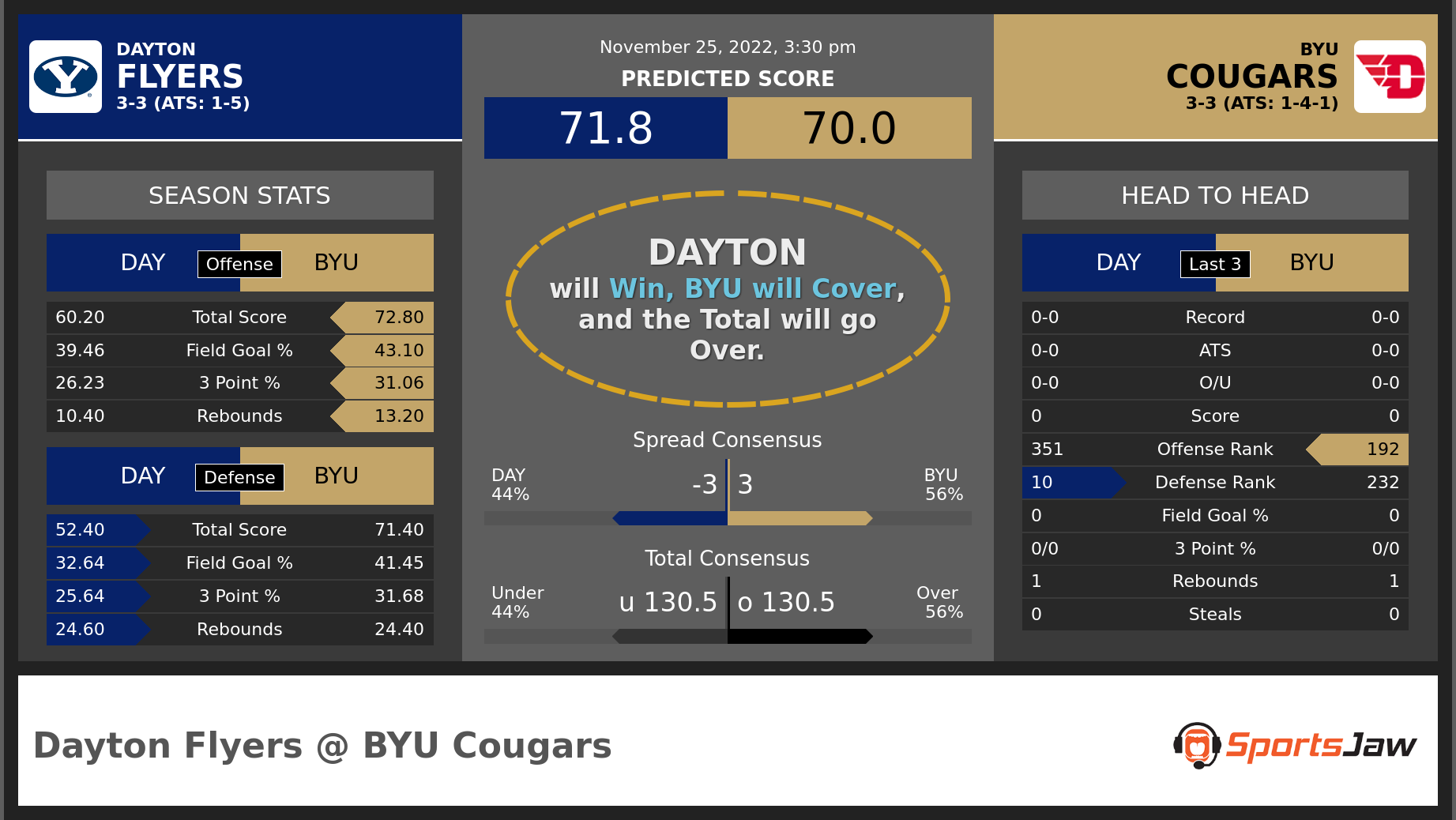 Adjusted score predictions based on power rankings and strength of schedule: Flyers 72 to Cougars 70.