Wed Nov 22 4:00PM
88
65
|   | 1 | 2 | T | ODDS |
| --- | --- | --- | --- | --- |
| CREIG | 45 | 43 | 88 | 146.5 |
| LOYCH | 37 | 28 | 65 | +19 |
Creighton Bluejays vs
Loyola of Chicago Ramblers
Predictions & Preview
Loyola of Chicago Ramblers Face Off Against Creighton Bluejays in Hall of Fame Classic
The Loyola of Chicago Ramblers and the Creighton Bluejays will face off in the nightcap of the Hall of Fame Classic's opening round on Wednesday. The Ramblers are currently 2-2 for the season while the Bluejays stand at 4-0 after a four-game home stand sweep. The opening tip is scheduled for 3:00 PM EST, and Creighton remain the favorites with an opening line of -15.5 that has yet to change.
Game Info
When: Wednesday, 11/22/2023 @ 4:00pm EST
Where: T-Mobile Center Stadium
Betting Odds
Moneyline: Bluejays -1399 | Ramblers +800
Spread: Bluejays -15.5 (-110) | Ramblers +15.5 (-110)
Total: Over/Under 145.5 (-110)
Based on the moneyline, the implied probability that Creighton will win straight-up is 93%.
Creighton vs Loyola of Chicago Stats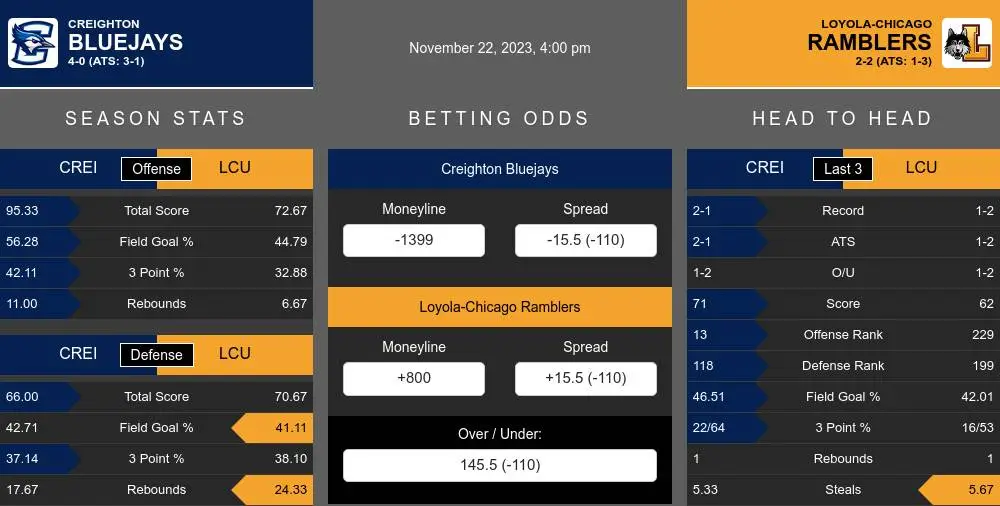 Creighton Bluejays
Loyola of Chicago's men's basketball team is looking to make a comeback in the 2023-24 season after a disappointing 10-21 record last season in the Atlantic Ten. On Saturday, the Ramblers powered through with a close game against New Orleans, eventually winning 73-70 behind a double-double from Dame Adelekun and 19 points from Des Watson. With an experienced head coach and important personnel returning soon, Loyola-Chicago hopes to make strides this season and get back into the NCAA Tournament. Wednesday's matchup with Creighton offers a chance to bolster their record. The Bluejays have an impressive 6 ranking and 4-0 record, but the Ramblers will need to step up their offensive game, as they are currently 178th in points per game. Defensively, Loyola-Chicago has an impressive 149th ranking in points allowed and 68th in opponent's field goal percentage.
Loyola of Chicago Ramblers Analysis
The Creighton Bluejays have gotten off to a strong start this season, accumulating four consecutive wins on their home court. Expectations are high for this year's team, which has a powerful offense 8th overall in points per game, 12th in field goal percentage, and 26th in three-point percentage. They also possess the 6th lowest turnover rate in the nation. Last Saturday, the Bluejays beat Texas Southern 82-50 in their final warm-up. Creighton plays Loyola of Chicago Ramblers next, who have a power ranking of 227 and are 199th in defense with an average of 70.67 points per game. The Ramblers have an offense that is 182nd in field goals and 35th in free throws, while their defense is 162nd in field goals and 337th in free throws.
Creighton Set to Dominates by Leveraging Strength and Exploiting Loyola of Chicago's Weaknesses
Creighton looks to dominate this matchup agains Loyola of Chicago, who are 2-2 this season and have yet to hit their stride. The Bluejays boast size, an impressive shooting range, and depth, which should provide them with an advantage. Creighton ranks eighth in scoring, 12th in field goal percentage, and 21st in rebounding, while the Ramblers are 175th in the nation in the same stat. Loyola of Chicago is 297th in 3pt-defense and matches up with a Creighton team that ranks sixth in the country in points earned from long range. Based on these numbers, it is expected that Creighton will be able to spread the Ramblers defense and control the boards to secure their fifth consecutive win.
Best Bets From The Most Profitable NCAAB Handicappers
Make Your Picks

[ - ]
Total
Over 146.5
Under 146.5
145.5
Make your predictions for Creighton Bluejays vs Loyola of Chicago Ramblers to showcase your betting acumen and earn tips for your winners!
Mon, 7:00 PM
Yale
QUINN
Mon, 7:00 PM
Delaware
ROBMO
Mon, 10:00 PM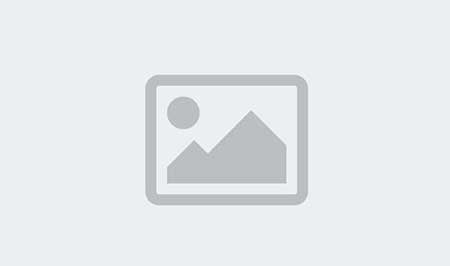 Utah Tech
CSUN
SportsJaw is verified safe by:
The information contained in this site is FOR ENTERTAINMENT PURPOSES ONLY. Any use of this information in violation of any federal, state and/or local laws is strictly prohibited.
Sportsjaw.com is not a gambling site, and does not accept or place wagers of any type. This website does not endorse illegal gambling. If you or someone you know has a gambling problem and wants help, call 1-800-GAMBLER.