Wed Nov 22 2:30PM
69
85
|   | 1 | 2 | T | ODDS |
| --- | --- | --- | --- | --- |
| TEXTK | 33 | 36 | 69 | 128 |
| VILLA | 41 | 44 | 85 | -3.5 |
Texas Tech Red Raiders vs
Villanova Wildcats
Predictions & Preview
Villanova Wildcats Primed to Take Down Red Raiders in Highly-Anticipated Battle 4 Atlantis Matchup
The Battle 4 Atlantis features a highly anticipated matchup between the Texas Tech Red Raiders and the Villanova Wildcats on Sunday at 2:30 EST at the Imperial Arena in Nassau, Bahamas. Texas Tech is 3-0 and 1-2 against the spread after a 73-64 win over Texas A&M-Corpus Christi. Villanova enters the game 3-1 overall and 2-2 against the spread, coming off a 57-40 win over Maryland, covering the 6.5-point spread. The Wildcats are the favorites, opening at -4, and the line has yet to move.
Game Info
When: Wednesday, 11/22/2023 @ 2:30pm EST
Where: Imperial Arena at Atlantis Resort Stadium
Betting Odds
Moneyline: Red Raiders +140 | Wildcats -170
Spread: Red Raiders +4 (-110) | Wildcats -4 (-110)
Total: Over/Under 129.25 (-110)
Based on the moneyline, the implied probability that Villanova will win straight-up is 63%.
Texas Tech vs Villanova Stats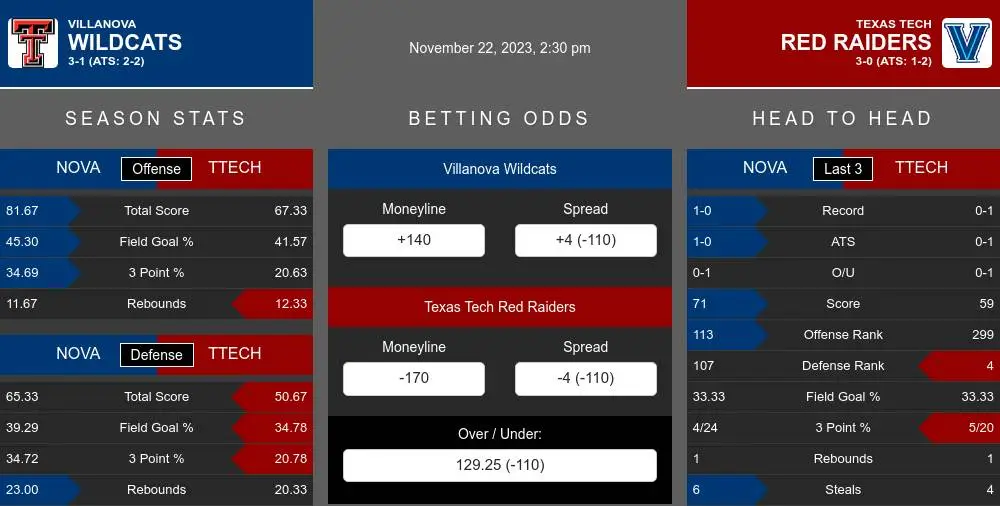 Texas Tech Red Raiders
Texas Tech heads into the Battle 4 Atlantis with an undefeated record, boasting an impressive power ranking of 46 and being favored by at least 16 points in each of their wins this season. The team has a balanced scoring attack with five players averaging between 8 and 12 points led by 6'2 Junior Pop Isaacs at 11.7 PPG and 3.3 APG. Through the transfer portal, the Red Raiders acquired 6'0 guard Joe Toussaint from West Virginia and 6'6 Darrion Washington from Nevada. The Red Raiders have been elite with their defense ranking 8th in defensive efficiency while their offense ranks 127th in efficiency and their tempo ranks 263rd. The team has an average scoring offense (81.67 PPG) and a slightly above average scoring defense (65.33 PPG). Their field goal rate is 167th (45.30%), their free throw rate is 1st (87.04%) and their three point rate is 141st (34.69%), with 40.00 rebounds per game (129th). Offensively, they're averaging 14.00 assists and 7.33 turnovers per game (175th and 7th). Defensively, they allow an average of 39.29% field goals, 65.00% free throws and 34.72% three pointers. They average 32.33 rebounds, 13.33 defensive assists and 10.67 turnovers per game (32.33, 242nd and 314th).
Villanova Wildcats Analysis
Villanova has had an inconsistent past two games, but responded quickly with a dominant win over Maryland. Led by senior forward Tyler Burton and guards Justin Moore and TJ Bamba, the team is averaging 16.0, 11.8, and 11.3 PPG respectively. Villanova ranks 25th overall according to KenPom with 22nd in offensive efficiency and 45th in defensive efficiency. With a slowtempo, the Wildcats are 334th out of 362 Division I teams. Against Texas Tech, they rank#4 for defense, with an average of 50.67 PPG given up and #27 for field goals allowed with 34.78%. They also average 42.67 rebounds per game, 11.00 assists and 15.33 turnovers per game.
Villanova Ready to Return to Top 25 - Red Raiders Have Yet to be Tested By Wildcats' Balanced Offense and Defense
With their loss to Penn, Villanova responded strongly, dominating Maryland's defense and allowing only 15 points in the first half. Their balanced offense and defense - 22nd in offensive efficiency and 45th in defense - will prove difficult for Texas Tech's 127th ranked offense to overcome. The Red Raiders have yet to be tested, playing an easy schedule, and are unlikely to be prepared for the talent of Villanova. Expect the Wildcats to come in buttoned up and ready to return to the Top 25, covering the spread.
Best Bets From The Most Profitable NCAAB Handicappers
Make Your Picks

[ - ]
Total
Over 128
Under 128
129.25
Make your predictions for Texas Tech Red Raiders vs Villanova Wildcats to showcase your betting acumen and earn tips for your winners!
Mon, 7:00 PM
Yale
QUINN
Mon, 7:00 PM
Delaware
ROBMO
Mon, 10:00 PM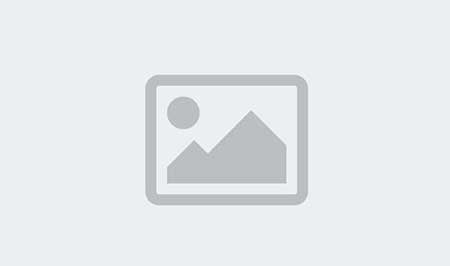 Utah Tech
CSUN
SportsJaw is verified safe by:
The information contained in this site is FOR ENTERTAINMENT PURPOSES ONLY. Any use of this information in violation of any federal, state and/or local laws is strictly prohibited.
Sportsjaw.com is not a gambling site, and does not accept or place wagers of any type. This website does not endorse illegal gambling. If you or someone you know has a gambling problem and wants help, call 1-800-GAMBLER.