Wed Nov 22 1:30PM
74
86
|   | 1 | 2 | T | ODDS |
| --- | --- | --- | --- | --- |
| BC | 38 | 36 | 74 | 147 |
| COLST | 47 | 39 | 86 | -5.5 |
Boston College Eagles vs
Colorado St. Rams
Predictions & Preview
Colorado State Rams Face Uphill Battle Against Size and Defensive Edge of Boston College Eagles in Hall of Fame Classic
On Wednesday, the Colorado St. Rams and the Boston College Eagles will go head-to-head in the first round of the four-team Hall of Fame Classic in Kansas City, Missouri. Both teams come into the tournament undefeated, sporting 4-0 records and hoping to secure a spot in the championship game. The opening tip is set for 1:30 PM EST, with Colorado St. having the edge in the opening betting line at -6.
Game Info
When: Wednesday, 11/22/2023 @ 1:30pm EST
Where: T-Mobile Center Stadium
Betting Odds
Moneyline: Eagles +165 | Rams -200
Spread: Eagles +6 (-110) | Rams -6 (-110)
Total: Over/Under 148 (-110)
Based on the moneyline, the implied probability that Colorado St. will win straight-up is 67%.
Boston College vs Colorado St. Stats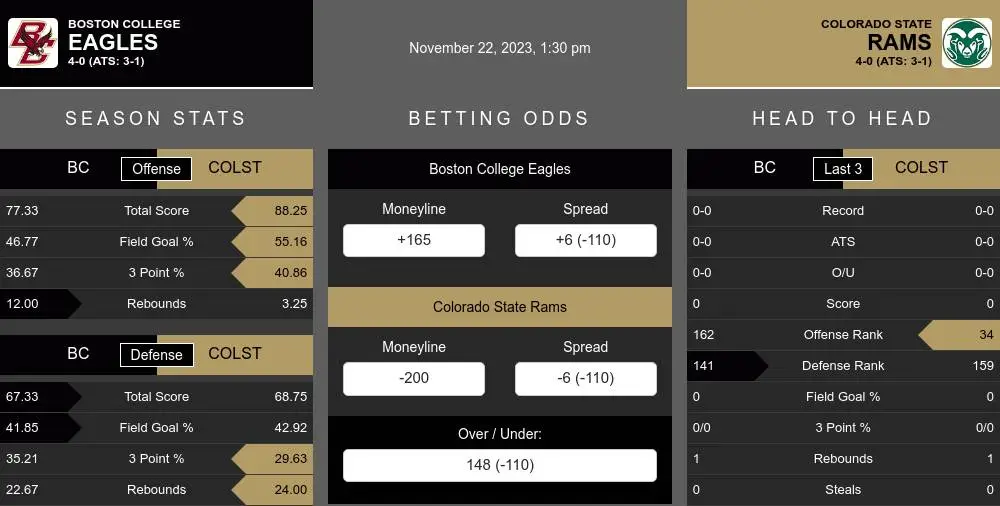 Boston College Eagles
Colorado State Rams started the 2023-24 season with a 4-0 record and are looking to build on their 15-18 finish last year. After a 15-2 run to start the second half on Friday night, they secured an 84-61 victory. Patrick Cartier led the way with 14 points; Nique Clifford and Joel Scott added 13 points and 12 points respectively. Through their first four games the Rams have scored 21st in the nation, are 7th in field goal percentage and 20th in 3pt field goal percentage. They have had some trouble with defensive rebounding, rank 313th in nation, but average only 11.33 turnovers per game (ranked #119).
Colorado St. Rams Analysis
The Boston College Eagles are off to a strong start at 4-0 with three returners from their 16-17 season. The Eagles show strength in defense and rebounding, ranking 50th in total rebounding and 90th in opponent's points per game. Offensively they are further behind, ranking 124th for points per game, 149th for field goal percentage and 149th for 3-point field goal percentage. Meanwhile, the Colorado State Rams, ranked 37 in power ranking, have an edge on offense, scoring an average of 88.25 per game (34th in the nation) and making an average of 40.86% three pointers (23rd). Defensively, they give up an average of 68.75 points per game (159th) and allow an average of 42.92% field goals (221st). The Rams hope to use their offensive advantage to challenge the defending Eagles for a win.
Eagles Size and Advantage on the Glass Give Them Edge Over Rams
Both the Eagles and Rams have faced weak schedules which helps explain their perfect records. Though the teams are similar in several respects, the Eagles have the advantage on the glass due to ranking 50th in the country in rebounding and having the size to protect the interior against the Rams. Neither team is prone to turnovers, and while the Rams shoot well from the arc, they haven't gone up against a team of quality or with the Eagles' size. For these reasons, the Eagles are the favored team.
Best Bets From The Most Profitable NCAAB Handicappers
Make Your Picks

[ - ]
Total
Over 147
Under 147
148
Make your predictions for Boston College Eagles vs Colorado St. Rams to showcase your betting acumen and earn tips for your winners!
Mon, 7:00 PM
Yale
QUINN
Mon, 7:00 PM
Delaware
ROBMO
Mon, 10:00 PM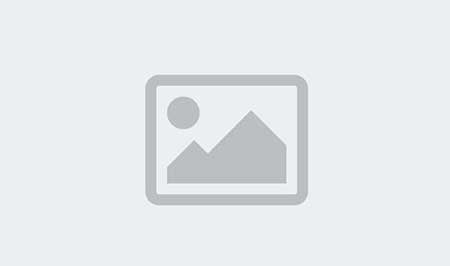 Utah Tech
CSUN
SportsJaw is verified safe by:
The information contained in this site is FOR ENTERTAINMENT PURPOSES ONLY. Any use of this information in violation of any federal, state and/or local laws is strictly prohibited.
Sportsjaw.com is not a gambling site, and does not accept or place wagers of any type. This website does not endorse illegal gambling. If you or someone you know has a gambling problem and wants help, call 1-800-GAMBLER.