Wed Nov 22 1:00PM
93
90
|   | 1 | 2 | 3 | T | ODDS |
| --- | --- | --- | --- | --- | --- |
| GAST | 37 | 46 | 10 | 93 | 156.5 |
| ARKLR | 45 | 38 | 7 | 90 | +1.5 |
Georgia St. Panthers vs
Ark.-Little Rock Trojans
Predictions & Preview
Little Rock Set to Take On Georgia State at the Jack Stephens Center
On Wednesday, Georgia St. and Arkansas-Little Rock face off on Jack Stephens Center. The Panthers are coming off a 88-77 win over Arkansas-Little Rock and will be looking to extend their streak. Tip-off is scheduled for 1:00 p.m. ET. In addition, Mike Briggs of Arkansas-Little Rock will be featured at the event, so be sure to come check him out!
Game Info
When: Wednesday, 11/22/2023 @ 1:00pm EST
Where: Jack Stephens Center Stadium
Betting Odds
Moneyline: Panthers -120 | Trojans +100
Spread: Panthers -1.5 (-110) | Trojans +1.5 (-110)
Total: Over/Under 159 (-110)
Based on the moneyline, the implied probability that Georgia St. will win straight-up is 55%.
Georgia St. vs Ark.-Little Rock Stats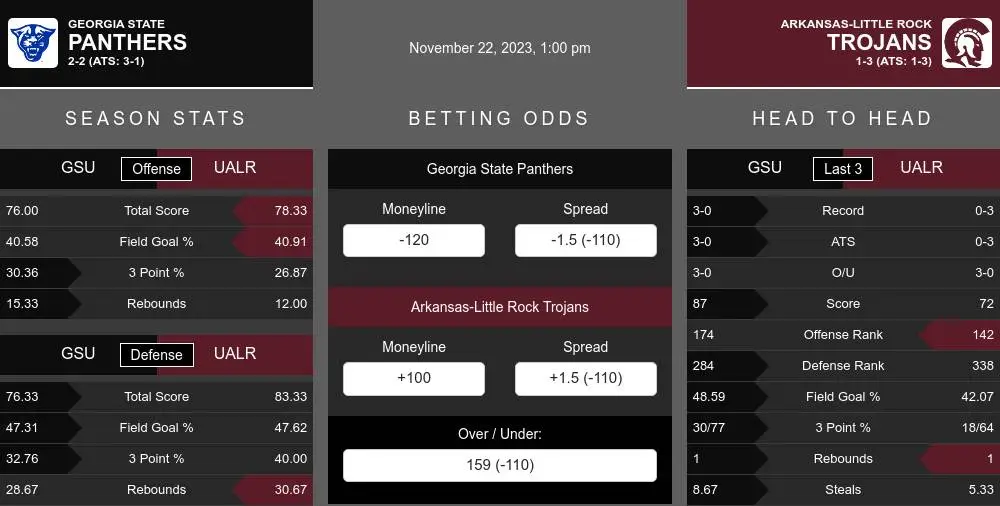 Georgia St. Panthers
Georgia State came away with an 88-77 victory over Little Rock on Sunday, thanks in part to their stronger shooting and 16 assists on their 28 made shots. With a power ranking of 196 nationally, Georgia State averages 79 points and 33.8 rebounds per game, with opponents scoring an average of 76.5 points per game and shooting 45%. Offensively, the Panthers shoot 40.6% from the field, 70.5% from the free throw line, and 30.36% from three-point range, while defensively allowing 47.31% from the field, 65.82% from the free throw line, and 32.76% from three.
Ark.-Little Rock Trojans Analysis
Arkansas-Little Rock needs to make a bounce-back showing in their next game against Georgia State and can rely on Senior forward DeAntoni Gordon (17.5 PPG, 5.5 RPG, and 50.0 FG%), Senior guard Khalen Robinson (17.3 PPG, 5.0 RPG, and 5.0 APG), and other Trojans to guide them to victory.
Little Rock Looks to Use Offensive Efficiency and Momentum to Cover the Spread Against Georgia State
Following the rare back-to-back matchups between teams, I predict the loser of the first game will cover. Little Rock's offensive efficiency ranks 155th, indicating the potential for a competitive game and limiting Georgia State's scored to 160th. If the Trojans minimize turnovers and succeed on the boards, they should cover the spread. Furthermore, the home team could have the edge from the familiarity of playing each other last weekend, likely highly motivated to perform on the day before Thanksgiving. It is predicted that Little Rock will push the tempo and exceed the Panthers' expectation for a successful cover.
Best Bets From The Most Profitable NCAAB Handicappers
Make Your Picks

[ - ]
Total
Over 156.5
Under 156.5
159
Make your predictions for Georgia St. Panthers vs Ark.-Little Rock Trojans to showcase your betting acumen and earn tips for your winners!
Mon, 7:00 PM
Yale
QUINN
Mon, 7:00 PM
Delaware
ROBMO
Mon, 10:00 PM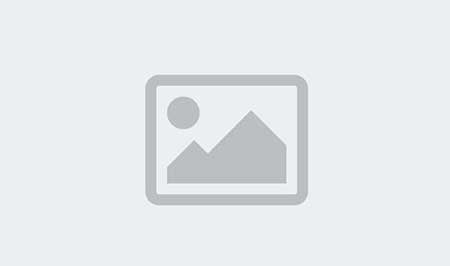 Utah Tech
CSUN
SportsJaw is verified safe by:
The information contained in this site is FOR ENTERTAINMENT PURPOSES ONLY. Any use of this information in violation of any federal, state and/or local laws is strictly prohibited.
Sportsjaw.com is not a gambling site, and does not accept or place wagers of any type. This website does not endorse illegal gambling. If you or someone you know has a gambling problem and wants help, call 1-800-GAMBLER.