Tue Nov 21 9:00PM
68
74
|   | 1 | 2 | T | ODDS |
| --- | --- | --- | --- | --- |
| GB | 33 | 35 | 68 | 123.5 |
| UCRIV | 38 | 36 | 74 | -6.5 |
Green Bay Phoenix vs
UC Riverside Highlanders
Predictions & Preview
Green Bay Phoenix to Face UC Riverside Highlanders in Opportunity for 2nd Consecutive Win
The Green Bay Phoenix will try to capture their second consecutive win when they meet the UC Riverside Highlanders on Tuesday night at Worthington Arena. Green Bay enters the game off an upset 54-53 win over Montana State as 11.5 point-underdogs, while UC Riverside is heading into the game after a 77-52 loss to North Carolina as 23.5 point-underdogs. UC Riverside is the favorite in this matchup with an opening line at -6.5 and it has yet to move.
Game Info
When: Tuesday, 11/21/2023 @ 9:00pm EST
Where: Max Worthington Arena Stadium
Betting Odds
Moneyline: Phoenix +233 | Highlanders -293
Spread: Phoenix +6.5 (-110) | Highlanders -6.5 (-110)
Total: Over/Under 129.5 (-110)
Based on the moneyline, the implied probability that UC Riverside will win straight-up is 75%.
Green Bay vs UC Riverside Stats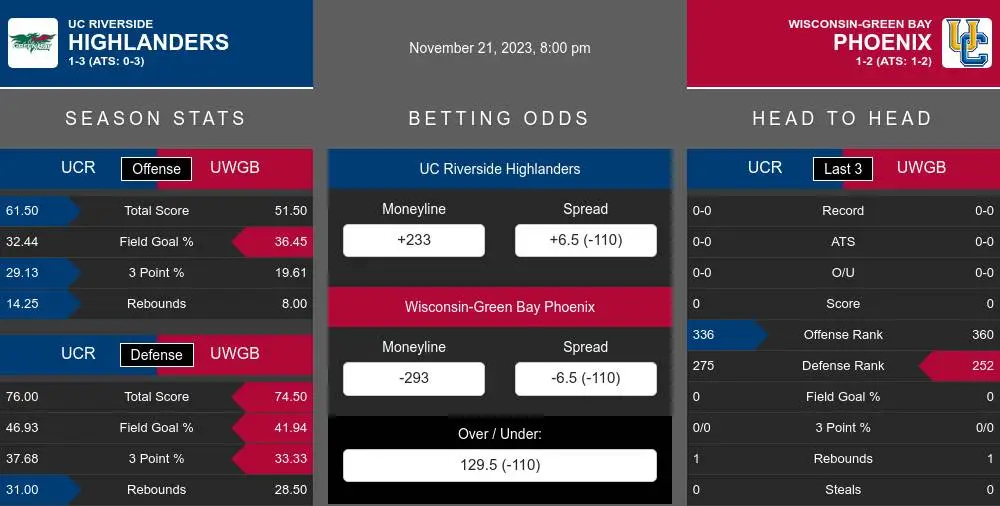 Green Bay Phoenix
UC Riverside is struggling this season, with a 1-3 record, an average of 56.7 points per game, poor defensive stats, and below average offensive stats. They only shot 30.6%, 30%, and 29.13% of their field goals, three-pointers and free throws in their last game. Benjamin Griscti led the Highlanders with 14 points, Barrington Hargress recorded 10 points and five assists, and Wil Tattersall scored nine points with seven rebounds. Their defense gave up 78.3 points per game, and will need to show improvement for them to have a chance of snapping the three-game losing streak.
UC Riverside Highlanders Analysis
The Phoenix are looking to take their second win in a row against UC Riverside Highlanders, who have a power ranking of 345 and are #360 for offense (averaging 51.50ppg), #252 for defense (allowing an average of 74.50ppg) and 1-2 (1-2 ATS) overall. Green Bay Phoenix averages 36.45% field goals, 60.00% free throws and 19.61% three-pointers on offense, and 40.50 defensive rebounds, 13.00 defensive assists and 4.50 turnovers per game on defense. With the Highlanders allowing an average of 41.94% field goals and 33.33% three-pointers, the Phoenix will strive for a win to keep their momentum going.
Phoenix Edging Out Highlanders: Defense & Rebounding Key to 4-0 Record
The Phoenix have a 4-0 record after their first four games. Their offense is scoring less than 60 points per game, however they are rebounding well and have passing chances against the Highlanders. The Highlanders have a 1-3 record and have allowed 76+ points in their last three games. They have struggled offensively with a 31 percent shooting rate and haven't been successful from the free-throw line. Comparatively the Phoenix have excelled defensively conceding below 65 points for three of their opponents. This hints to a successful game against the Highlanders' unconvincing offense. Prefer Green Bay to cover the spread.
Make Your Picks

[ - ]
Total
Over 123.5
Under 123.5
129.5
Make your predictions for Green Bay Phoenix vs UC Riverside Highlanders to showcase your betting acumen and earn tips for your winners!
Mon, 7:00 PM
Yale
QUINN
Mon, 7:00 PM
Delaware
ROBMO
Mon, 10:00 PM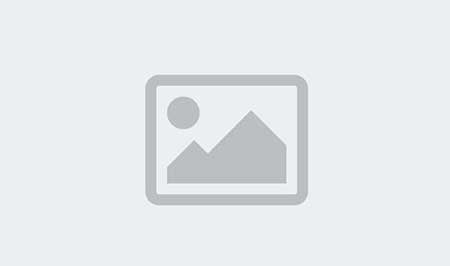 Utah Tech
CSUN
SportsJaw is verified safe by:
The information contained in this site is FOR ENTERTAINMENT PURPOSES ONLY. Any use of this information in violation of any federal, state and/or local laws is strictly prohibited.
Sportsjaw.com is not a gambling site, and does not accept or place wagers of any type. This website does not endorse illegal gambling. If you or someone you know has a gambling problem and wants help, call 1-800-GAMBLER.