Tue Nov 21 8:00PM
67
71
|   | 1 | 2 | T | ODDS |
| --- | --- | --- | --- | --- |
| TENN | 31 | 36 | 67 | 133.5 |
| PURDU | 30 | 41 | 71 | -3.5 |
Tennessee Volunteers vs
Purdue Boilermakers
Predictions & Preview
This marquee matchup between two top-10 teams takes place on Tuesday night in a semifinal game of a tournament. Tennessee and Purdue go head-to-head, with the winner advancing to the title game; the all-time series between the teams currently stands at 3-2 favoring Purdue. Their most recent battle was in the Sweet 16 of the 2019 NCAA tournament, a 99-94 overtime win by the Boilermakers.
Game Info
When: Tuesday, 11/21/2023 @ 8:00pm EST
Where: SimpliFI Arena at Stan Sheriff Center Stadium
Betting Odds
Moneyline: Volunteers +145 | Boilermakers -165
Spread: Volunteers +3.5 (-110) | Boilermakers -3.5 (-110)
Total: Over/Under 133.5 (-110)
Based on the moneyline, the implied probability that Purdue will win straight-up is 62%.
Tennessee vs Purdue Stats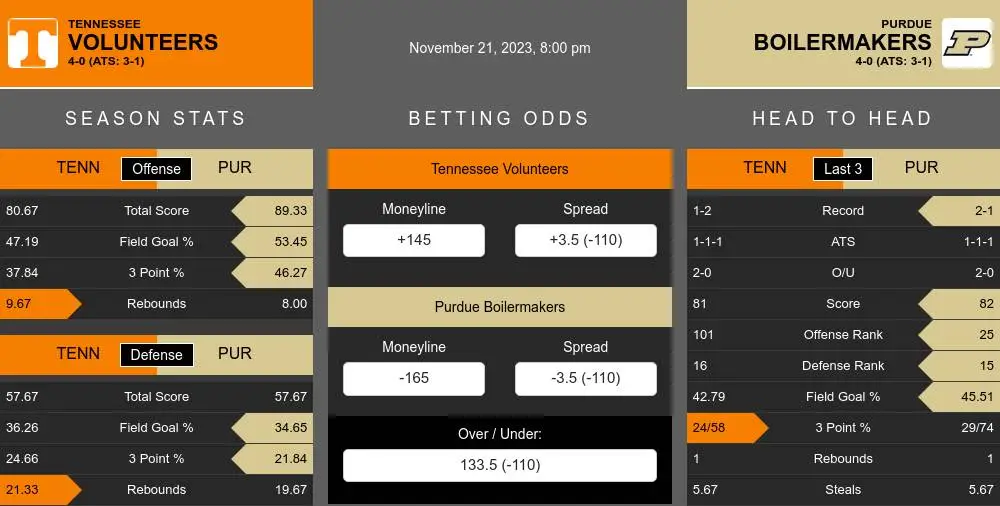 Tennessee Volunteers
Tennessee relied on their stout defense and timely offense to defeat Syracuse in the quarterfinals of the Maui Invitational. Despite trailing by eight in the first half, Tennessee was able to outscore Syracuse 19-6, taking a five-point lead by the end of the half. After never trailing in the second half and their last push of 12 consecutive points, they won the game by double digits. Dalton Knecht led the team with 17 points. The Volunteers have a power ranking of 13 with 4-0 record and are ranked #101 in offense, #16 in defense and #99 in field-goals percentage and top #11 in free throws. Tennessee's defense is their greatest strength, allowing an average of 57.67 points and 36.26% field-goals.
Purdue Boilermakers Analysis
Purdue Boilermakers are 4-0 (3-1 ATS) in their last 3 matchups and have an impressive power ranking of 17. They have an impressive offense, ranking #25 in the nation for points per game (89.33) and #16 for field goal percentage (53.45%), as well as #4 in the NCAAB for three-pointers with an average of 46.27%. They are #15 for defense, averaging 57.67 points per game and #13 for field goal percentage allowed (34.65%). Additionally, Purdue averages 42.00 rebounds and 22.33 offensive assists per game and allows an average of 31.00 defensive rebounds and 13.33 defensive assists per game.
Purdue Poised to Defeat Tennessee in Late-November Showdown, Thanks to Edey's Player of the Year Skill Set
Two top-10 teams, Tennessee and Purdue, are set to meet in late November. Tennessee has won all of their games this season by double digits and have a victory over Wisconsin to credit. Purdue has also had significant success, having defeated Xavier and Gonzaga in their last two games. Tennessee, however, may face a challenge with defending Edey, the frontrunner for Player of the Year, given their tallest player at 6'11, 240, is five inches and 60 pounds shorter than him. While both teams have plenty of experience and fortitude, it is likely that Purdue will come out on top due to Edey's incredible skillset.
Best Bets From The Most Profitable NCAAB Handicappers
Make Your Picks

[ - ]
Total
Over 133.5
Under 133.5
133.5
Make your predictions for Tennessee Volunteers vs Purdue Boilermakers to showcase your betting acumen and earn tips for your winners!
Mon, 7:00 PM
Yale
QUINN
Mon, 7:00 PM
Delaware
ROBMO
Mon, 10:00 PM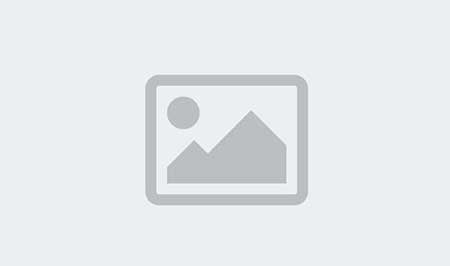 Utah Tech
CSUN
SportsJaw is verified safe by:
The information contained in this site is FOR ENTERTAINMENT PURPOSES ONLY. Any use of this information in violation of any federal, state and/or local laws is strictly prohibited.
Sportsjaw.com is not a gambling site, and does not accept or place wagers of any type. This website does not endorse illegal gambling. If you or someone you know has a gambling problem and wants help, call 1-800-GAMBLER.