Tue Nov 21 6:30PM
103
88
|   | 1 | 2 | T | ODDS |
| --- | --- | --- | --- | --- |
| INDST | 55 | 48 | 103 | 159 |
| RICE | 34 | 54 | 88 | +6.5 |
Indiana St. Sycamores vs
Rice Owls
Predictions & Preview
Sycamores Look to Extend Winning Streak to Two Games in Ball Dawgs Classic
The Sycamores look to extend their winning streak to two games when they face the Rice Owls in the Ball Dawgs Classic on Tuesday night at 6:30 PM. Indiana St. is fresh off a 96-57 win over IUPUI, while Rice is coming off an 80-64 loss to Texas.
Game Info
When: Tuesday, 11/21/2023 @ 6:30pm EST
Where: Dollar Loan Center Stadium
Betting Odds
Moneyline: Sycamores -223 | Owls +180
Spread: Sycamores -5 (-110) | Owls +5 (-110)
Total: Over/Under 158.5 (-110)
Based on the moneyline, the implied probability that Indiana St. will win straight-up is 69%.
Indiana St. vs Rice Stats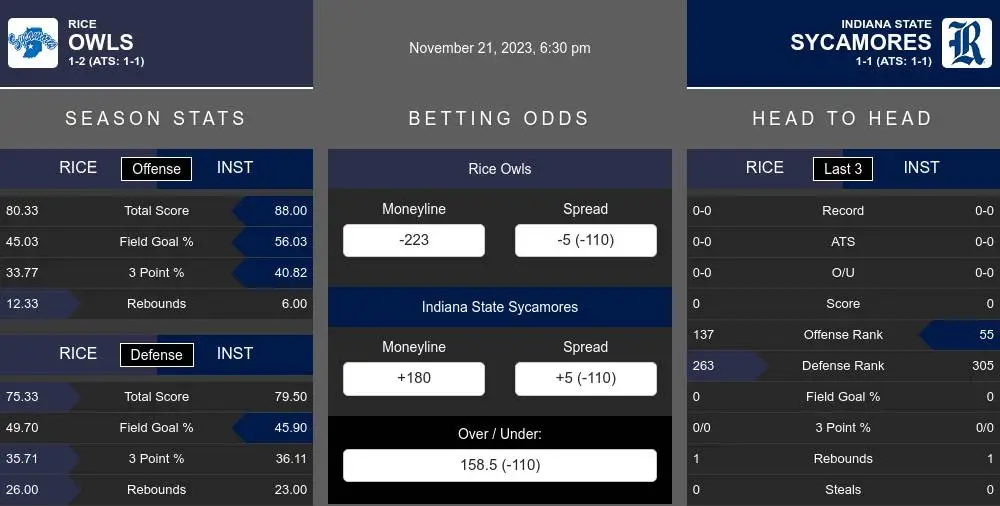 Indiana St. Sycamores
Rice Owls have a power ranking of 258 and are coming off two straight losses following their season-opening win over St. Thomas. They average 70 points per game and hit 45.03% of their field goals and 33.77% of their three pointers. Anthony Selden led the Owls with 17 points and two blocks in their last game. Indiana St. is ranked 137 in offense (scoring an average of 80.33 points per game), 263 in defense (allowing an average of 75.33 points to be scored against them per game), and 1-2 in season play. The Owls will have to improve defensively to have a chance of snapping their two-game losing streak against the Sycamores.
Rice Owls Analysis
Indiana State Sycamores are averaging 88 points per game and have a record of 1-1 in their last 3 matchups against the Rice Owls. Robbie Avila led the Sycamores in their last game with 16 points, 4 rebounds, and 5 assists. Despite the team's offensive success, their average 79.50 points per game defensivly is unimpressive. Indiana State needs to limit points to Rice if they want to secure their third win in the last four games.
Indiana State Sycamores Off to Impressive 2-1 Start
The Sycamores have started off 2-1 with impressive offensive numbers, averaging 85 points per game on over 55 percent shooting. Their ability to find open players and attack the glass gives them extra chances to score. They also protect the ball well, limiting their opponent's easy scoring opportunities. Rice has had difficulties defensively, allowing over 80 points per game. Their poor offensive rebounding keeps them from having second-chance opportunities. Indiana State has proved to be a strong defensive team, allowing fewer than 65 points in two of their three games. The Sycamores should be able to keep Rice's offense in check, making them the predicted spread covering team.
Best Bets From The Most Profitable NCAAB Handicappers
Make Your Picks

[ - ]
Total
Over 159
Under 159
158.5
Make your predictions for Indiana St. Sycamores vs Rice Owls to showcase your betting acumen and earn tips for your winners!
Mon, 7:00 PM
Yale
QUINN
Mon, 7:00 PM
Delaware
ROBMO
Mon, 10:00 PM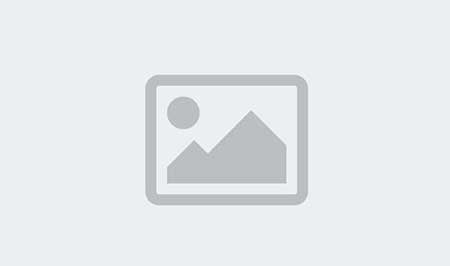 Utah Tech
CSUN
SportsJaw is verified safe by:
The information contained in this site is FOR ENTERTAINMENT PURPOSES ONLY. Any use of this information in violation of any federal, state and/or local laws is strictly prohibited.
Sportsjaw.com is not a gambling site, and does not accept or place wagers of any type. This website does not endorse illegal gambling. If you or someone you know has a gambling problem and wants help, call 1-800-GAMBLER.