Tue Nov 21 3:00PM
76
93
|   | 1 | 2 | T | ODDS |
| --- | --- | --- | --- | --- |
| GASOU | 34 | 42 | 76 | 139 |
| NEAST | 42 | 51 | 93 | -5 |
Georgia Southern Eagles vs
Northeastern Huskies
Predictions & Preview
Georgia Southern vs Northeastern: Eagles Searching for First Win as Huskies Look to Remain Successful
The Georgia Southern Eagles (0-5) will face off against the Northeastern Huskies (2-3) at the Minges Coliseum in Greenville, NC on Tuesday afternoon. Northeastern is the favorite in the match-up, opening at -4, and the betting line has not changed. Both teams were dealt losses on Monday, the Eagles by East Carolina and the Huskies by Kennesaw State.
Game Info
When: Tuesday, 11/21/2023 @ 3:00pm EST
Where: Williams Arena at Minges Coliseum Stadium
Betting Odds
Moneyline: Eagles +165 | Huskies -199
Spread: Eagles +4 (-110) | Huskies -4 (-110)
Total: Over/Under 142 (-110)
Based on the moneyline, the implied probability that Northeastern will win straight-up is 67%.
Georgia Southern vs Northeastern Stats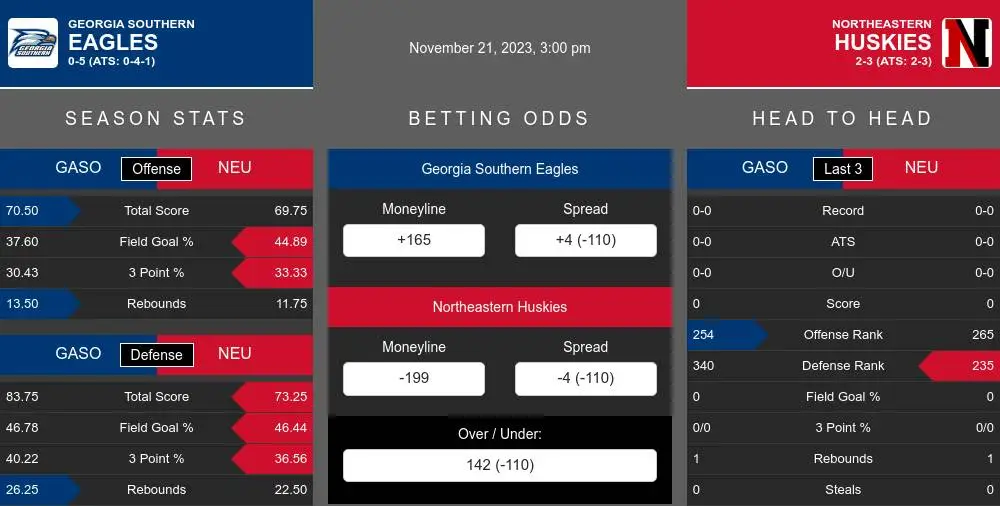 Georgia Southern Eagles
Georgia Southern Eagles are searching for their first win of the season, as they have gone 0-5 (0-4-1 ATS) in the opening month of the season. The squad has been unable to cover the spread, while senior guard Deuce Dean has scored 20 points in just 1 of the 5 games, with an average of 17 PPG on 38% shooting. Sophomore guard Jamar Franklin has been thriving with 32 points in the last two performances, averaging 11 PPG with a 38% shooting percentage. Freshman Avantae Parker, averaging 8 PPG and 4.8 RPG, has scored 8 or fewer points in 4 of the 5 games so far. According to Ken Pomeroy's ratings, the team is ranked 319th in DI, 256th in offense (averaging 69.2 points per game) and 342nd in defense (allowing 83.4 points per game). They average 35.5 rebounds and 8.00 offensive assists per game, while allowing an average of 46.78%field goals and 72.07% free throws on defense.
1H 6:59 | ECU 23, GS 14@tydrizzle5 leads us with eight points.#HailSouthern pic.twitter.com/gEJixuS3Xi

— Georgia Southern Men's Basketball (@GSAthletics_MBB) November 20, 2023
Northeastern Huskies Analysis
The Northeastern Huskies are currently 2-3 with a 2-3 ATS record. Luke Sakota leads the offense with an average of 14.2 PPG, while Joe Pridgen and Chris Doherty are also contributing strong contributions. According to Ken Pomeroy's ratings, Northeastern is ranked 225th in the country and 250th offensively, with an average of 71.2 points per game, and 235th defensively, averaging out 74.4 points allowed per game.
Sakota dishes to Woods down low for two, and at the Under-12 it's Harvard leading, 15-10... pic.twitter.com/d68rFgxDvL

— Northeastern Men's Basketball (@GoNUmbasketball) November 15, 2023
Georgia Southern Struggling Early in Season Compared to Northeastern Success
Georgia Southern has yet to find success, going 0-5 in the early stages of the season. They have faced opponents that are weaker than average, losing to Jacksonville and Kennesaw State. Northeastern, in comparison, has looked relatively more successful, with a victory against East Carolina of the AAC. Furthermore, Georgia Southern averages 97.5 points per 100 possessions scoring and are ranked 290th in adjusted offensive efficiency in Ken Pomeroy's ratings. Northeastern, in contrast, averages 101.9 points and concedes three fewer points per 100 possessions. The Eagles have lost their last four games by double-digits and yet to cover a spread.
Best Bets From The Most Profitable NCAAB Handicappers
Make Your Picks

[ - ]
Total
Over 139
Under 139
142
Make your predictions for Georgia Southern Eagles vs Northeastern Huskies to showcase your betting acumen and earn tips for your winners!
Mon, 7:00 PM
Yale
QUINN
Mon, 7:00 PM
Delaware
ROBMO
Mon, 10:00 PM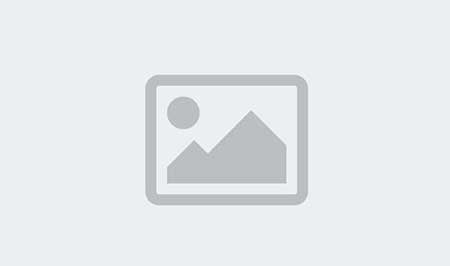 Utah Tech
CSUN
SportsJaw is verified safe by:
The information contained in this site is FOR ENTERTAINMENT PURPOSES ONLY. Any use of this information in violation of any federal, state and/or local laws is strictly prohibited.
Sportsjaw.com is not a gambling site, and does not accept or place wagers of any type. This website does not endorse illegal gambling. If you or someone you know has a gambling problem and wants help, call 1-800-GAMBLER.