Tue Nov 21 12:00PM
86
56
|   | 1 | 2 | T | ODDS |
| --- | --- | --- | --- | --- |
| APPST | 33 | 53 | 86 | 137 |
| NCWIL | 34 | 22 | 56 | -2.5 |
Appalachian St. Mountaineers vs
N.C. Wilmington Seahawks
Predictions & Preview
UNCW Seahawks Take Aim at Undefeated Streak Against App State Mountaineers
On Tuesday afternoon the Suncoast Credit Union Arena in Fort Meyers, Florida will be the neutral site for an exciting matchup between the Appalachian State Mountaineers (1-2; 0-2-0 ATS) and the UNC Wilmington (UNCW) Seahawks (3-0; 1-0-0 ATS). This game marks Appalachian State's first Palms Division game and UNCW's second, as they look to keep their undefeated streak in tact. N.C. Wilmington is the betting favorite, but the outcome of this contest is still uncertain.
Game Info
When: Tuesday, 11/21/2023 @ 12:00pm EST
Where: Suncoast Credit Union Arena Stadium
Betting Odds
Moneyline: Mountaineers +120 | Seahawks -145
Spread: Mountaineers +2.5 (-110) | Seahawks -2.5 (-110)
Total: Over/Under 140 (-110)
Based on the moneyline, the implied probability that N.C. Wilmington will win straight-up is 59%.
Appalachian St. vs N.C. Wilmington Stats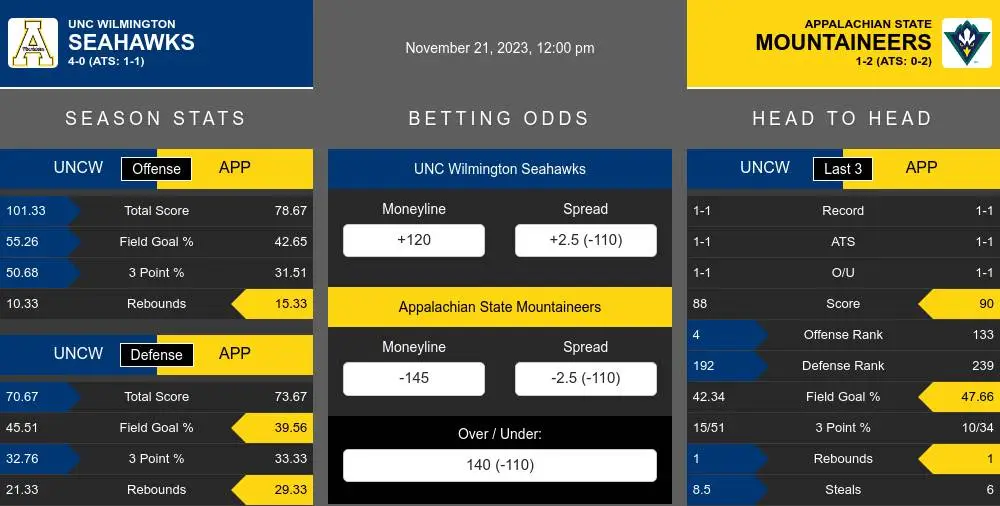 Appalachian St. Mountaineers
Appalachian St. has been dominant offensively, averaging 101.33 points per game, ranked #4 in the NCAAB. The Mountaineers have a 53.4% shooting average at the free throw line, 31.5% from beyond the arc, an average of 58.8% from the floor overall, and 5.7 blocks and 7.0 steals per game. Defensively, they are allowing 73.7 points per game, limit foes to 39.6% shooting overall, limit opponents to a 63.27% free throw success rate, and an average of 33.3% from behind the three-point line. Despite their offensive success, App State has dropped their last two games on the road due to their below-average shooting efficiency and are struggling to hit shots.
N.C. Wilmington Seahawks Analysis
The N.C. Wilmington Seahawks are an undefeated team (pending Monday's results) that are performing spectacularly in offensive (4th in the nation in scoring at 101.3 points per game on 55.3% shooting from the field and 50.7% from deep) as well as defensive statistics (70.7 points allowed per game, 45.5% shooting from opponents, 10.0 steals per game and +19 rebounding margin). Despite the current success, Tuesday's game may prove to be much tougher to win as the competition increases.
Seahawks Eye Cover With Accuracy & Mountaineers' Struggles With Defense
The Seahawks have impressive accuracy from the three-point line, which will be beneficial in their matchup against App State. However, the Mountaineers tend to struggle with perimeter defense, making it likely that the Seahawks will have the edge. Offensively, App State has been inefficient and therefore will not be able to keep up with UNCW's firepower; this will push the Seahawks to victory and likely a cover as well.
Best Bets From The Most Profitable NCAAB Handicappers
Make Your Picks

[ - ]
Total
Over 137
Under 137
140
Make your predictions for Appalachian St. Mountaineers vs N.C. Wilmington Seahawks to showcase your betting acumen and earn tips for your winners!
Mon, 7:00 PM
Yale
QUINN
Mon, 7:00 PM
Delaware
ROBMO
Mon, 10:00 PM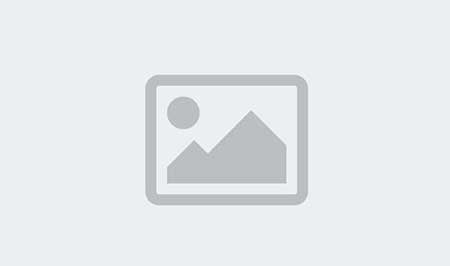 Utah Tech
CSUN
SportsJaw is verified safe by:
The information contained in this site is FOR ENTERTAINMENT PURPOSES ONLY. Any use of this information in violation of any federal, state and/or local laws is strictly prohibited.
Sportsjaw.com is not a gambling site, and does not accept or place wagers of any type. This website does not endorse illegal gambling. If you or someone you know has a gambling problem and wants help, call 1-800-GAMBLER.