Tue Nov 21 11:15PM
92
84
|   | 1 | 2 | T | ODDS |
| --- | --- | --- | --- | --- |
| NEWMX | 42 | 50 | 92 | 159.5 |
| TOLDO | 32 | 52 | 84 | +1.5 |
New Mexico Lobos vs
Toledo Rockets
Predictions & Preview
Lobos vs Rockets: Odds Favor Lobos in High-Risk Ball Dawgs Classic
Ahead of the first meeting between the Lobos and the Rockets, the total odds stand at 160 points for the Ball Dawgs Classic at Dollar Loan Center on Tuesday November 21st at 11:15 PM ET.
Game Info
When: Tuesday, 11/21/2023 @ 11:15pm EST
Where: Dollar Loan Center Stadium
Betting Odds
Moneyline: Lobos -165 | Rockets +135
Spread: Lobos -3 (-110) | Rockets +3 (-110)
Total: Over/Under 161.5 (-110)
Based on the moneyline, the implied probability that New Mexico will win straight-up is 62%.
New Mexico vs Toledo Stats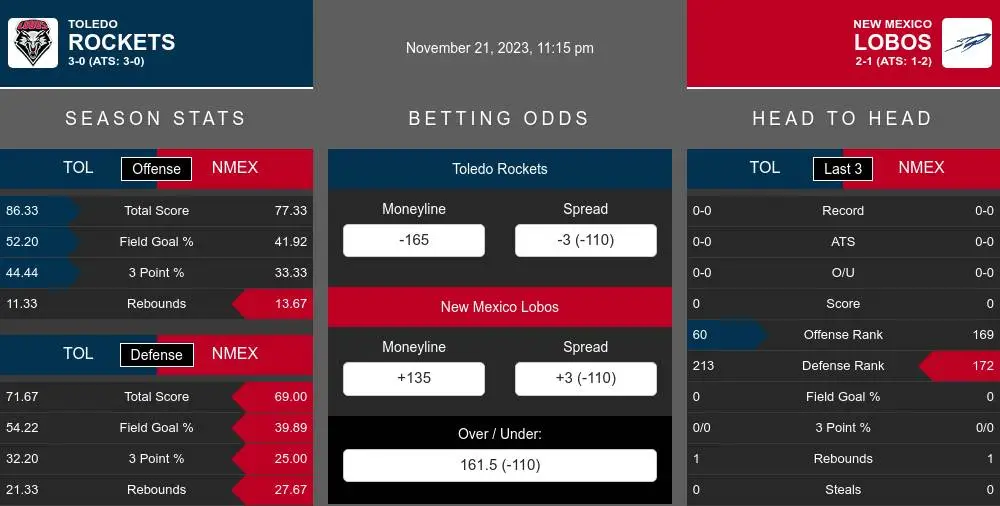 New Mexico Lobos
New Mexico's Lobos are coming off a home victory over UT Arlington and were nearly able to maintain a double-digit second half lead but missed eight of their 26 free throws attempts. Senior guard Jaelen House is listed as questionable for their next game against Toledo. With a KenPom Power rank of 63, the Lobos have scored 110.5 points per 100 possessions and allow 99.3 points in return. New Mexico averages 86.33 points and 71.67 points allowed per game, with a field goal percentage of 52.20% and 73.13% free throws attempts. However, their three-pointers are 44.44%, rebounds 29.67 and offensive assists average 15.67. Defensive stats include a 54.22% field goals and 59.26% free throws allowed, 32.20% of three-pointers and 30.67 defensive rebounds per game and15.00 defensive assists and 18.67 turnovers per game.
Toledo Rockets Analysis
The Toledo Rockets are off to a strong start in the season, currently with a 3-0 SU and ATS record and a power ranking of 112. They have been remarkably efficient, with 40th ranked offense (111.4 points per 100 possessions) and 263rd ranked defensive efficiency (106.6). The Rockets have recorded 6.7 triples per game (244th) on a 44.4 percentage (7th). Their performance against Wright State was especially impressive, with 49.2% of field goals made (including 5-for-16 from deep) and posting an 12/10 assist-to-turnover ratio. The team's success is evidenced by junior guard Dante Maddox's 20 points and four assists, as well as Ra'Heim Moss' line of 16 points, seven rebounds, two assists, and three steals.
Lobos Poised to Outlast Rockets in High-Possession, High-Stakes Game
The Lobos possess a fast style of play with 73.3 possessions per 40 minutes (39th in the nation). They are well-prepared for the Rockets aggressive style of play; both teams impress with their top 50 turnover percentage ratings. A tight battle is expected for all 40 minutes, with the Lobos predicted to come out on top. Their defensive advantage, along with the Rockets lack of height, could be a deciding factor.
Best Bets From The Most Profitable NCAAB Handicappers
Make Your Picks

[ - ]
Total
Over 159.5
Under 159.5
161.5
Make your predictions for New Mexico Lobos vs Toledo Rockets to showcase your betting acumen and earn tips for your winners!
Mon, 7:00 PM
Yale
QUINN
Mon, 7:00 PM
Delaware
ROBMO
Mon, 10:00 PM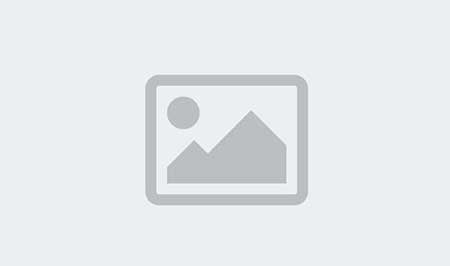 Utah Tech
CSUN
SportsJaw is verified safe by:
The information contained in this site is FOR ENTERTAINMENT PURPOSES ONLY. Any use of this information in violation of any federal, state and/or local laws is strictly prohibited.
Sportsjaw.com is not a gambling site, and does not accept or place wagers of any type. This website does not endorse illegal gambling. If you or someone you know has a gambling problem and wants help, call 1-800-GAMBLER.