Tue Nov 21 8:30PM
76
81
|   | 1 | 2 | 3 | T | ODDS |
| --- | --- | --- | --- | --- | --- |
| NMXST | 32 | 37 | 7 | 76 | 136.5 |
| FRSNO | 28 | 41 | 12 | 81 | -5.5 |
New Mexico St. Aggies vs
Fresno St. Bulldogs
Predictions & Preview
Fresno State Bulldogs Prepare to Face Off Against Experienced New Mexico State Aggies
They are playing without their starting point guard, C Chuks Isitua, but the New Mexico State Aggies have no players listed on the injury report. Fresno State recently opened their Cancun Challenge with an 87-68 victory in the Campus Game and the Aggies won 76-71 at home over Northern Colorado in their Cancun Challenge Campus Game. Both teams will face off in Cancun, Mexico at the Hard Rock Hotel Riviera Maya, so don't miss the action and get in the game with our Expert Picks today!
Game Info
When: Tuesday, 11/21/2023 @ 8:30pm EST
Where: Hard Rock Hotel Riviera Maya Stadium
Betting Odds
Moneyline: Aggies +175 | Bulldogs -210
Spread: Aggies +4.5 (-110) | Bulldogs -4.5 (-110)
Total: Over/Under 141.25 (-110)
Based on the moneyline, the implied probability that Fresno St. will win straight-up is 68%.
New Mexico St. vs Fresno St. Stats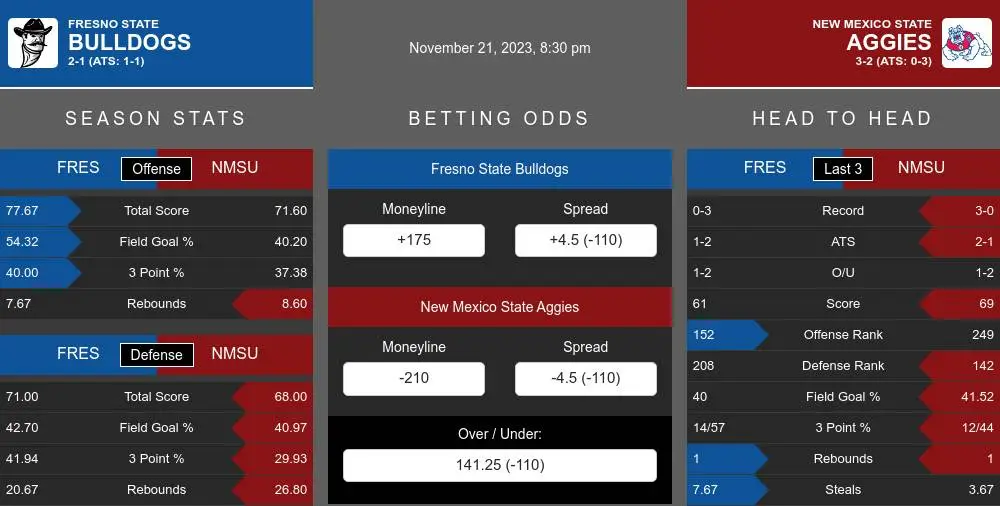 New Mexico St. Aggies
Fresno State is ranked 61 in powerranking, with an average of 77.7 points per game (150th in the nation), shooting 54.3% overall (10th best) and 40.0% from 3-point territory (28th). Xavier DuSell is the team's leading scorer with 15.7 points per game, shooting 48.4% overall and 50% from long range, while Isaiah Hill follows with 12.7 points per game and shooting 48.3% overall and 43.8% from downtown. The team averages 14.7 assists per game and 16.3 turnovers but defensively allows an average of 71.0 points per game (204th) and holds opponents to a 42.7% field goal shooting percentage (212th) and a three-point shooting percentage of 41.9% (355th). Fresno State averages 35.3 rebounds per game, with DuSell averaging a team best 2.3 steals per game and Eduardo Andnre the swat leader with an average of 1.7 blocked shots per game.
Fresno St. Bulldogs Analysis
New Mexico State Aggies are #249 for offense, scoring 71.6 points per game with a shooting percentage of 40.2% overall and 37.4% from 3 point land. Femi Odukale is the leading scorer with 18 points per game and Christian Cook is the second leading scorer with 12.2 points per game. Jaylin Jackson-Perry is the leader in assists with an average of 4.2 dishes per contest. On defense New Mexico State is #142, giving up 68.0 points per game with a field goal shooting percentage of 41.0% and a three-point shooting percentage of 29.9%. The Aggies average an overall 36.6 rebounds and 12.6 assists per game. New Mexico State went 3-0 (2-1 ATS) in their last 3 matchups against Fresno St.
Femi Odukale Leads New Mexico State in Season Opener Against Northern Colorado
Femi Odukale proved crucial in New Mexico State's latest win against Northern Colorado, scoring 18 points, grabbing 8 rebounds, and registering 4 steals in his first game of the season. His impressive shooting performance - 50% overall and from three-point territory - adds to the team's offensive and defensive threat. Fresno State enter the matchup having covered the spread in just 7 out of 8 November games. Nonetheless, they boast a 54.3% overall shooting rate, 10th highest in the nation. They face a New Mexico State defense that holds opponents to 41.0% shooting overall and 29.9% from long distance, in addition to the Bulldogs committing 5 turnovers more per game than the Aggies.
Best Bets From The Most Profitable NCAAB Handicappers
Make Your Picks

[ - ]
Total
Over 136.5
Under 136.5
141.25
Make your predictions for New Mexico St. Aggies vs Fresno St. Bulldogs to showcase your betting acumen and earn tips for your winners!
Mon, 7:00 PM
Yale
QUINN
Mon, 7:00 PM
Delaware
ROBMO
Mon, 10:00 PM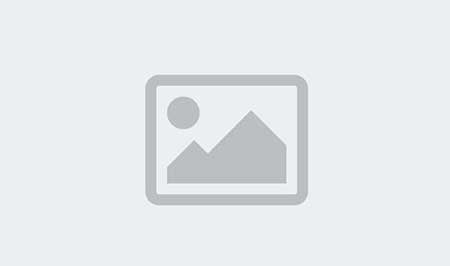 Utah Tech
CSUN
SportsJaw is verified safe by:
The information contained in this site is FOR ENTERTAINMENT PURPOSES ONLY. Any use of this information in violation of any federal, state and/or local laws is strictly prohibited.
Sportsjaw.com is not a gambling site, and does not accept or place wagers of any type. This website does not endorse illegal gambling. If you or someone you know has a gambling problem and wants help, call 1-800-GAMBLER.