Tue Nov 21 8:45PM
60
76
|   | 1 | 2 | T | ODDS |
| --- | --- | --- | --- | --- |
| PEPPR | 30 | 30 | 60 | 148 |
| UCI | 34 | 42 | 76 | -5.5 |
Pepperdine Waves vs
UC Irvine Anteaters
Predictions & Preview
The Pepperdine Waves (3-2) face off against the UC Irvine Anteaters (3-1) on Tuesday in the Ball Dawgs Classic in Henderson, Nevada. Pepperdine is coming off a loss to UNLV, while UC Irvine has won their last three games. Unfortunately, Pepperdine will be without F Jevon Porter and F Boubacar Coulibaly is questionable, but UC Irvine does not have any players on its injury report. UC Irvine is the betting favorite opening at -6 with the current line, UC Irvine -7.5. Be sure to get your College Basketball Picks to catch the action.
Game Info
When: Tuesday, 11/21/2023 @ 8:45pm EST
Where: Dollar Loan Center Stadium
Betting Odds
Moneyline: Waves +250 | Anteaters -325
Spread: Waves +7.5 (-110) | Anteaters -7.5 (-110)
Total: Over/Under 148.5 (-110)
Based on the moneyline, the implied probability that UC Irvine will win straight-up is 76%.
Pepperdine vs UC Irvine Stats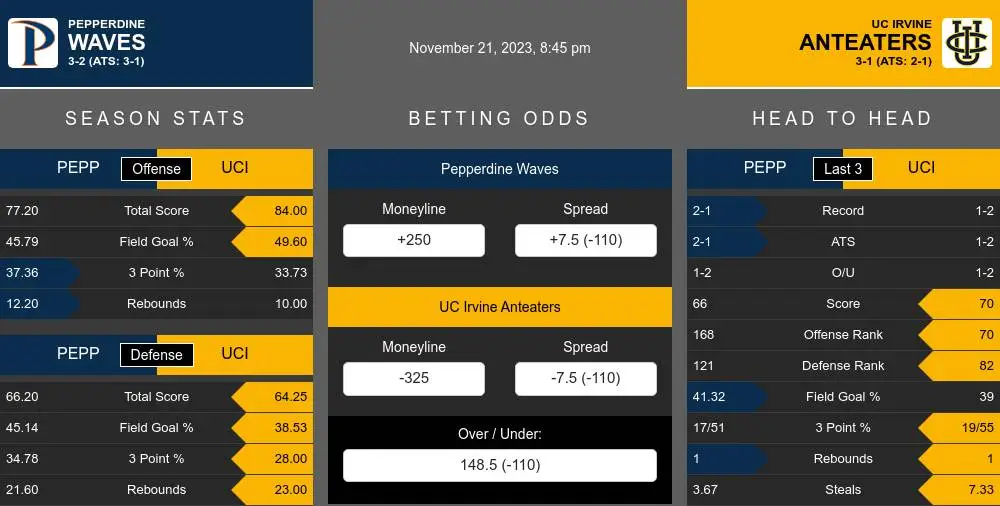 Pepperdine Waves
Pepperdine is scoring an average of 77.2 points per game while shooting 45.8% (143rd) and 37.4% (78th) from three point land. With a power ranking of 85, the Waves are ranked 168 in offense, 121 in defense (allowing an average of 66.2 points per game), and 3-2 (3-1 ATS) this season. Pepperdine has strong shooting from long distance, with Houston Mallette leading the way averaging 20.2 points per game shooting 44.9% overall and 48.3% from downtown, and Michael Ajayi averaging 17.2 points per game shooting 47.9% overall and 60% from downtown. Ethan Anderson averages 3.6 assists per game leading the team, and the team averages 12 assists and 14 turnovers per game. Defensively, opponents are shooting 45.1% (273rd) overall and 34.8% (268th) from 3-point land and the team is led in rebounds by Ajayi with 11.2 per game. Nils Cooper leads in steals with 1.4 per game and Jalen Pitre in blocks with 1.2.
UC Irvine Anteaters Analysis
UC Irvine Anteaters have a power ranking of 201 and are #70 for offense (scoring an average of 84.0 points per game), #82 for defense (allowing an average of 64.3 points per game), and 3-1 (2-1 ATS) overall. Offensively, the Anteaters are shooting a field goal average of 49.6% (51st in the country), a free throw average of 69% (205th in the country), and a three-point average of 33.73% (162nd in the country). For defense, they are allowing an average of 38.53% field goal shooting (84th in the country), a three-point average of 28% (81st in the country) and 32.00 defensive rebounds per game (32nd in the country). Offensively, the Anteaters are averaging 19.75 assists and 11.00 turnovers per game (15th in the country and 106th in the country). Defensively, the Anteaters are averaging 10.25 defensive assists and 15.25 turnovers per game (90th in the country and 92nd in the country).
UC Irvine Set to Capitalize on Pepperdine's Inaccurate Long Range Shooting
Pepperdine and UC Irvine both boast an adjusted tempo of 70th, giving way to an uptempo game with many shots from both teams. The Anteaters have the advantage due to their stronger defensive effort, as they have held opponents to an average of 64.3 points per game and 28.0% shooting from long range. This works well against Pepperdine, who relies on good shots from long range but is shooting 37.4% from downtown and 45.8% overall. UC Irvine is also averaging three fewer turnovers per game and is shooting 51st in the country with 49.6%. As such, the advantage looks to be given to UC Irvine.
Best Bets From The Most Profitable NCAAB Handicappers
Make Your Picks

[ - ]
Total
Over 148
Under 148
148.25
Make your predictions for Pepperdine Waves vs UC Irvine Anteaters to showcase your betting acumen and earn tips for your winners!
Mon, 7:00 PM
Yale
QUINN
Mon, 7:00 PM
Delaware
ROBMO
Mon, 10:00 PM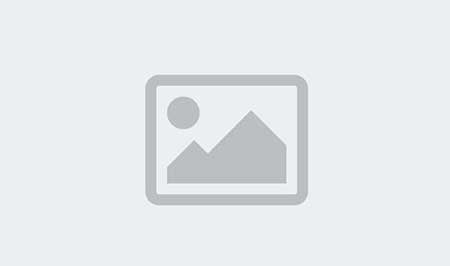 Utah Tech
CSUN
SportsJaw is verified safe by:
The information contained in this site is FOR ENTERTAINMENT PURPOSES ONLY. Any use of this information in violation of any federal, state and/or local laws is strictly prohibited.
Sportsjaw.com is not a gambling site, and does not accept or place wagers of any type. This website does not endorse illegal gambling. If you or someone you know has a gambling problem and wants help, call 1-800-GAMBLER.