Tue Nov 21 7:00PM
66
95
|   | 1 | 2 | T | ODDS |
| --- | --- | --- | --- | --- |
| LASAL | 29 | 37 | 66 | 144 |
| DUKE | 39 | 56 | 95 | -25.5 |
La Salle Explorers vs
Duke Blue Devils
Predictions & Preview
Duke Favored Heavily Over La Salle in Home Rebounding Matchup
On Tuesday night, La Salle is set to face off against Duke at Cameron Indoor Stadium. The Explorers enter the game 4-0 SU and 2-1-1 ATS, while Duke comes in at 3-1 SU and 2-2 ATS. Last season, La Salle went 15-19 overall and 5-8 on the road; Duke finished 27-9 and undefeated at home. Duke is listed as a 25-point favorite with the current line at -26.5. In addition, Duke's starting center Marques Bolden is questionable due to an ankle injury.
Game Info
When: Tuesday, 11/21/2023 @ 7:00pm EST
Where: Cameron Indoor Stadium Stadium
Betting Odds
Moneyline: Explorers +4000 | Blue Devils -20001
Spread: Explorers +26.5 (-110) | Blue Devils -26.5 (-110)
Total: Over/Under 144 (-110)
Based on the moneyline, the implied probability that Duke will win straight-up is 100%.
La Salle vs Duke Stats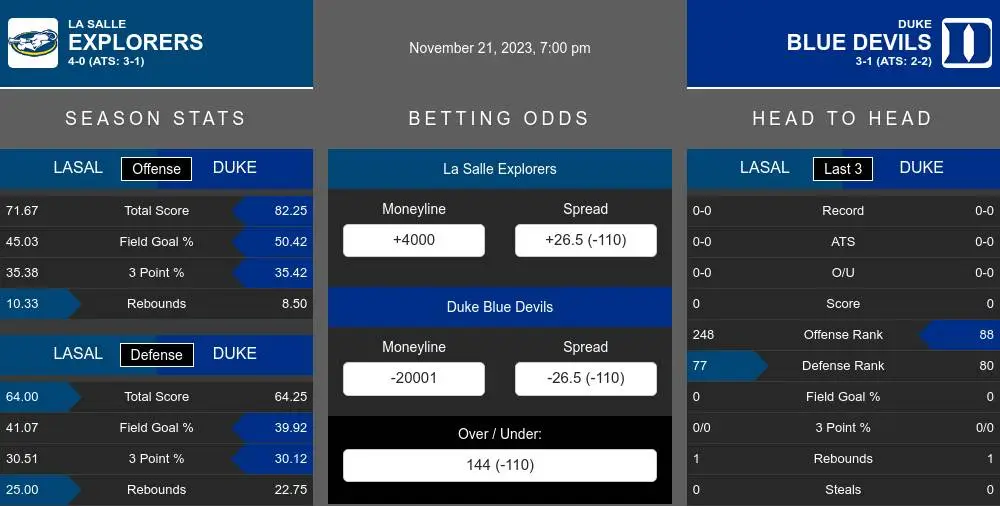 La Salle Explorers
La Salle is competitive with its opponents and has been successful, ranking 208th overall in KenPom's rankings and 148th offensively. The Explorers have a 4-0 record this season and are led by guards Khalil Brantley, Jhamir Brickus, Daeshon Shepherd, and Anwar Gill. La Salle averages 73.5 points per game, 45.6% shooting from the field (36.1% from three), 72.7% from foul line, 25.5 rebounds, 67.7 possessions per 40 minutes, and holds opponents to 67.5 points per game, 44.3% shooting from the field (34.1% from three), 33.0 defensive rebounds. The Explorers allow an average of 41.07% of field goals, 60.00% free throws, 30.51% of the three pointers, 38.67 defensive rebounds, 12.33 defensive assists, and 14.00 turnovers per game.
Duke Blue Devils Analysis
The Duke Blue Devils are ranked 12th nationally by KenPom, with the 12th-rated offense and 17th-ranked defense. They have an overall record of 3-1 (2-2 ATS) and average 82.3 points per game (81st), 50.4% shooting from the field (40th) plus 78.6% at the free-throw line (26th) and 33.8 rebounds per game (192nd). Their opponents score 64.3 points per game (81st) and shoot 39.9% (118th) from the field, including 30.1% from deep (134th), with 30.0 rebounds per game (116th). Freshman guard Caleb Foster (10.5 PPG), sophomore forward Mark Mitchell (14.0 PPG and 5.0 RPG), senior captain Jeremy Roach (11.8 PPG), standout sophomore Kyle Filipowski (18.8 PPG and 7.2 RPG) and sophomore guard Tyrese Proctor (10.5 PPG and 5.8 APG) are some of the leading players. After a loss to Arizona, Duke responded with consecutive wins over Michigan State and Bucknell, shooting 49.2% from the field and taking a 46-27 rebounding advantage. They converted 13 of 16 free-throw attempts, won the turnover battle, and held Bucknell to 37.0% shooting, leading by as many as 34 points.
Duke Favored Heavily Over La Salle in Rebounding Matchup
Duke's matchup against La Salle should be an easier contest than the nail-biter against Bucknell. La Salle's primary scorers are all guards, and their two forwards only average 8.6 and 6.6 points and rebounds, respectively. This leaves the Explorers at 353rd nationally in rebounding. Duke is able to capitalize on this lack of size with their length in the passing lanes and in the paint. Their accurate foul shooting, 26th nationally, is yet another edge that should pay off. In conclusion, Duke's length and size should yield a comfortable victory and a cover of the spread.
Best Bets From The Most Profitable NCAAB Handicappers
Make Your Picks

[ - ]
Moneyline
+1612
-8000
-10000
Total
Over 144
Under 144
144
Make your predictions for La Salle Explorers vs Duke Blue Devils to showcase your betting acumen and earn tips for your winners!
Mon, 7:00 PM
Yale
QUINN
Mon, 7:00 PM
Delaware
ROBMO
Mon, 10:00 PM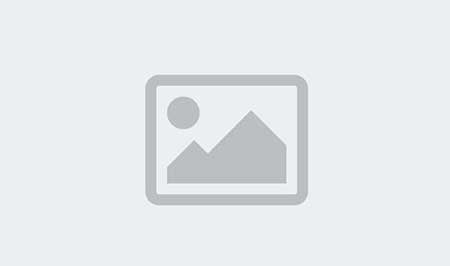 Utah Tech
CSUN
SportsJaw is verified safe by:
The information contained in this site is FOR ENTERTAINMENT PURPOSES ONLY. Any use of this information in violation of any federal, state and/or local laws is strictly prohibited.
Sportsjaw.com is not a gambling site, and does not accept or place wagers of any type. This website does not endorse illegal gambling. If you or someone you know has a gambling problem and wants help, call 1-800-GAMBLER.