Tue Nov 21 7:30PM
58
57
|   | 1 | 2 | T | ODDS |
| --- | --- | --- | --- | --- |
| UAB | 29 | 29 | 58 | 139 |
| MIDTN | 28 | 29 | 57 | -1 |
UAB Blazers vs
Middle Tenn. St. Blue Raiders
Predictions & Preview
Middle Tennessee State Set to Take on UAB in Rematch of Last Year's High-Scoring Thriller
5. On Tuesday night, the undefeated Blue Raiders (3-1) will host the UAB Blazers (2-2) in a non-conference matchup at the Murphy Center in Murfreesboro. After a narrow win over Alcorn State, UAB will look to upset the Blue Raiders and their 2-1 ATS record. The opening tip is set for 7:30 EST.
Game Info
When: Tuesday, 11/21/2023 @ 7:30pm EST
Where: Murphy Athletic Center Stadium
Betting Odds
Moneyline: Blazers -104 | Blue Raiders -118
Spread: Blazers +1 (-110) | Blue Raiders -1 (-110)
Total: Over/Under 141.25 (-110)
Based on the moneyline, the implied probability that Middle Tenn. St. will win straight-up is 54%.
UAB vs Middle Tenn. St. Stats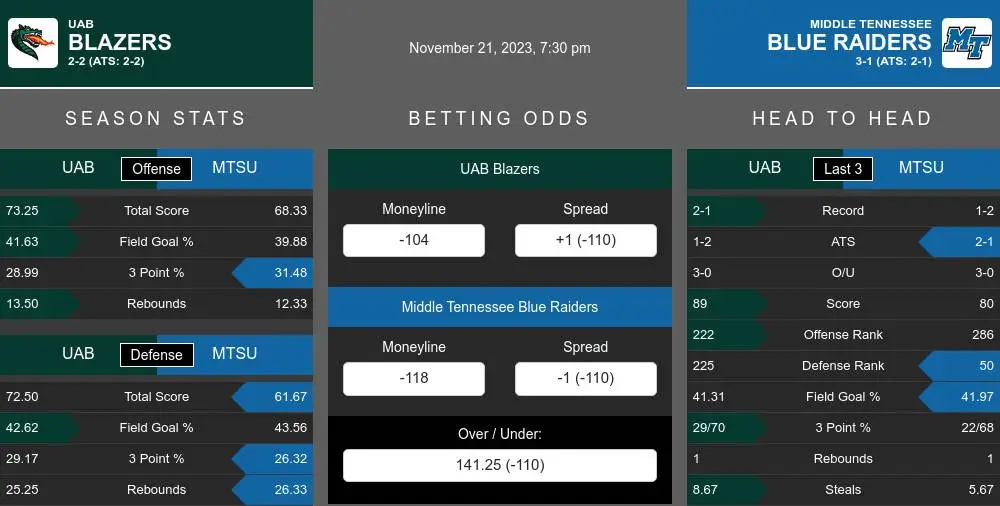 UAB Blazers
The UAB Blazers have had an up-and-down start to the season. They lost a head-scratching opener against Bradley, beat Maryland as an underdog, and barely squeaked out a win against Alcorn State. Eric Gaines leads the team in scoring with 17.2 PPG, and is joined by Alejandro Vasquez (13.0 PPG) and Efram Johnson (10.8 PPG). Javian Davis (9.0 PPG, 9.3 RPG) is their top post player. The team ranks 95th overall in KenPom, 117th in offensive potency, and 88th in defensive efficiency. They play at a fast tempo, clocking in at the 34th-fastest in the country. Despite those decent rankings, they come in with a 166 power rating, currently standing at 2-2 and 2-2 ATS. The Blazers shoot 41.63% from the field (268th), 71.88% from the line (136th), and 28.99% from deep (279th). On defense, they allow 42.62% from the floor (209th), 66.67% from the line (116th), and 29.17% from 3-point range (110th).
Middle Tenn. St. Blue Raiders Analysis
The Middle Tennessee State Blue Raiders are currently ranked 129th overall and have a notable defense ranking at 80th in the nation. Led by guard Elias King, who is averaging 15.3 PPG, the team has four starting guards in their 4-guard lineup, and is coming off of an easy win over Milligan. On offense, they are ranked 286th, but have been successful on defense, ranking 50th in the nation and giving up an average 61.67 PPG. They play at a slower pace, 302nd in the nation, and have been small favorites in all of their previous D-1 games this season. Camryn Weston was recently lost for the season due to a knee injury and Elias King has been scoring 14 or more in every game this season.
UAB Tested in Matchup with MTSU, With Elias King's Key Role in Determing Outcome
UAB has had an inconsistent start to the season, with an upset win against Maryland on a neutral court, followed by a narrow three-point win over Alcorn State, and a loss to Bradley as favorites. MTSU have looked strong in their home games so far, making them the likely winners of this game. With MTSU starting four guards and one post player, while UAB also deploys a similar formation, the mismatch lies in MTSU's 6'8 guard, Elias King. His outside shooting ability, coupled with his height advantage over smaller guards on the UAB team, could determine this game. Middle Tennessee State is the preferred choice for this game.
Best Bets From The Most Profitable NCAAB Handicappers
Make Your Picks

[ - ]
Total
Over 139
Under 139
139.5
Make your predictions for UAB Blazers vs Middle Tenn. St. Blue Raiders to showcase your betting acumen and earn tips for your winners!
Mon, 7:00 PM
Yale
QUINN
Mon, 7:00 PM
Delaware
ROBMO
Mon, 10:00 PM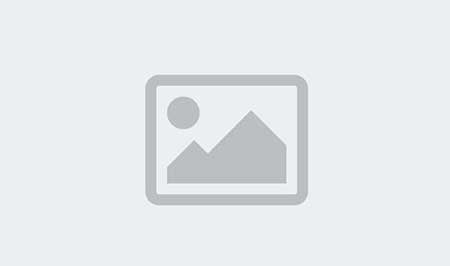 Utah Tech
CSUN
SportsJaw is verified safe by:
The information contained in this site is FOR ENTERTAINMENT PURPOSES ONLY. Any use of this information in violation of any federal, state and/or local laws is strictly prohibited.
Sportsjaw.com is not a gambling site, and does not accept or place wagers of any type. This website does not endorse illegal gambling. If you or someone you know has a gambling problem and wants help, call 1-800-GAMBLER.