Tue Nov 21 7:00PM
76
72
|   | 1 | 2 | T | ODDS |
| --- | --- | --- | --- | --- |
| EMICH | 36 | 40 | 76 | 141.5 |
| DET | 28 | 44 | 72 | -3 |
Eastern Michigan Eagles vs
Detroit Mercy Titans
Predictions & Preview
Battle of the Titans: Eastern Michigan Eagles to Test Detroit Mercy on Tuesday Night
The Eastern Michigan Eagles visit rivals Detroit Mercy in Motor City on Tuesday night. After two victories, the Eagles have halted their two-game losing streak and look to pick up a third win, while the Titans, 0-4, have yet to win a game this season and are amped to get their first. The match will begin at 7PM EST, and all eyes will be on Detroit Mercy as they start as the 2.25 point favorite.
Game Info
When: Tuesday, 11/21/2023 @ 7:00pm EST
Where: Calihan Hall Stadium
Betting Odds
Moneyline: Eagles +120 | Titans -145
Spread: Eagles +2.25 (-110) | Titans -2.25 (-110)
Total: Over/Under 144 (-110)
Based on the moneyline, the implied probability that Detroit Mercy will win straight-up is 59%.
Eastern Michigan vs Detroit Mercy Stats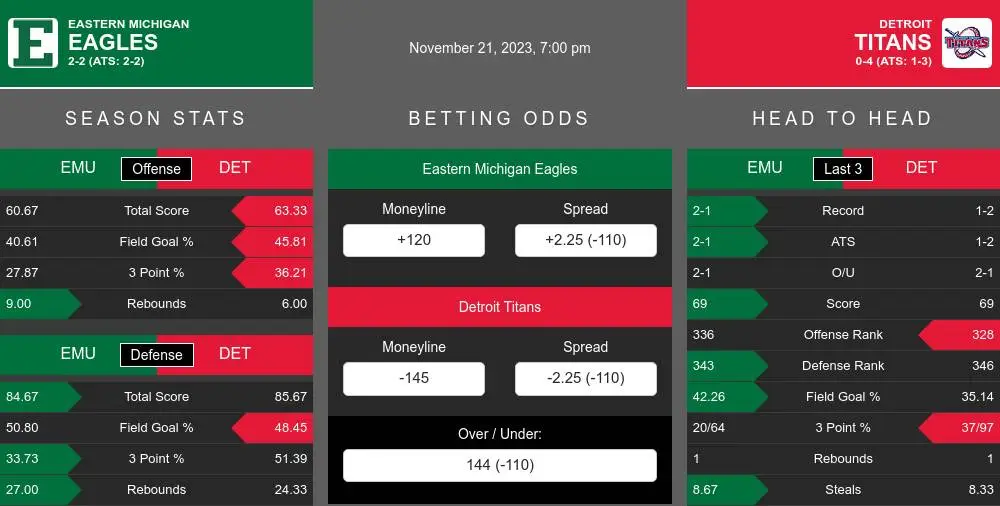 Eastern Michigan Eagles
Eastern Michigan Eagles are 2-2 and are looking to get over the .500 mark when they go to Detroit to take on the struggling Detroit Mercy Titans. The Eagles are ranked 205th in field goal percentage, 270th in 3pt-field goal percentage, 239th in rebounding, and 271st in turnovers per game. They are also currently 294th in field goal percentage, 259th in free throw percentage, 294th in 3pt-field goal percentage, 331st in rebounding, 302nd in offensive assists, 298th in turnovers, and 349th in defensive assists. They hope to break over .500 with this game.
Detroit Mercy Titans Analysis
The Detroit Mercy Titans have started the 2023-24 season poorly, having lost their first four games and lacking their starting five from the previous season. Currently their offense rank #328 in points per game (63.33) and their defense rank #346 in points allowed per game (85.67). Their field goal percentage and three point field goal percentage sit at #148 and #113 respectively, and they are ranked #354 and #218 in total rebounds and turnovers per game. On defense they are #331 in field goals allowed, #176 in free throws, #362 in three pointers, #37 in defensive rebounds and #358 and #325 in defensive assists and turnovers per game.
Detroit Mercy Favored to Win Home Opener Despite Weakness in Three-Point Shooting
Detroit Mercy's difficult strength of schedule puts them in a better position than Eastern Michigan to pull off an expected win in their home opener. Although neither team has excelled in perimeter protection or scoring, the Titans have a particularly poor record with three-point shots. However, the Eagles have also demonstrated ineffectiveness with shooting from long range and have not relied much on beyond the arc opportunities. With a narrow spread and an even match-up, taking Detroit -1.5 is the best bet.
Best Bets From The Most Profitable NCAAB Handicappers
Make Your Picks

[ - ]
Total
Over 141.5
Under 141.5
142.25
Make your predictions for Eastern Michigan Eagles vs Detroit Mercy Titans to showcase your betting acumen and earn tips for your winners!
Mon, 7:00 PM
Yale
QUINN
Mon, 7:00 PM
Delaware
ROBMO
Mon, 10:00 PM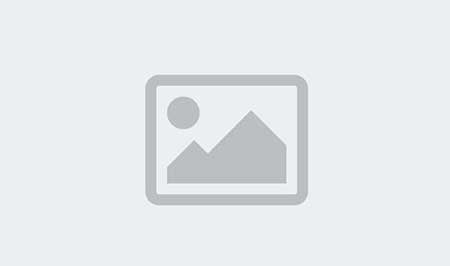 Utah Tech
CSUN
SportsJaw is verified safe by:
The information contained in this site is FOR ENTERTAINMENT PURPOSES ONLY. Any use of this information in violation of any federal, state and/or local laws is strictly prohibited.
Sportsjaw.com is not a gambling site, and does not accept or place wagers of any type. This website does not endorse illegal gambling. If you or someone you know has a gambling problem and wants help, call 1-800-GAMBLER.