Thu Jan 26 11:00PM
66
69
|   | 1 | 2 | 3 | T | ODDS |
| --- | --- | --- | --- | --- | --- |
| ARZST | 20 | 34 | 12 | 66 | 144 |
| WASH | 32 | 22 | 15 | 69 | +2.5 |
Arizona St. vs Washington Prediction, Odds and Best Bets
Published on
Arizona St. is on the road playing Washington at the Alaska Airlines Arena stadium on Thursday, 1/26/2023 @ 11:00pm EST. Arizona St. -1 was the opening favorite and current line is Arizona St. -2.5.
Arizona St. Highlights
With a power ranking of 167, Arizona St. is ranked #162 in offense (scoring an average of 72.50 per game), #103 in defense (allowing an average of 66.55 points to be scored against them per game) and are 15-5 (10-10 ATS) this season.
Washington Highlights
Washington Huskies has a power ranking of 273 and are #219 for offense (scoring an average of 69.86 per game), #190 for defense (giving up an average of 66.55 points per game) and 12-9 (10-11 ATS) overall. Arizona St. went 1-2 (3-0 ATS) in their last 3 matchups against Washington.
Curated Picks & Predictions
From the lines set by Sportsbooks, they predict the score to be ARZST 69.25, WASH 74.25.
The SportsJaw community predicts Arizona St. Sun Devils to cover (59%)
OddsShark predicts Arizona State will win, cover the spread, and the total will go under.
61% picked Arizona St. Sun Devils on Covers.com
Our ScoreCaster predicts Sun Devils 69 to Huskies 72.
Staff Prediction
Our prediction: Sun Devils 69 to Huskies 72.
Written by SportsJaw Staff
Categorized as NCAAB Predictions
[+ More]
4

Latest Chatter

[ - ]
Make your picks
to play the
bankroll game
and showcase your betting acumen. Your relevant records will show on your posts.
Total
Over 144
Under 144
137.5
#1 in NCAAB L.30 (+$1,744)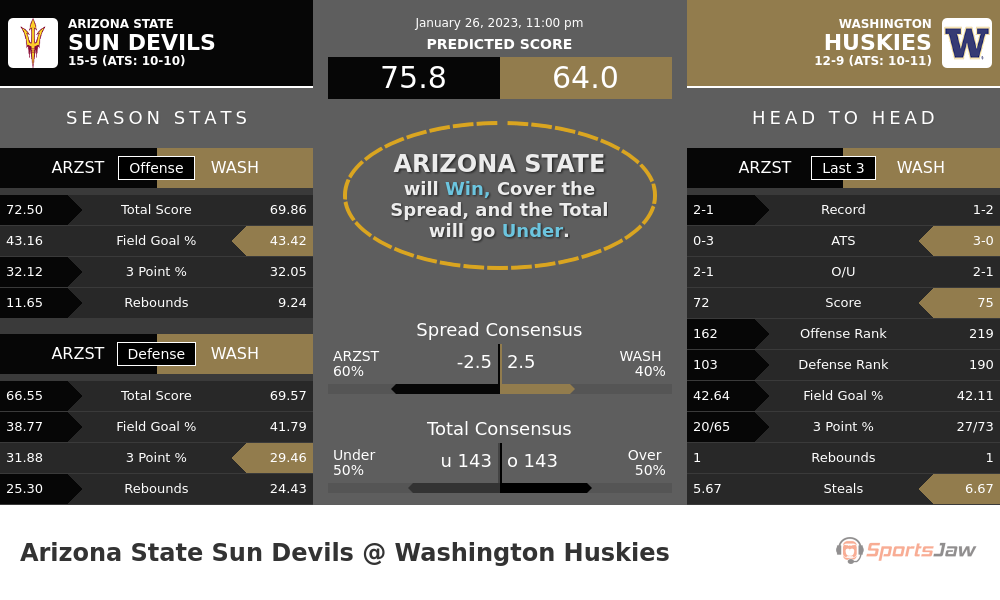 Both teams have a compariable offense and the Sun Devils have a slightly better defense. The Sun Devils won more games straight up while Huskies won more ATS over their last 3 matchups. Adjusted score predictions based on power rankings and strength of schedule: Sun Devils 76 to Huskies 64.
Washington Injuries

G Jamal Bey Is "?" Thursday vs Arizona State, Illness
C Franck Kepnang Is out for season, Knee