Thu Jan 26 11:00PM
63
44
|   | 1 | 2 | T | ODDS |
| --- | --- | --- | --- | --- |
| UTAH | 32 | 31 | 63 | 129.5 |
| OREST | 16 | 28 | 44 | +7.5 |
Utah vs Oregon St. Prediction, Odds and Best Bets
Published on
Utah is on the road playing Oregon St. at the Gill Coliseum stadium on Thursday, 1/26/2023 @ 11:00pm EST. Utah -7.5 was the opening favorite and line hasn't moved.
Utah Highlights
With a power ranking of 215, Utah is ranked #175 in offense (scoring an average of 71.86 per game), #27 in defense (allowing an average of 62.29 points to be scored against them per game) and are 14-7 (12-9 ATS) this season.
Oregon St. Highlights
Oregon St. Beavers has a power ranking of 315 and are #342 for offense (scoring an average of 63.58 per game), #141 for defense (giving up an average of 62.29 points per game) and 8-12 (9-9-1 ATS) overall. Utah went 1-2 (1-2 ATS) in their last 3 matchups against Oregon St..
Curated Picks & Predictions
Based on the current lines, Oddsmakers predict the score to be UTAH 57.25, OREST 72.25.
52% of SportsJaw users predict Utah Running Utes to cover.
OddsShark's prediction is Utah will win, cover the spread, and the total will go over.
64% picked Oregon St. Beavers on Covers.com
SportsJaw's ScoreCaster prediction: Runnin' Utes 70 to Beavers 59.
Staff Prediction
Our prediction: Runnin' Utes 70 to Beavers 59.
Written by SportsJaw Staff
Categorized as NCAAB Predictions
[+ More]
5

Latest Chatter

[ - ]
Make your picks
to play the
bankroll game
and showcase your betting acumen. Your relevant records will show on your posts.
Total
Over 129.5
Under 129.5
129.5
#2 in NCAAB L.365 (+$7,958)
Given OSU's offensive struggles and Utah's stout defense, the under seems like the easy play. That's not enough to tempt us, though. At 130 points, this spread is just too low. Besides, the over is 4-0 in the Utes' last four vs. a team with a losing straight-up record and 5-1 in their last six road games vs. a team with a winning home record. It's also 5-1 in the Beavers' last six games after allowing less than 50 points in their previous game.
The Utes have found their offensive flow recently, especially after Branden Carlson returned to the lineup. He's been the one leading the charge, scoring 20-plus in three consecutive. He'll have another monster game in the paint against the Beavers. It's now or never for Utah, 91st in offensive efficiency, to prove it is a complete team capable of making a run in the Pac-12. I expect to see some points in this game.
#1 in NCAAB L.30 (+$1,744)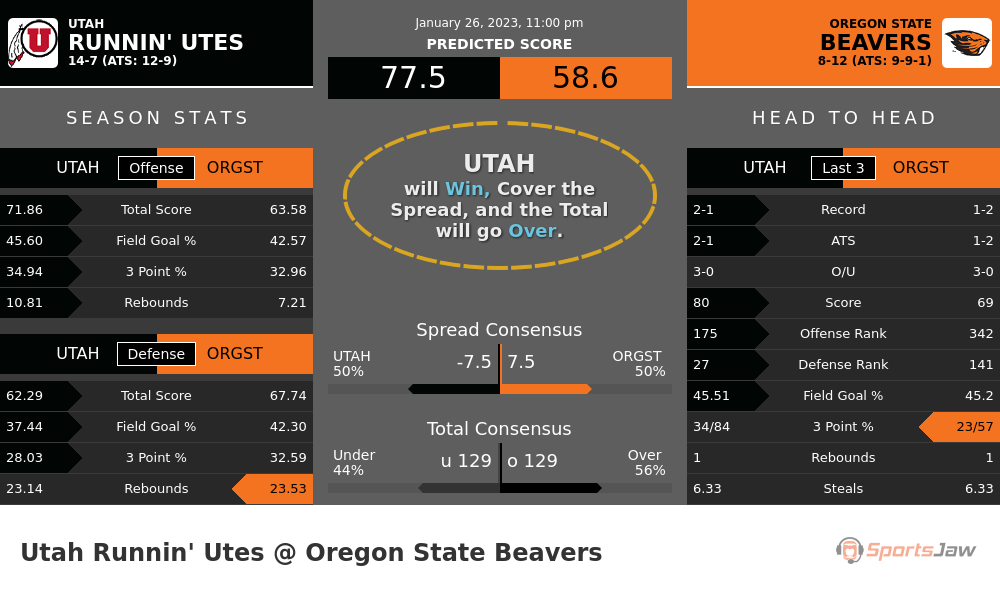 The Runnin' Utes have a stronger offense and the Runnin' Utes have a slightly better defense. The Runnin' Utes won more games straight up and against the spread over their last 3 matchups. Adjusted score predictions based on power rankings and strength of schedule: Runnin' Utes 78 to Beavers 59.