Thu Jan 26 10:00PM
60
79
|   | 1 | 2 | T | ODDS |
| --- | --- | --- | --- | --- |
| PORTL | 30 | 30 | 60 | 154.5 |
| LOYMA | 33 | 46 | 79 | -5.5 |
Portland vs Loyola Marymount Prediction, Odds and Best Bets
Published on
Portland is on the road playing Loyola Marymount at the Albert Gersten Pavilion stadium on Thursday, 1/26/2023 @ 10:00pm EST. Loyola Marymount -7.5 was the opening favorite and current line is Loyola Marymount -5.5.
As the Portland Pilots prepare for WCC action on Thursday night, they will travel down the coast to play Loyola Marymount. Currently, Portland is 11-11 on the season, which is .500. The Pilots have a 3-4 conference record thus far. With a 14-7 record on the season and a 4-3 conference record, the Lions of Loyola Marymount finish the season at 4-3. Opening tap is scheduled for 10:00 p.m. Eastern Standard Time.
Trying to steer their way to victory
The Portland Pilots are on a roll with two straight victories entering this matchup. As a result of the two straight wins, the team is now .500 overall and just one game behind .500 in the conference. The Pilots defeated Pepperdine 91-76 on Saturday, hitting 58% of their field goals. Five Portland players reached double figures in the game. Moses Wood scored 17 points and dished out five assists for the team. A 16-point and seven-assist performance from Tyler Robertson helped the Pilots win.
Lions are starting to roar
Loyola Marymount also had two straight wins coming into this matchup. In fact, the Lions just won their biggest game in decades. Gonzaga was shocked 68-67 by the Lions on Saturday night. In the final seconds, Cam Shelton scored the game-winning layup, which proved to be the game-winning basket. The Lions won at Gonzaga for the first time since 1991. A top-10 opponent had not been beaten by Loyola Marymount since 1961. Gonzaga lost its first game against an unranked opponent in 93 games, its first at home in 75 games and ended its 25-game winning streak over Loyola Marymount.
In this game, some might prefer Portland, citing a letdown from Loyola Marymount. That theory does not appeal to me. A Portland team that ranks 61st in 3 point defense faces a Loyola team that ranks 61st in 3 point offense. In terms of prolific offense, Loyola trails Portland just slightly, but it possesses better defense and rebounds more effectively. Loyola's 81st-ranked 3-point offense should flourish against Portland's 318th-ranked 3-point defense, despite Portland's ability to contain them from long range. Loyola Marymount is 9-2 at home this season compared to Portland's 1-6 road record.
Portland Highlights
With a power ranking of 359, Portland is ranked #68 in offense (scoring an average of 77.00 per game), #339 in defense (allowing an average of 76.95 points to be scored against them per game) and are 11-11 (10-10 ATS) this season.
Loyola Marymount Highlights
Loyola Marymount Lions has a power ranking of 146 and are #92 for offense (scoring an average of 75.81 per game), #219 for defense (giving up an average of 76.95 points per game) and 14-7 (12-7-1 ATS) overall. Portland went 2-1 (2-1 ATS) in their last 3 matchups against Loyola Marymount.
Curated Picks & Predictions
From the lines set by Sportsbooks, they predict the score to be PORTL 82.5, LOYMA 71.5.
53% of SportsJaw predicts Loyola Marymount Lions to cover.
OddsShark predicts Loyola Marymount will win, cover the spread, and the total will go over.
65% picked Loyola Marymount Lions on Covers.com
Our ScoreCaster predicts Pilots 69 to Lions 80.
Staff Prediction
Our prediction: Pilots 69 to Lions 80.
Written by SportsJaw Staff
Categorized as NCAAB Predictions
[+ More]
3

Latest Chatter

[ - ]
Make your picks
to play the
bankroll game
and showcase your betting acumen. Your relevant records will show on your posts.
Total
Over 154.5
Under 154.5
151.5
#1 in NCAAB L.30 (+$1,744)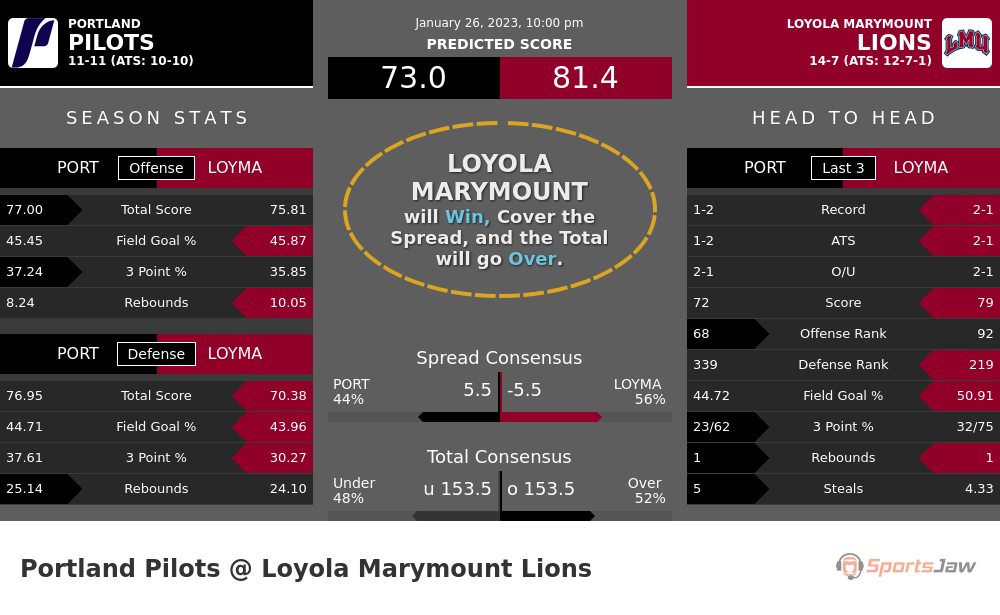 Both teams have a compariable offense and the Lions have a slightly better defense. The Lions won more games straight up and against the spread over their last 3 matchups. Adjusted score predictions based on power rankings and strength of schedule: Pilots 73 to Lions 81.