Thu Jan 26 10:00PM
61
62
|   | 1 | 2 | T | ODDS |
| --- | --- | --- | --- | --- |
| UCI | 28 | 33 | 61 | 135.5 |
| CSF | 33 | 29 | 62 | +3.5 |
UC Irvine vs CSU Fullerton Basketball Picks & Predictions
Published on
UC Irvine is on the road playing CSU Fullerton at the Titan Gym stadium on Thursday, 1/26/2023 @ 10:00pm EST. UC Irvine -1.5 was the opening favorite and current line is UC Irvine -3.
Fullerton Statistics
On Wednesday, the Cal State Fullerton Titans will play the UC Irvine Anteaters at Bren Events Center in Irvine, California. Cal State Fullerton is looking for its fourth consecutive victory on Wednesday when it visits UC Irvine. Following a 79-72 victory over Hawaii, the Titans are 9-7 overall and 3-1 in Big West play. The last three games have been won by CSU Fullerton. Vincent Lee leads CSU Fullerton in rebounding with an average of 5.4 rebounds per game. Latrell Wrightsell Jr leads the team in scoring and assists with an average of 16.3 points and 2.5 assists per game. With only two players averaging double figures in scoring, CSU Fullerton is scoring 69.4 points per game as a team.
Irvine Statistics
On Wednesday, UC-Irvine hosts CSU Fullerton in an attempt to win its fourth consecutive game. The Anteaters are 10-5 overall and 3-0 in Big West play after beating Long Beach State 87-70. UC Irvine's leading scorer was DJ Davis with 20 points. A 50.7% shooting percentage was the average for the Anteaters, while 39.7% of Long Beach State's shots were made. Dawson Baker leads UC Irvine in scoring with 14.1 points per game. Bent Leuchten ranks first in rebounding with 6.1 rebounds per game. Pierre Cockrell II leads in assists with 5.0 assists per game. The UC Irvine team averages 79.1 points per game with three players averaging double figures in scoring.
Under is the bet here against UC Irvine, which CSU Fullerton is likely to win on the road. In eight of Fullerton's last 10 overall games, as well as in each of the Titans' last six games played on Wednesdays, UNDER has cashed. Averaging 66.2 points per game, Cal State Fullerton holds its opponents to 41.2% shooting overall and 30.2% shooting from three-point range. In our final score prediction, the Titans will win, but we recommend playing UNDER 65-60.
UC Irvine Highlights
With a power ranking of 37, UC Irvine is ranked #62 in offense (scoring an average of 77.26 per game), #119 in defense (allowing an average of 67.05 points to be scored against them per game) and are 13-6 (10-7 ATS) this season.
CSU Fullerton Highlights
CSU Fullerton Titans has a power ranking of 143 and are #226 for offense (scoring an average of 69.67 per game), #107 for defense (giving up an average of 67.05 points per game) and 10-11 (12-6-1 ATS) overall. UC Irvine went 2-1 (3-0 ATS) in their last 3 matchups against CSU Fullerton.
Curated Picks & Predictions
Based on the current lines, Oddsmakers predict the score to be UCI 64.25, CSF 70.25.
52% of SportsJaw users predict UC Irvine Anteaters to cover.
OddsShark's prediction is UC Irvine will win, cover the spread, and the total will go over.
68% picked UC Irvine Anteaters on Covers.com
SportsJaw's ScoreCaster prediction: Anteaters 77 to Titans 72.
Staff Prediction
Our prediction: Anteaters 77 to Titans 72.
Written by SportsJaw Staff
Categorized as NCAAB Predictions
[+ More]
2

Latest Chatter

[ - ]
Make your picks
to play the
bankroll game
and showcase your betting acumen. Your relevant records will show on your posts.
Total
Over 135.5
Under 135.5
133.5
#1 in NCAAB L.30 (+$1,744)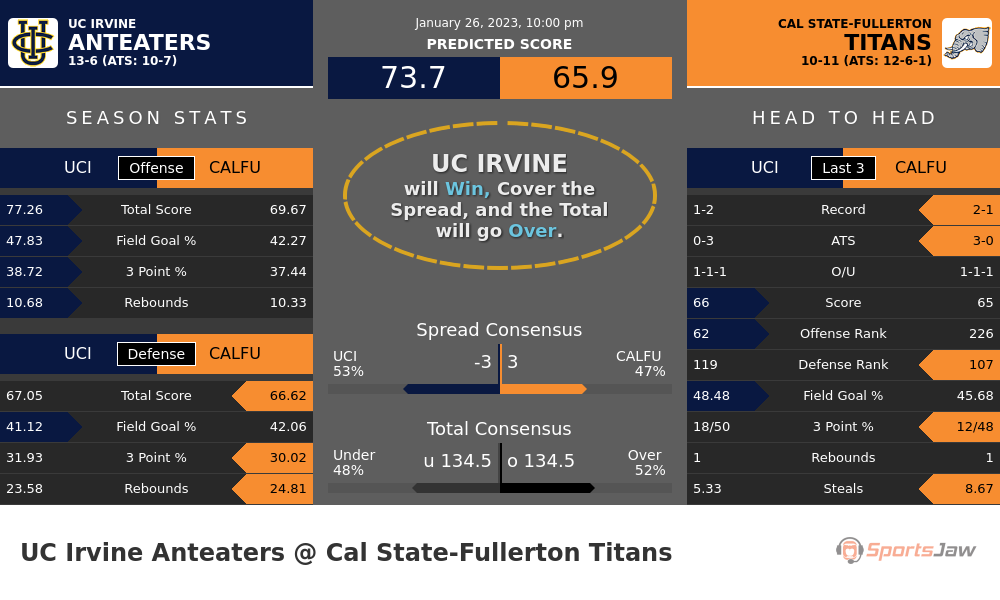 The Anteaters have a stronger offense and both teams have a compariable defense. The Titans won more games straight up and against the spread over their last 3 matchups. Adjusted score predictions based on power rankings and strength of schedule: Anteaters 74 to Titans 66.