Thu Jan 26 10:00PM
79
58
|   | 1 | 2 | T | ODDS |
| --- | --- | --- | --- | --- |
| UCDAV | 40 | 39 | 79 | 131.5 |
| CSUB | 22 | 36 | 58 | +8.5 |
UC Davis vs CSU Bakersfield Basketball Predictions & Best Bets
Published on
UC Davis is on the road playing CSU Bakersfield at the Icardo Center stadium on Thursday, 1/26/2023 @ 10:00pm EST. UC Davis -4.5 was the opening favorite and current line is UC Davis -8.
It's a battle of Golden State teams on the hardwood when two teams from the Big West meet. On Thursday night, the UC Davis Aggies will take on the CSU Bakersfield Roadrunners on the road. The previous game UC Davis played at home against Cal Poly ended 65-63, but UC Davis failed to cover the point spread. UC Santa Barbara dumped CSU Bakersfield 76-58 on the road, failing to cover as a 17-point underdog. A 67-48 Aggie victory on January 7 marked the first meeting between these programs this season, and the Aggies own a 5-0 advantage in the series all-time.
Aggies looking to stay hot at UC Davis
UC Davis beat Cal Poly at home in their previous game on Saturday for their fifth win in six games. With a 12-8 overall record and a 5-3 Big West record, the Aggies are tied for fifth in the conference, two games behind UC Santa Barbara. UC Davis trailed by 12 points in the first half and by nine points at halftime against Cal Poly. With 4:49 left to play, the Aggies trailed 63-50, but held the Mustangs scoreless to win. In the win, UC Davis shot 42.6% from the field, including three of 11 three-pointers, and missed 12 of 28 free throw attempts. Ty Johnson led the Aggies with 21 points, three assists, and four steals.
A home win for the CSU Bakersfield Roadrunners is on the agenda
A drubbing by UC Santa Barbara Saturday in their last game was CSU Bakersfield's second straight loss and ninth loss in its last 11 games. The Roadrunners entered the game with a 6-13 overall record and a 2-6 conference record. In the first half against UC Santa Barbara, CSU Bakersfield led by six points before being outscored 32-11 to trail by 15 at halftime. The Roadrunners never got closer than 11 in the second half after trailing by 25 at halftime. The Roadrunners shot 51.1% from the field, including four of 12 from three-point range, and were outrebounded 30-18 by the Titans. Cameron Smith led the Roadrunners with 27 points.
There is a distinct clash of styles in this game based on the numbers. The Aggies are good offensively, but mediocre on defense. As a result, the Roadrunners rank among the worst offensive teams in the country while ranking among the top defensive teams. They are in trouble if they don't play defense up to their normal standard, since they don't have the offensive production to win games. They lost to the Gauchos Saturday, a prime example of how things have been going. The Aggies are playing well under Jim Les, who led them to a win over Cal Poly a few days ago. This is UC Davis' second victory in a row over UC Berkeley, and they sweep the season series.
UC Davis Highlights
With a power ranking of 114, UC Davis is ranked #83 in offense (scoring an average of 76.11 per game), #252 in defense (allowing an average of 71.95 points to be scored against them per game) and are 11-8 (6-11 ATS) this season.
CSU Bakersfield Highlights
CSU Bakersfield Roadrunners has a power ranking of 348 and are #359 for offense (scoring an average of 58.89 per game), #23 for defense (giving up an average of 71.95 points per game) and 6-12 (6-10 ATS) overall. UC Davis went 0-3 (1-1 ATS) in their last 3 matchups against CSU Bakersfield.
Curated Picks & Predictions
From the lines set by Sportsbooks, they predict the score to be UCDAV 57.75, CSUB 73.75.
The SportsJaw community predicts UC Davis Aggies to cover (52%)
OddsShark predicts UC Davis will win, cover the spread, and the total will go over.
64% picked UC Davis Aggies on Covers.com
Our ScoreCaster predicts Aggies 78 to Roadrunners 63.
Staff Prediction
Our prediction: Aggies 78 to Roadrunners 63.
Written by SportsJaw Staff
Categorized as NCAAB Predictions
[+ More]
2

Latest Chatter

[ - ]
Make your picks
to play the
bankroll game
and showcase your betting acumen. Your relevant records will show on your posts.
Total
Over 131.5
Under 131.5
130
#1 in NCAAB L.30 (+$1,744)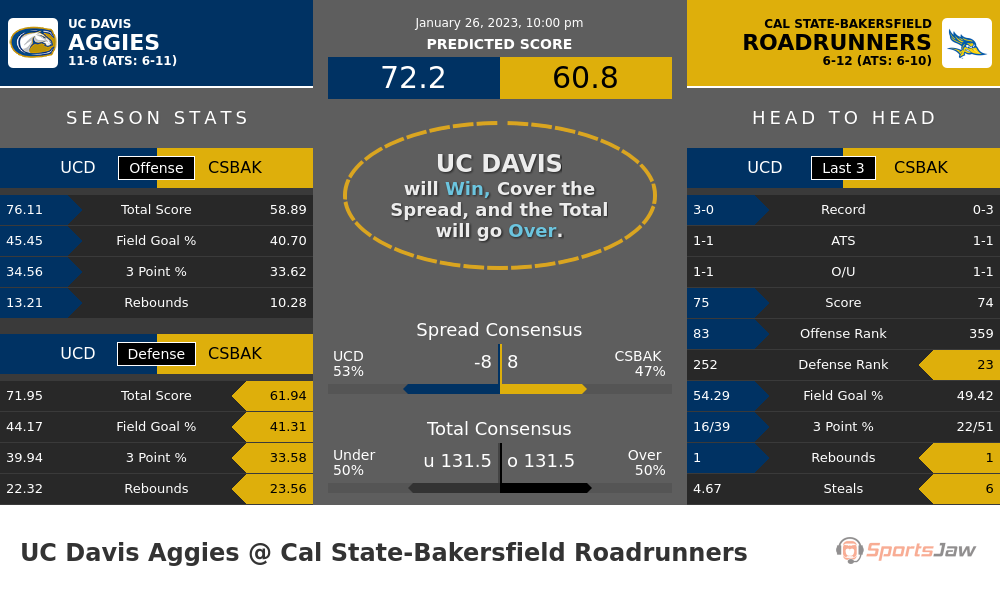 have a significantly better offense and the Roadrunners have a significantly better defense. The Aggies won more games straight up while Roadrunners won more ATS over their last 3 matchups. Adjusted score predictions based on power rankings and strength of schedule: Aggies 72 to Roadrunners 61.