Thu Jan 26 10:00PM
87
78
|   | 1 | 2 | T | ODDS |
| --- | --- | --- | --- | --- |
| SD | 37 | 50 | 87 | 163.5 |
| PEPPR | 32 | 46 | 78 | -4 |
San Diego vs Pepperdine Basketball Predictions & Best Bets
Published on
San Diego is on the road playing Pepperdine at the Firestone Fieldhouse stadium on Thursday, 1/26/2023 @ 10:00pm EST. Pepperdine -4.5 was the opening favorite and current line is Pepperdine -4.
A WCC game will take place in Malibu, CA on Thursday night between the San Diego Toreros and Pepperdine Waves. Currently, San Diego is 9-12 overall and 2-5 in the WCC. In conference play, the Toreros are nine spots ahead of Pepperdine, which they face tonight. In the WCC, Pepperdine is 0-7 and 7-14 overall. 9:00 pm EST is the scheduled time for the opening tap.
Toreros tumbling
Pepperdine is the only conference team without a win this season, so the San Diego Toreros will look to end their two-game losing streak against them. This will be the Toreros' third straight road game and a chance to pick up their first win. Last Thursday, San Diego lost to Portland 88-83. Since then, the team has been off. During the loss, San Diego's defense struggled, allowing Portland to shoot 61% from the field and 59% from three-point range. Marcellus Earlington led the Toreros with 32 points, five rebounds, and three assists. In the Toreros' loss, Sigu Sisoho Jawara contributed 20 points and four assists. Last but not least, Eric Williams Jr. had a double-double with 14 points and 11 rebounds.
Trying to break a dubious streak
This matchup will be Pepperdine's first in the WCC. Overall, they have lost eight straight games, including seven in a row in conference play. The Pepperdine University women's basketball team lost to Portland 91-76 on Saturday. A 16-point halftime deficit never allowed the Waves to mount a comeback. A total of four Pepperdine players finished in double figures, including Jevon Porter, who recorded his fourth double-double of the season with 14 points and 10 rebounds. In a stat-filled performance, Maxwell Lewis led the Waves with 18 points, seven rebounds and six assists. It was Pepperdine who shot 48% from the field, but Portland shot 56%.
This matchup is a surprise for Pepperdine. At 6-5 overall this season, the Waves have done well at home. It is the Waves' first home game of the season against a San Diego team that is playing with only a 2-5 record away from home and is missing one of its top scorers. The Toreros have one of the worst field goal percentages in the country, while Pepperdine shoots a high FG%. It is expected that Pepperdine will make the most of its opportunities to run and will push the tempo to its advantage. There is a lot to be learned from the second half of the first meeting between these two teams, a 3-point San Diego victory. A porous San Diego defense allowed Pepperdine to shoot 70% from the field. Although they won't shoot it at that level, they will shoot well enough to split the season series.
San Diego Highlights
With a power ranking of 272, San Diego is ranked #49 in offense (scoring an average of 78.00 per game), #353 in defense (allowing an average of 78.71 points to be scored against them per game) and are 9-12 (6-13 ATS) this season.
Pepperdine Highlights
Pepperdine Waves has a power ranking of 353 and are #60 for offense (scoring an average of 77.30 per game), #350 for defense (giving up an average of 78.71 points per game) and 7-14 (6-13 ATS) overall. San Diego went 0-3 (0-3 ATS) in their last 3 matchups against Pepperdine.
Curated Picks & Predictions
From the lines set by Sportsbooks, they predict the score to be SD 84.75, PEPPR 76.75.
The SportsJaw community predicts San Diego Toreros to cover (51%)
OddsShark predicts Pepperdine will win, san diego will cover, and the total will go under.
53% picked Pepperdine Waves on Covers.com
Our ScoreCaster predicts Toreros 75 to Waves 81.
Staff Prediction
Our prediction: Toreros 75 to Waves 81.
Written by SportsJaw Staff
Categorized as NCAAB Predictions
[+ More]
3

Latest Chatter

[ - ]
Make your picks
to play the
bankroll game
and showcase your betting acumen. Your relevant records will show on your posts.
Total
Over 163.5
Under 163.5
159.5
#1 in NCAAB L.30 (+$1,744)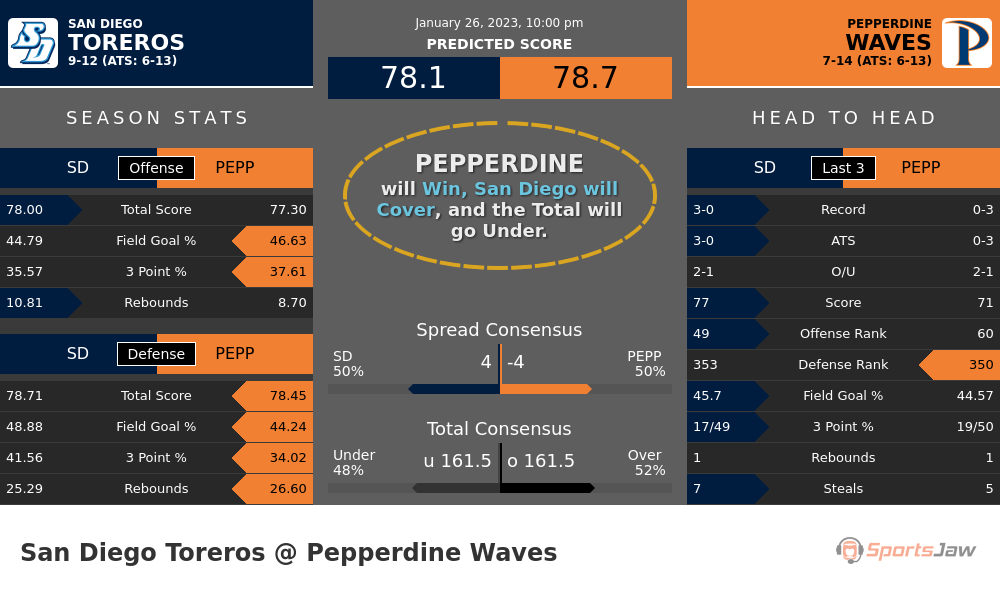 Both teams have a compariable offense and both teams have a compariable defense. The Toreros won more games straight up and against the spread over their last 3 matchups. Adjusted score predictions based on power rankings and strength of schedule: Toreros 78 to Waves 79.