Thu Jan 26 7:00PM
86
93
|   | 1 | 2 | T | ODDS |
| --- | --- | --- | --- | --- |
| MILW | 26 | 60 | 86 | 156 |
| WRIGH | 47 | 46 | 93 | -4.5 |
Milwaukee vs Wright St. Prediction & Best Bets
Published on
Milwaukee is on the road playing Wright St. at the Ervin J. Nutter Center stadium on Thursday, 1/26/2023 @ 7:00pm EST. Wright St. -3.5 was the opening favorite and current line is Wright St. -5.
Visiting Wright State on Thursday night, Milwaukee will look to remain atop the Horizon League standings. Saturday's 88-75 win over Youngstown State capped a four-game homestand for the Panthers. This is Wright State's third game of a four-game homestand, which began with losses to Fort Wayne and Cleveland State.
The Panthers aim to win the regular-season championship
Early in the season, Milwaukee lost three of its first five games against tough non-conference opponents. The Panthers have won eight of their first 10 games against Horizon League opponents. A 1.5-point favorite, they failed to take care of business against Wright State in overtime in the first meeting between these teams earlier this month. In the weeks since then, the Panthers have responded well, winning four-point favorites Robert Morris and four-point underdogs Youngstown State. In this game, they are tied with Northern Kentucky at the top of the conference standings.
A season sweep is within reach for the Raiders
Despite winning four of its first five games, Wright State has struggled during most of conference play. After losing each of their first three Horizon League games, the Raiders won four of their next five to get back to .500. Since beating Milwaukee in overtime last week, they have dropped back-to-back games, falling to Fort Wayne and Cleveland State. In both of those games, the Raiders were 3.5-point favorites, but they lost by three possessions. In their last eight games, they have covered the spread only twice.
As a small favorite, Wright State has a reasonable chance of sweeping the regular-season series. It may not be a wise idea to back the Panthers on the road in this spot. This is after the Raiders already beat a Milwaukee team on the road that had been excellent at home. It is difficult to predict how they will fare against an experienced Wright State squad. This is because Wright State is eager to regain its Horizon League title position against one of the most inexperienced teams in the country. Recently, the Raiders have won nine of the 11 meetings between the two teams.
Milwaukee Highlights
With a power ranking of 170, Milwaukee is ranked #58 in offense (scoring an average of 77.42 per game), #174 in defense (allowing an average of 68.95 points to be scored against them per game) and are 14-6 (11-6 ATS) this season.
Wright St. Highlights
Wright St. Raiders has a power ranking of 193 and are #33 for offense (scoring an average of 79.65 per game), #288 for defense (giving up an average of 68.95 points per game) and 11-10 (8-10-1 ATS) overall. Milwaukee went 2-1 (1-2 ATS) in their last 3 matchups against Wright St..
Curated Picks & Predictions
Based on the current lines, Oddsmakers predict the score to be MILW 82.125, WRIGH 72.125.
54% of SportsJaw players predict Wright St. Raiders to cover.
OddsShark's prediction is Wright State will win, cover the spread, and the total will go under.
65% picked Wright St. Raiders on Covers.com
SportsJaw's ScoreCaster prediction: Panthers 73 to Raiders 81.
Staff Prediction
Our prediction: Panthers 73 to Raiders 81.
Written by SportsJaw Staff
Categorized as NCAAB Predictions
[+ More]
2

Latest Chatter

[ - ]
Make your picks
to play the
bankroll game
and showcase your betting acumen. Your relevant records will show on your posts.
Total
Over 156
Under 156
150.5
#1 in NCAAB L.30 (+$1,802)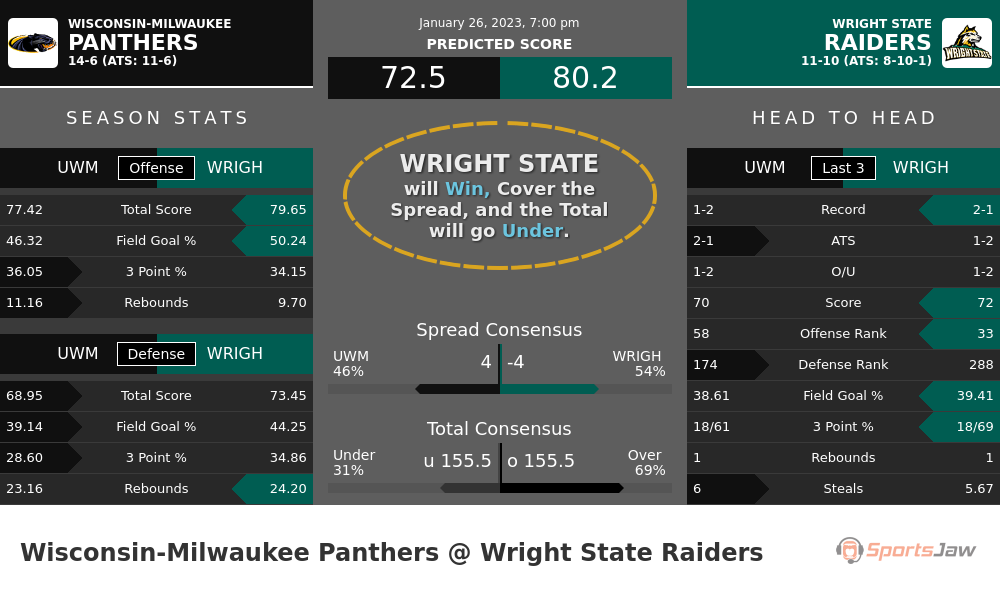 Both teams have a compariable offense and the Panthers have a slightly better defense. The Raiders won more games straight up while Panthers won more ATS over their last 3 matchups. Adjusted score predictions based on power rankings and strength of schedule: Panthers 73 to Raiders 80.