Thu Jan 26 7:00PM
86
82
|   | 1 | 2 | 3 | 4 | T | ODDS |
| --- | --- | --- | --- | --- | --- | --- |
| ULMON | 27 | 39 | 8 | 12 | 86 | 150.5 |
| MARSH | 33 | 33 | 8 | 8 | 82 | -16 |
Louisiana-Monroe vs Marshall Basketball Predictions & Best Bets
Published on
Louisiana-Monroe is on the road playing Marshall at the Henderson Center stadium on Thursday, 1/26/2023 @ 7:00pm EST. Marshall -16.5 was the opening favorite and current line is Marshall -15.5.
On Thursday, the Louisiana-Monroe Warhawks (9-12, 5-3 Sun Belt) will face the Marshall Thundering Herd (17-4, 6-2 Sun Belt) at the Cam Henderson Center in Huntington, West Virginia. A two-game winning streak for Louisiana-Monroe was snapped on Saturday when the Trojans defeated the Warhawks 77-53. The Marshall University football team defeated Arkansas State 87-78 in overtime on Saturday. In the conference, the Thundering Herd are tied for first place. The injury reports for Louisiana-Monroe and Marshall do not list any players.
The University of Louisiana-Monroe must score more points
Averaging 69.5 points per game, Louisiana-Monroe shoots 43.0% (268th) overall and 35.8% (88th) from three-point range. As a team, Louisiana-Monroe allows an average of 69.0 points per contest (177th), while the opposition attempts 43.3% (189th) overall and 34.6% (251st) from three-point range. Tyreke Locure leads Louisiana-Monroe in scoring with an average of 13.7 points per game, but the guard averages just 37.5% overall and 36.9% from 3-point range. With an average of 11.9 points per game and a 43.5% shooting percentage, Jamari Blackmon is the second leading scorer. Louisiana-Monroe's top five scorers shoot 37.5% or less.
The ball is being handled very well by Marshall
Averaging 81.9 points per game, Marshall has a field goal success percentage of 47.1% (46th) and a three-point shooting percentage of 33.5% (221st). Marshall's defense is also above average, allowing an average of 69.4 (186th) points per game while restricting opponents to a 41.8% field goal shooting percentage (96th) and a 32.2% three-point shooting percentage (125th). Marshall's leading scorer, Taevion Kinsey, scores 21.2 points per game and makes 55.2% overall while converting 33.3% of his three-point attempts. An average of 19.3 points per contest is scored by Andrew Taylor, the second-best scorer. Guards shoot 41.3% overall and 35.5% from long range. It has three scorers who shoot at least 49.7%.
The Marshall Thundering Herd have a very strong offense led by Taevion Kinsey, who averages 21.2 points per game and shoots 55.2%. Andrew Taylor scores 19.3 points per game and shoots 35.5% from behind the arc. They average 81.9 points per game and shoot 47.1%, while outrebounding their opponents 40.9 to 34.1. Louisiana-Monroe has covered 13 of its 20 games with a betting line this season. It will be difficult for the Warhawks to keep up with such a strong offensive attack by the Thundering Herd, since they only shoot 43.0% overall and score 69.5 points per game.
Louisiana-Monroe Highlights
With a power ranking of 281, Louisiana-Monroe is ranked #214 in offense (scoring an average of 70.30 per game), #165 in defense (allowing an average of 68.55 points to be scored against them per game) and are 9-12 (9-9 ATS) this season.
Marshall Highlights
Marshall Thundering Herd has a power ranking of 74 and are #21 for offense (scoring an average of 81.60 per game), #177 for defense (giving up an average of 68.55 points per game) and 17-4 (13-7 ATS) overall. Louisiana-Monroe went 0-0 (0-0 ATS) in their last 3 matchups against Marshall.
Curated Picks & Predictions
From the lines set by Sportsbooks, they predict the score to be ULMON 89, MARSH 58.
54% of SportsJaw predicts Marshall Thundering Herd to cover.
OddsShark predicts Marshall will win, cover the spread, and the total will go under.
64% picked Marshall Thundering Herd on Covers.com
Our ScoreCaster predicts Warhawks 61 to Thundering Herd 80.
Staff Prediction
Our prediction: Warhawks 61 to Thundering Herd 80.
Written by SportsJaw Staff
Categorized as NCAAB Predictions
[+ More]
2

Latest Chatter

[ - ]
Make your picks
to play the
bankroll game
and showcase your betting acumen. Your relevant records will show on your posts.
Total
Over 150.5
Under 150.5
145.5
#1 in NCAAB L.30 (+$1,744)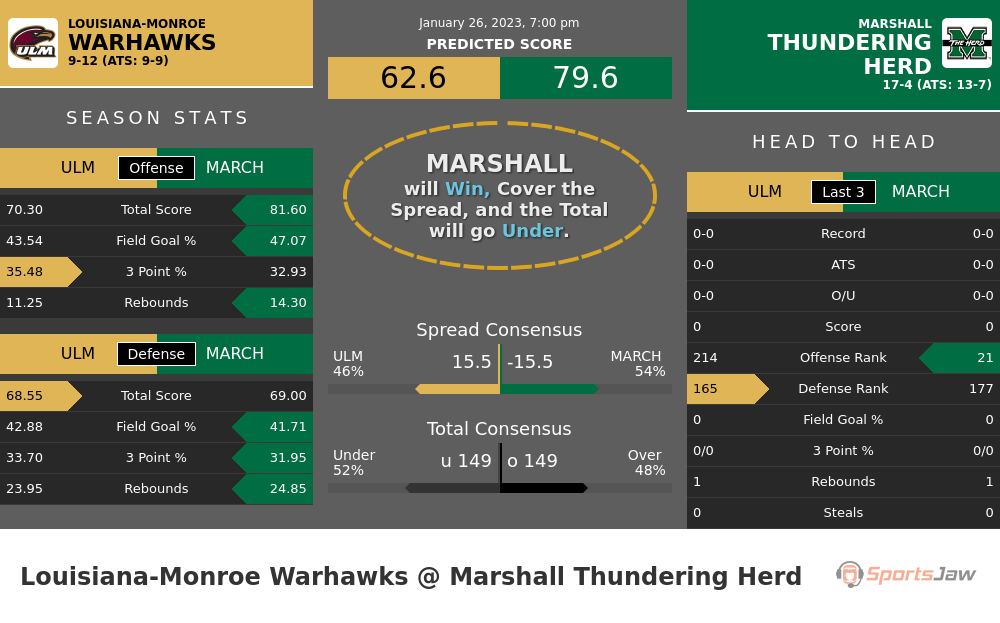 The Thundering Herd have a significantly better offense and both teams have a compariable defense. The Panthers won more games straight up and against the spread over their last 3 matchups. Adjusted score predictions based on power rankings and strength of schedule: Warhawks 63 to Thundering Herd 80.