Thu Jan 26 7:00PM
84
99
|   | 1 | 2 | T | ODDS |
| --- | --- | --- | --- | --- |
| SMU | 32 | 52 | 84 | 150.5 |
| MEMPH | 50 | 49 | 99 | -13 |
SMU vs Memphis Prediction, Odds and Best Bets
Published on
SMU is on the road playing Memphis at the FedExForum stadium on Thursday, 1/26/2023 @ 7:00pm EST. Memphis -14.5 was the opening favorite and current line is Memphis -13.
SMU Highlights
With a power ranking of 297, SMU is ranked #256 in offense (scoring an average of 68.63 per game), #274 in defense (allowing an average of 72.63 points to be scored against them per game) and are 7-13 (7-11-2 ATS) this season.
Memphis Highlights
Memphis Tigers has a power ranking of 173 and are #36 for offense (scoring an average of 79.05 per game), #255 for defense (giving up an average of 72.63 points per game) and 15-5 (8-11-1 ATS) overall. SMU went 1-2 (1-2 ATS) in their last 3 matchups against Memphis.
Curated Picks & Predictions
From the lines set by Sportsbooks, they predict the score to be SMU 88.25, MEMPH 62.25.
The SportsJaw community predicts SMU Mustangs to cover (55%)
OddsShark predicts Memphis will win, southern methodist will cover, and the total will go under.
split down the middle on Covers.com
Our ScoreCaster predicts Mustangs 62 to Tigers 94.
Staff Prediction
Our prediction: Mustangs 62 to Tigers 94.
Written by SportsJaw Staff
Categorized as NCAAB Predictions
[+ More]
4

Latest Chatter

[ - ]
Make your picks
to play the
bankroll game
and showcase your betting acumen. Your relevant records will show on your posts.
Total
Over 150.5
Under 150.5
144.5
#5 in NCAAB L.365 (+$5,458)
Memphis coming in hot riding a 3 game win streak and me with a three-game win streak betting Cinci by 7 and Wichta State by 10, who are both better team then SMU. Memphis offense is explosive and the Tigers have Davis and Williams who have been two elite-level players. Davis is coming off a 21-point outing while Williams is coming off a 26-point outing. These two have carried the offense while helping a significant amount on the boards, so look for both these guys to have a big game against SMU defense that is sub-par. Thick spread but I like Memphis by double digits and a cover here.
#1 in NCAAB L.30 (+$1,744)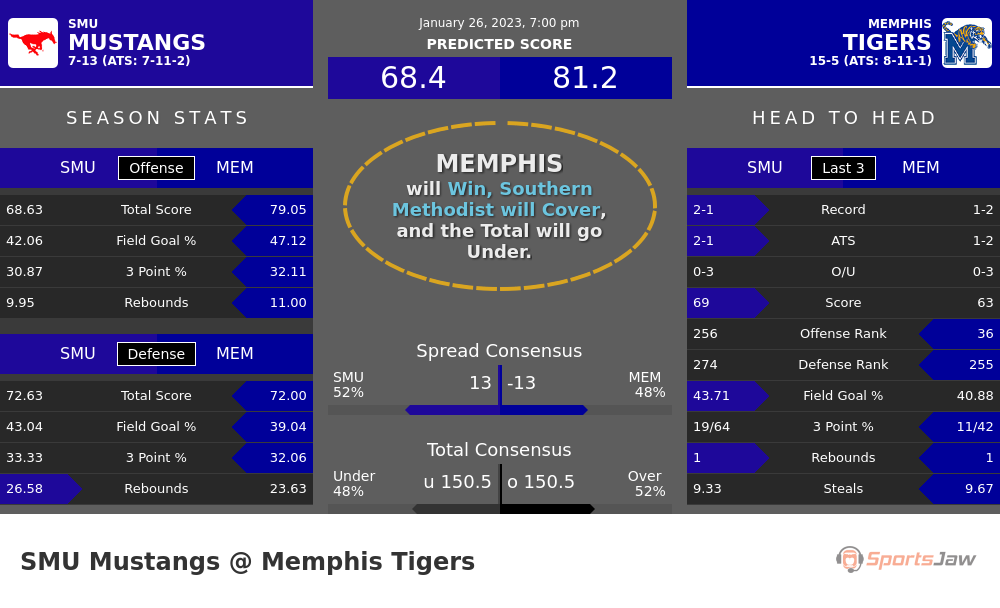 The Tigers have a significantly better offense and both teams have a compariable defense. The Mustangs won more games straight up and against the spread over their last 3 matchups. Adjusted score predictions based on power rankings and strength of schedule: Mustangs 68 to Tigers 81.
Memphis Injuries

G Alex Lomax Is out indefinitely, Groin
F Jahmar Young Jr. Is out indefinitely, Eligibility
C Malcolm Dandridge Is out indefinitely, Ankle