Thu Jan 26 7:00PM
82
65
|   | 1 | 2 | T | ODDS |
| --- | --- | --- | --- | --- |
| HOFST | 33 | 49 | 82 | 141.5 |
| ELON | 35 | 30 | 65 | +10 |
Hofstra vs Elon Basketball Predictions & Best Bets
Published on
Hofstra is on the road playing Elon at the Schar Center stadium on Thursday, 1/26/2023 @ 7:00pm EST. Hofstra -12 was the opening favorite and current line is Hofstra -10.
There will be a game between the Hofstra Pride and the Elon Phoenix on Thursday at the Schar Center in Elon, NC. Tip-off is at 7:00 p.m. Eastern Time. A total of 140 points are predicted for the game, and the Pride are 11-point favorites. On Thursday, Hofstra defeated UNC-Wilmington 13-8 SU and 11-9 ATS. It has won five of its past six games and is tied for second place in the Colonial Athletic Association. The Elon University Eagles, 0-18 SU and 8-10 ATS, lost to Towson on Saturday. There have been ten losses in a row for the team, and it is still looking for its first CAA victory. The two meetings between Hofstra and Elon last season were split. Over the course of their history, the Pride have outscored the Phoenix 11-5.
Charleston looms large over Hofstra, so Elon cannot be overlooked
On Saturday, Hofstra will face conference leader Charleston in an intriguing CAA matchup. Senior point guard Aaron Estrada leads the Pride with 20.1 points per game, ranking 21st nationally and possibly the conference player of the year. Tyler Thomas, a senior guard who contributes 14.3 points and shoots 41.5% from three, and Darlinstone Dubar, a sophomore guard, contribute 10.6 points and 5.1 rebounds. Last week, Hofstra dominated the Seahawks. In the second half, despite being tied at halftime, the Pride outscored their opponent 40-16, shooting 29-of-55 from the field (52.7%) with a +4 rebounding margin. In addition, they were able to reduce turnovers.
Following a close loss at home, Elon is looking to rebound
There hasn't been a win for the Phoenix since December 11th, when they beat Johnson & Wales. In their season opener against Erskine on November 7th, they only managed to win one game. To say the least, a conference win on Thursday would be a long way toward building momentum. At 12.6 points on 40.4 percent shooting, senior guard Sean Halloran leads the team. The other players to watch are senior guard Zac Ervin (11.4 PPG), freshman guard Max Mackinnon (10.8 PPG, 5.3 RPG, 48.6 FG%), and senior guard Torrence Watson (9.3 PPG and 4.6 RPG). At halftime of the last game, Elon was down 40-26 to Towson. After the break, the Phoenix outscored the Tigers 36-26, shooting 17-for-19 from the field and from the foul line. Yet, the Phoenix turned the ball over too often (14 turnovers) and didn't defend the three-point line well enough, as the Tigers shot 11-for-26 (42.3%).
Elon is 2-18 straight up and 8-10 against the spread this season. A winning straight-up team has won five of the team's last six ATS games. A Hofstra team that gives away too many points will allow the Phoenix to cover at home. All things considered, the home team may not win many games straight-up this season, but should finish with a decent ATS record. In its third consecutive ATS win, Elon lost by a narrow margin to Townson last week. It will cover again against a Pride team with a minus-four rebounding margin, resulting in second-chance baskets in the paint and at the free-throw line.
Hofstra Highlights
With a power ranking of 65, Hofstra is ranked #157 in offense (scoring an average of 72.76 per game), #157 in defense (allowing an average of 68.38 points to be scored against them per game) and are 13-8 (11-9 ATS) this season.
Elon Highlights
Elon Phoenix has a power ranking of 301 and are #323 for offense (scoring an average of 65.74 per game), #289 for defense (giving up an average of 68.38 points per game) and 2-18 (8-10 ATS) overall. Hofstra went 2-1 (2-1 ATS) in their last 3 matchups against Elon.
Curated Picks & Predictions
From the lines set by Sportsbooks, they predict the score to be HOFST 60, ELON 80.
The SportsJaw community predicts Hofstra Pride to cover (55%)
OddsShark predicts Hofstra will win, cover the spread, and the total will go over.
62% picked Hofstra Pride on Covers.com
Our ScoreCaster predicts Pride 81 to Phoenix 73.
Staff Prediction
Our prediction: Pride 81 to Phoenix 73.
Written by SportsJaw Staff
Categorized as NCAAB Predictions
[+ More]
2

Latest Chatter

[ - ]
Make your picks
to play the
bankroll game
and showcase your betting acumen. Your relevant records will show on your posts.
Total
Over 141.5
Under 141.5
141
#1 in NCAAB L.30 (+$1,744)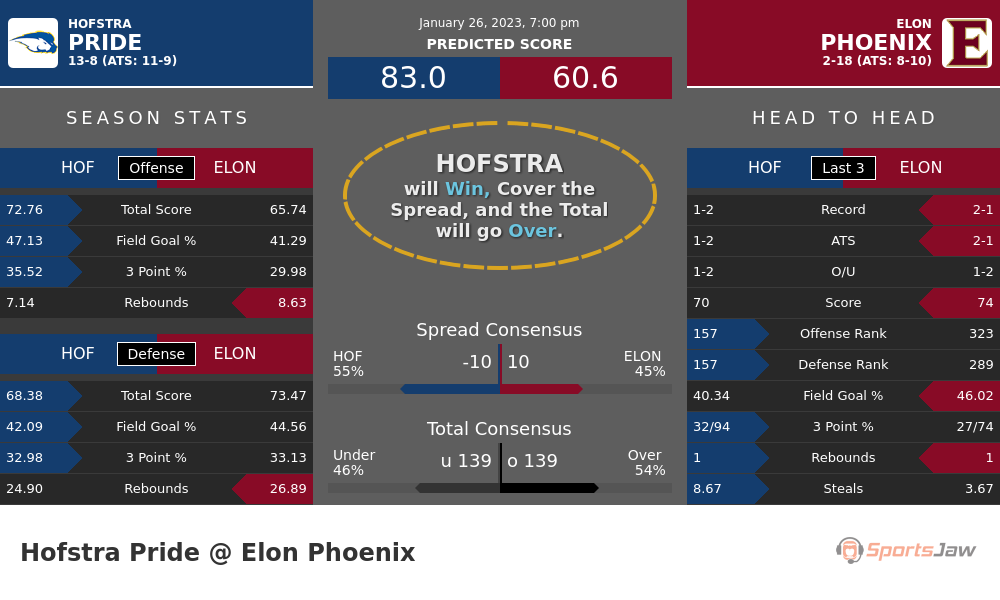 The Pride have a stronger offense and the Pride have a slightly better defense. The Phoenix won more games straight up and against the spread over their last 3 matchups. Adjusted score predictions based on power rankings and strength of schedule: Pride 83 to Phoenix 61.