Thu Jan 26 6:30PM
59
71
|   | 1 | 2 | T | ODDS |
| --- | --- | --- | --- | --- |
| GAST | 27 | 32 | 59 | 128 |
| APPST | 42 | 29 | 71 | -6 |
Georgia St. vs Appalachian St. Prediction, Odds and Best Bets
Published on
Georgia St. is on the road playing Appalachian St. at the Holmes Convocation Center stadium on Thursday, 1/26/2023 @ 6:30pm EST. Appalachian St. -5.5 was the opening favorite and line hasn't moved.
Georgia St. Highlights
The Georgia State Panthers come into this matchup 9-11. Georgia State is seeking only its third conference victory of the season. After beating Coast Carolina by a score of 100-66, they have lost two straight games. They first lost 70-58 to Old Dominion before losing 58-52 to Georgia Southern on Saturday, a match in which they were rated as five-point underdogs. With this defeat, they are now 2-6 in conference play. In eight conference games, the Panthers have covered the spread just twice.
In the lasttwo games, Dwon Odom has been absent for an undisclosed reason. It is unclear if the sophomore guard will be available for this game. As the team's leading scorer, he averages 14.6 points and 4.9 rebounds per game. As of late, Brenden Tucker has been inconsistent, shooting 40% or less in three of his last four games. Averaging 12.8 PPG on 39% shooting, the junior guard scored 10 points on Saturday. Only twice has Evan Johnson reached double figures in conference play. With a 33% shooting percentage, the sophomore guard averages 10 points per game.
With a power ranking of 127, Georgia St. is ranked #285 in offense (scoring an average of 67.63 per game), #59 in defense (allowing an average of 64.58 points to be scored against them per game) and are 9-11 (5-11-1 ATS) this season.
Appalachian St. Highlights
This Appalachian State Mountaineers team is clicking. Two of their last three games have ended with victories, with their only loss being an overtime loss to Coastal Carolina. As a 4.5-point underdog, Appalachian State defeated Old Dominion 72-58 on Saturday to improve to 4-4 in conference play. Over the last three games, the Mountaineers have covered the spread two times.
There is no doubt that Donovan Gregory has the ability to produce big numbers. The senior forward has scored at least 19 points in two of his last four games, but managed only nine on Saturday, and he averages 12 points per game on 43% shooting. A reason for Tyree Boykin's absence from Saturday's game remains unknown and he may not be able to play here as well. With an average of 11.9 points per game, the senior guard plays a significant role for the team. In four consecutive games, CJ Huntley has scored 10 or fewer points. The Junior forward has an average of nine points per game and 6.5 rebounds per game.
Appalachian St. Mountaineers has a power ranking of 116 and are #143 for offense (scoring an average of 73.63 per game), #82 for defense (giving up an average of 64.58 points per game) and 10-10 (8-9 ATS) overall. Georgia St. went 1-2 (1-2 ATS) in their last 3 matchups against Appalachian St..
Curated Picks & Predictions
Based on the current lines, Oddsmakers predict the score to be GAST 68.25, APPST 57.25.
53% of SportsJaw players predict Appalachian St. Mountaineers to cover.
OddsShark has not made their prediction yet.
54% picked Georgia St. Panthers on Covers.com
SportsJaw's ScoreCaster prediction: Panthers 0 to Mountaineers 0.
Staff Prediction
Georgia State comes into this matchup having lost 5 of their last 6 games. Jalen Finch was the Panthers leading scorer last game with 15 points. Appalachian State comes into this one having won 4 of their last 6 games. Terence Harcum had an excellent game for the Mountaineers last time out, scoring 28 points. Appalachian State has been playing well, but 5.5 points is a lot to cover for an evenly matched conference game. Take Georgia State to at least cover the +5.5.
Staff Prediction GA ST ATS (+5.5)
Written by SportsJaw Staff
Categorized as NCAAB Predictions
[+ More]
3

Latest Chatter

[ - ]
Make your picks
to play the
bankroll game
and showcase your betting acumen. Your relevant records will show on your posts.
Total
Over 128
Under 128
125.5
#1 in NCAAB L.30 (+$1,744)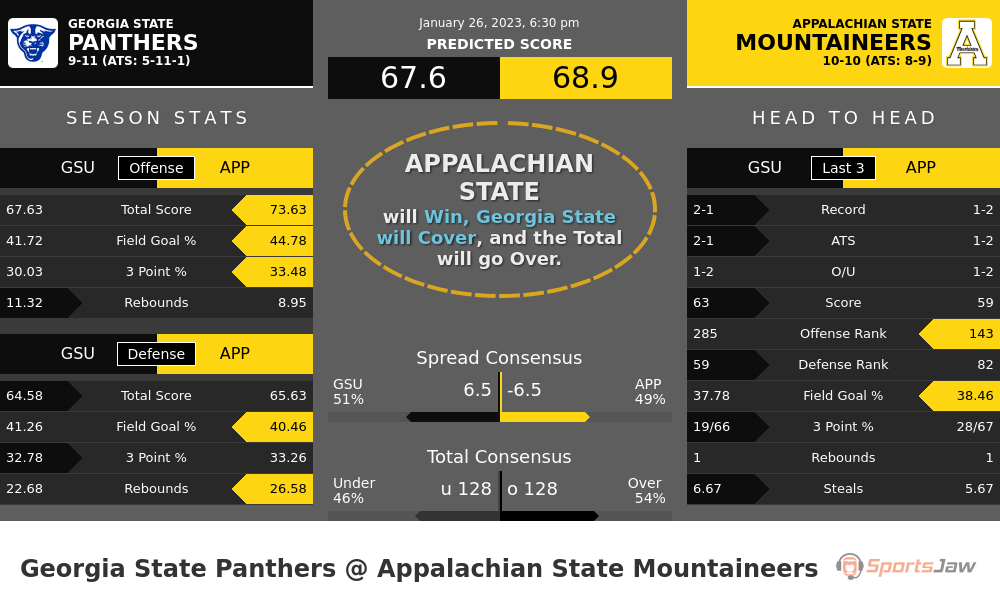 The Mountaineers have a slightly better offense and both teams have a compariable defense. The Panthers won more games straight up and against the spread over their last 3 matchups. Adjusted score predictions based on power rankings and strength of schedule: Panthers 68 to Mountaineers 69.
Georgia St. Injuries

G Dwon Odom Is upgraded to probable Thursday vs Appalachian St, Undisclosed