Wed Jan 25 11:00PM
75
85
|   | 1 | 2 | T | ODDS |
| --- | --- | --- | --- | --- |
| UTST | 27 | 48 | 75 | 145 |
| SDST | 42 | 43 | 85 | -7 |
Utah State vs San Diego St. Basketball Picks & Predictions
Published on
Utah State is on the road playing San Diego St. at the Viejas Arena at Aztec Bowl stadium on Wednesday, 1/25/2023 @ 11:00pm EST. San Diego St. -5 was the opening favorite and current line is San Diego St. -7.
There will be a Mountain West Conference showdown on Wednesday, January 25, at Viejas Arena in San Diego, California. Here is the right pick for Utah State vs San Diego State. In the first meeting between the Aggies and Aztecs of the season, the Aggies open as a 7-point home favorite, while the total is listed at 145.0.
In its third straight victory, Utah State looks to continue its winning streak
The Utah State Aggies (16-4; 11-8 ATS; 5-2 conference) defeated San Jose State 75-74 on Saturday. It was the Aggies' second straight win, and the third in four games, but they failed to cover an 11.5-point spread, ending their ATS losing streak at three games. Their final 20 minutes saw them rally from a ten-point second-half deficit to score 45 points. On Saturday, the Aggies made 53.8% of their field goals. With a 19/12 assist-to-turnover ratio, they shot 10-for-23 from three-point range and 9-for-13 from the free-throw line. Utah State's defense wasn't very effective, as it surrendered 17 offensive rebounds. As a junior guard, Steven Ashworth scored 19 points and dished out six assists, while fellow junior G Max Shulga added 15 points, five rebounds, and three assists.
As well, SDSU hopes to win its third consecutive game
Last Saturday, the San Diego State Aztecs (15-4; 6-11-1 ATS; 6-1 conference) defeated Air Force 70-60 as 9.5-point road favorites. As a result of 15 offensive rebounds and 22 of 23 attempts from the free-throw line, SDSU overcame a poor field goal percentage of 38.6 (4-of-15 from distance). Additionally, the Aztecs only handed out six assists. Keshad Johnson posted a double-double of 13 points and 10 rebounds against the Falcons. 6-foot-4 senior guard Matt Bradley had 13 points and seven rebounds, while fellow senior G Darrion Trammell had 12 points and a few boards. In their eighth game in a row, the Aztecs won their second straight game.
The Aztecs defend the 3-point line well, and I believe they will slow down the Aggies. Also, SDSU ranks among the top-50 teams in both defensive rebounding percentage and free-throw rate, so I'll take the Aztecs to win and cover. Despite their offensive skill, the Aggies struggle to defend at a high level and rely too much on 3-point shooting. The spread has been a problem for both Utah State and SDSU lately. Over the Aggies' last five games, their ATS record has been 1-4, and their ATS record at home has been 3-5. The San Diego State Aztecs are 9-0 ATS in their last nine games against Utah State at home.
Utah State Highlights
With a power ranking of 254, Utah State is ranked #22 in offense (scoring an average of 80.60 per game), #236 in defense (allowing an average of 71.15 points to be scored against them per game) and are 16-4 (11-8 ATS) this season.
San Diego St. Highlights
San Diego St. Aztecs has a power ranking of 81 and are #112 for offense (scoring an average of 75.05 per game), #92 for defense (giving up an average of 71.15 points per game) and 15-4 (6-11-1 ATS) overall. Utah State went 2-1 (2-1 ATS) in their last 3 matchups against San Diego St..
Curated Picks & Predictions
Based on the current lines, Oddsmakers predict the score to be UTST 79, SDST 65.
51% of SportsJaw players predict San Diego St. Aztecs to cover.
OddsShark has not made their prediction yet.
75% picked San Diego St. Aztecs on Covers.com
SportsJaw's ScoreCaster prediction: Aggies 66 to Aztecs 77.
Staff Prediction
Our prediction: Aggies 66 to Aztecs 77.
Written by SportsJaw Staff
Categorized as NCAAB Predictions
[+ More]
4

Latest Chatter

[ - ]
Make your picks
to play the
bankroll game
and showcase your betting acumen. Your relevant records will show on your posts.
Total
Over 145
Under 145
147.5
#1 in NCAAB L.30 (+$1,744)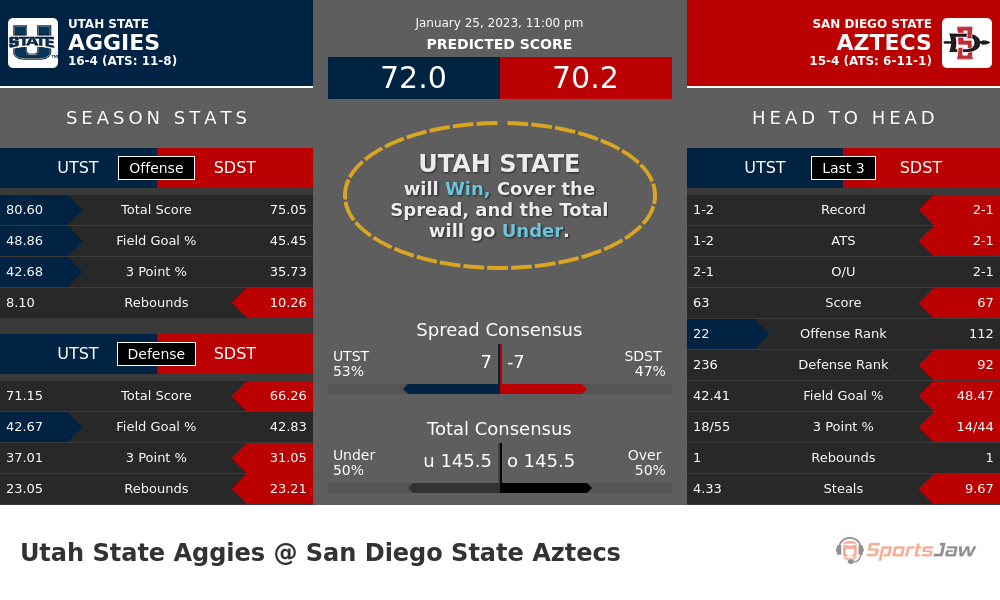 The Aggies have a slightly better offense and the Aztecs have a slightly better defense. The Aztecs won more games straight up and against the spread over their last 3 matchups. Adjusted score predictions based on power rankings and strength of schedule: Aggies 72 to Aztecs 70.
Utah State Injuries

G Rylan Jones Is downgraded to OUT Wednesday vs San Diego State, Concussion
G Mason Falslev Is out for season, Redshirt
San Diego St. Injuries

G Adam Seiko Is upgraded to probable Wednesday vs Utah State, Illness