Wed Jan 25 10:00PM
65
72
|   | 1 | 2 | T | ODDS |
| --- | --- | --- | --- | --- |
| CHIC | 41 | 24 | 65 | 135.5 |
| STANF | 34 | 38 | 72 | -18 |
Chicago State vs Stanford Basketball Predictions & Best Bets
Published on
Chicago State is on the road playing Stanford at the Maples Pavilion stadium on Wednesday, 1/25/2023 @ 10:00pm EST. Stanford -14.5 was the opening favorite and current line is Stanford -17.
In non-conference play, the Chicago State Cougars travel to Palo Alto to face the Stanford Cardinals at Maples Pavilion. This will be the first time these two programs have faced off.
Chicago State Statistics
As a result of its win over Coastal Carolina in Conway, Chicago State has dropped to 5-16. After leading at halftime, the Cougars held on to defeat the Chanticleers by four points. As a team, Chicago State scores 67.1 points per game while allowing 73.7 points per game, while shooting 41.4% from the field. Despite their largest win of the season, Chicago State may not last long in the palm trees. The Cougars haven't won many games this season, but they've capitalized as underdogs a few times. In Wesley Cardet Jr. and Jahsean Corbett, CSU is led by a pair of sophomore guards. With 16.1 points per game, Cardet Jr. leads the Cougs after scoring 21 points against Coastal. In five of his last seven games, Corbett has grabbed double-digit rebounds, averaging 13.1 points per game and 9.2 rebounds per game. With 120 games of experience, Dayton transfer Elijah Weaver is averaging 11.8 points per game and 4.3 rebounds per game.
Stanford Statistics
After beating Oregon in Palo Alto, Stanford improved to 7-12. In the end, the Cardinals defeated the Ducks by seven points by holding them to 38% shooting. Stanford scores 67.9 points per game, while allowing 66.2 points per game and shooting 43.6% from the field. The Cardinals have a high chance of winning three games in a row for the first time this season. This week could be another fruitful one for the Cardinal program after facing Chicago State at home. After scoring 18 points against Oregon State, four-year starter Spencer Jones leads the team in scoring at 12.9 points per game. He is second on the team at 10.1 points per game behind Davidson transfer Michael Jones. Harrison Ingram leads the team in rebounding (5.2), assists (3.3), and scoring (9.3 points per game).
In this season's over/under, Chicago State is 7-12-1 against the spread. In ATS games this year, Stanford has a 10-7 record, while its O/U record is 9-10. As a result of Stanford's recent performance, the margin for this one appears to be a bit stiff. The underdog spread has been a successful tool for Chicago State this season, and this looks like another one. It's difficult to ignore Stanford's momentum in this non-conference matchup, and it's wise to lean on their defensive prowess to pick the under.
Chicago State Highlights
With a power ranking of 253, Chicago State is ranked #309 in offense (scoring an average of 66.80 per game), #295 in defense (allowing an average of 73.90 points to be scored against them per game) and are 5-16 (12-8 ATS) this season.
Stanford Highlights
Stanford Cardinal has a power ranking of 237 and are #282 for offense (scoring an average of 67.89 per game), #89 for defense (giving up an average of 73.90 points per game) and 7-12 (9-10 ATS) overall. Chicago State went 0-0 (0-0 ATS) in their last 3 matchups against Stanford.
Curated Picks & Predictions
From the lines set by Sportsbooks, they predict the score to be CHIC 83.75, STANF 49.75.
54% of SportsJaw predicts Stanford Cardinal to cover.
OddsShark has not made their prediction yet.
70% picked Stanford Cardinal on Covers.com
Our ScoreCaster predicts Cougars 50 to Cardinal 87.
Staff Prediction
Our prediction: Cougars 50 to Cardinal 87.
Written by SportsJaw Staff
Categorized as NCAAB Predictions
[+ More]
3

Latest Chatter

[ - ]
Make your picks
to play the
bankroll game
and showcase your betting acumen. Your relevant records will show on your posts.
Total
Over 135.5
Under 135.5
136.5
#1 in NCAAB L.30 (+$1,744)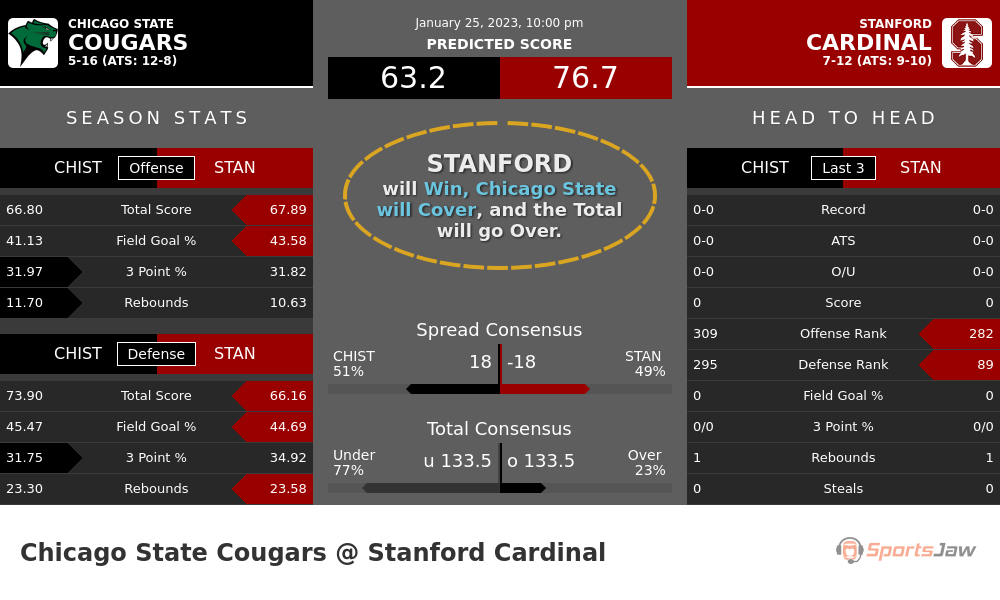 Both teams have a compariable offense and the Cardinal have a stronger defense. The Green Wave won more games straight up and against the spread over their last 3 matchups. Adjusted score predictions based on power rankings and strength of schedule: Cougars 63 to Cardinal 77.